Welcome to the worst part of the year -- the NFL offseason. In the coming months, we can look forward to the NFL Scouting Combine (when football players do a bunch of non-football drills), free agency (when older players are overpaid by bad teams) and the draft (a crapshoot).
Do all of those events matter? Sure, and that's why we cover, watch and read about them. Do they matter as much as anything that happens from September-February? Of course not, and that's why we can't wait for Week 1 to finally arrive.
It's the worst time of the year. So, before we settle into offseason mode, let's relive the best part of the year: The playoffs.
Welcome to the unofficial NFL playoffs awards show, where we hand out fake awards to the players who were lucky enough to play football into January (and February). Spoiler alert: Tons of Patriots and Falcons won.
I know Tom Brady won Super Bowl MVP. I know Brady led the Patriots on the largest Super Bowl comeback in NFL history. I know he just won his fifth Super Bowl ring. But he wasn't the best player throughout the postseason.
Matt Ryan, the quarterback on the wrong side of that historic comeback, was better than Brady -- plain and simple. Take a look at their postseason numbers, because it's not even close:
| | | | | | |
| --- | --- | --- | --- | --- | --- |
| | Comp. % | YPA | TDs | INTs | Rating |
| Brady | 65.5 | 8.0 | 7 | 3 | 97.7 |
| Ryan | 71.4 | 10.4 | 9 | 0 | 135.3 |
Brady played poorly in the Patriots' victory over the Texans in the divisional round, played well against the Steelers in the AFC title game, played poorly in the first half of Super Bowl LI, and then played the greatest second half in Super Bowl history to lead the Patriots to a win. That's why he won Super Bowl MVP -- even though James White probably deserved it.
But you can't ignore his performance against the Texans or that first half against the Falcons -- not when you're assessing which player was better through the entire postseason -- just like how voters couldn't ignore his bogus four-game suspension when they examined his regular-season MVP candidacy. Ryan was better in the playoffs, completing more than 70 percent of his passes in all three of the Falcons' games, averaging three touchdowns per game and failing to throw an interception.
He was the MVP of the entire postseason, even if he (his fumble and sack in field goal range, to be specific) was a part of the reason why the Falcons blew a 25-point lead in the second half Sunday. With that being said, it's important to note that his fourth-quarter fumble wasn't his fault -- it was Devonta Freeman's fault for failing to pick up Dont'a Hightower.
If Freeman slows down Hightower, Ryan likely hits Taylor Gabriel for a game-clinching touchdown bomb.
If Devonta Freeman does his job, this might be a 75-yard TD to Taylor Gabriel, who torches single coverage. Instead, strip-sack. Huge swing. pic.twitter.com/Zhq3S80TwR

— Tom Pelissero (@TomPelissero) February 8, 2017
Instead, Hightower jarred the ball loose, becoming the unsung hero of the Patriots' win (again).
The point is, the Falcons' loss wasn't entirely on Ryan. It was a team-wide -- not an individual -- choke job. Without Ryan, the Falcons wouldn't have jumped out to that lead. They wouldn't have even been in a position to choke away the game. He finished with a 144.1 passer rating, by the way.
Ryan, who won the regular-season MVP, takes home the unofficial playoff MVP award too.
Worst Player: Odell Beckham Jr.
This one is all about expectations. Beckham entered the playoffs as one of the game's best receivers who found himself in a dumb controversy leading up to the Giants' wild-card loss to the Packers. And then he laid an egg.
I refuse to spend anymore time rehashing what happened in that controversy, so here's a quick timeline that I previously compiled:
Here's the part I didn't include above: Beckham played horribly in the loss, catching four passes on 11 targets for 28 yards. He was Pro Football Focus' second-lowest graded player on the Giants' offense. PFF assigned him with three dropped passes, including what should've been a touchdown.
I'm not saying the boat trip had anything to do with his poor outing. If it wasn't already clear, I don't care at all about the trip. I absolutely don't think it was the reason he couldn't catch the ball.
But he still sucked in the loss to the Packers. There's no way around that. And there's no way around the fact that the Giants depend on him to function as their best offensive player, because that's exactly who he is.
For one game, he let them down. And that one game was the only opportunity he got.
In the Steelers' two playoff wins, running back Le'Veon Bell rushed for 337 yards. He was practically the entire Steelers offense in those two games -- especially in their 18-16 win over Kansas City in the divisional round.
Unfortunately, he didn't last long in the AFC title game, going down with a groin injury and riding out most of the game on the sidelines, which crippled the Steelers' offense. DeAngelo Williams, Bell's backup, rushed for 34 yards on 14 carries in the loss.
Some context on how dominant Bell was: Even if you only used the yards he gained in those first two games, he would still lead the NFL in postseason rushing yards by 142 yards!
Yes, I also considered Julio Jones, who hauled in three touchdowns for the Falcons during the playoffs and made what should've been the play of the Super Bowl. He's also a worthy choice.
Best Defensive Players: Harrison, Clowney, etc.
I'm cheating. I spent way too long agonizing over this award, so I'm giving it to more than one player. Since it's a fictional award, I'm guessing no one will really mind.
Let's start with James Harrison. Somehow, at the age of 38, Harrison registered 2.5 sacks during the Steelers' playoff run. That dude is never going to slow down.
Jadeveon Clowney is also worthy. In the Texans' win over the Raiders, he was credited with only one tackle. But he also did this:
And this:
In a loss to the Patriots, Clowney was credited with just two tackles, but he also hit Brady three times and forced two hurries, according to PFF. Nothing (besides questions about Donald Trump) bothers Brady -- not even a 25-point deficit in the Super Bowl -- but Clowney got in Brady's head.
Other deserving candidates:
Best Offensive Performance: White, Julio
Cheating one more time, sorry.
James White should've won Super Bowl MVP -- even Brady said so. He set a Super Bowl record with 14 receptions. He racked up 139 yards from scrimmage. He scored three touchdowns -- including the winner. He added a successful two-point conversion to his tally. White didn't remember to keep the winning football, so hopefully (probably not) this award makes up for its absence.
And then there's Julio Jones' performance in the NFC title game, when he caught nine passes for 180 yards and two touchdowns. Both are deserving.
Best Defensive Performance: Grady Jarrett
His outing in Super Bowl LI will be forgotten because the Falcons lost, but Grady Jarrett led the Falcons onslaught against Brady before the comeback. He sacked Brady three times during the loss.
And to think, he slipped to the fifth round a year ago.
Only because of this flop:
I mean, come on.
The Cowboys went one-and-done after a 13-3 regular season, but they have plenty to be excited about moving forward. It starts with Dak Prescott, who didn't break when the Cowboys trailed the Packers by 15 points in the fourth quarter of the divisional round.
Instead, he led the Cowboys to 15 unanswered points with two touchdown passes and a two-point run. Then, when the Packers took a late lead on a field goal, he drove the Cowboys into field goal range to tie the game. It's not his fault Aaron Rodgers went all Aaron Rodgers on the Cowboys, Jared Cook actually caught a ball and Mason Crosby converted an incredible winning kick.
Ezekiel Elliott is also worthy of consideration. He put up 125 yards on 22 carries in the loss.
Best Defensive Rookie: Deion Jones
Deion Jones, the Falcons' second-round pick, racked up 15 tackles over three postseason games. He snagged an interception against the Seahawks, and in the Super Bowl he had seven tackles. He was the Falcons' best defensive player in that game, per PFF's grading.
Not the worst debut.
Most Overrated Player: Tom Brady
Brady's performance in the second half of the Super Bowl was incredible, historic, one-of-a-kind and something we'll never see ever again. This isn't a knock on Brady. What he did was unreal. I'm still not over it.
But let's not forget about what he did before that second half. Against the Texans, he completed 47.4 percent of his passes and threw two interceptions for a 68.6 passer rating. He threw an awful pick-six against the Falcons in the first half of the Super Bowl. Due to what he did to win the game, no one will remember that first half or his outing against the Texans.
The fact remains: Brady was bad for roughly half of the postseason (four quarters against the Texans, two against the Falcons). That's why he's the most overrated of the postseason -- not the Super Bowl, but the postseason as a whole.
Most Improved Player: James White
A year ago, the Patriots lost to the Broncos in the AFC title game because they couldn't protect Brady and because Brady didn't have Dion Lewis as his reliable pass-catching running back target. Of Brady's 56 (!) attempts in that game, 19 went to running backs. Only seven were caught.
White was targeted 16 times. He caught five for 45 yards. He struggled, to put it simply.
Example A: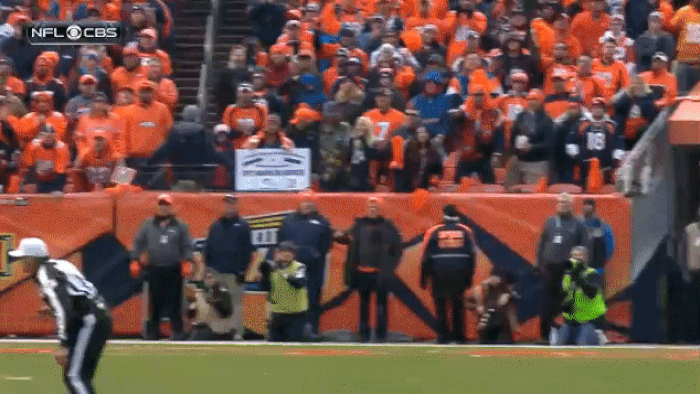 Example B: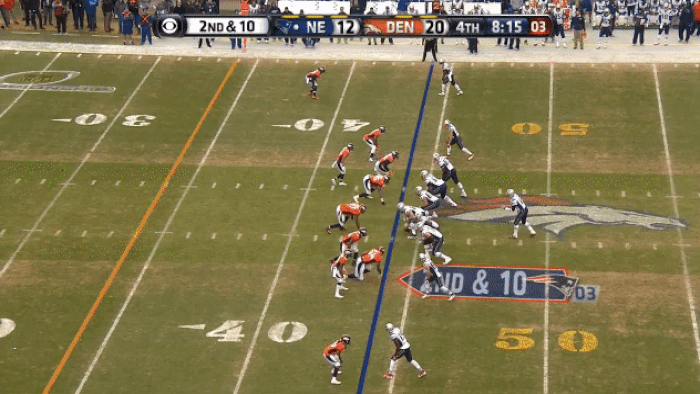 In the Super Bowl, he received the same amount of targets (16) as he did in that AFC title game loss. This time, he set a record with 14 catches. He scored three touchdowns.
What a difference a year makes.
Edelman called this catch 70 percent luck, but that doesn't matter, because he came down with it and it led to the Patriots' game-tying score:
It's kind of crazy that in a time in which we can't figure out what a catch is and isn't, his catch of all catches was so damn clear. There was no controversy. He caught it cleanly.
Best Coach: Bill Belichick
This one's too easy. It automatically goes to the coach of the team that overcame a 28-3 deficit in the Super Bowl. Bill Belichick is the greatest coach in all of football and pulled off the greatest coaching job in Super Bowl history.
His celebratory chant, on the other hand? Not the greatest.
No one's perfect.