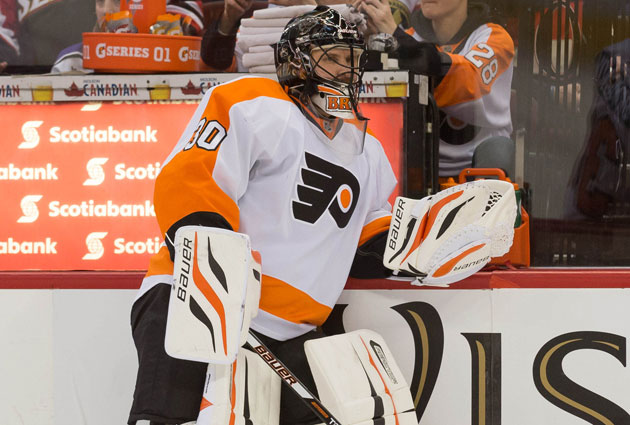 More NHL offseason: Rumors | Top 50 Free Agents | Top 50 Prospects | Mock Draft
The Ilya Bryzgalov experience in Philadelphia has come to an end.
The Flyers announced on Tuesday that they will be using one of their cap compliance buyouts on the goalie, ending his two-year run with the team.
Philadelphia acquired Bryzgalov before the 2011-12 season in the hopes of solidifying its goaltending situation and gave him a nine-year, $51 million contract. It was a hockey disaster from the start as his numbers saw a huge drop from where they were when he played for Phoenix.
As part of the buyout, the Flyers will pay Bryzgalov $1.643 million per year for the next 14 years to not play for them. He will no longer count against their salary cap.
As part of the new collective bargaining agreement, every NHL team gets two cap compliance buyouts they can use during the buyout period this summer or next. The Flyers have already used both of those.
Before Bryzgalov the Flyers also decided to buy out the remainder of Danny Briere's contract.
The decision to buy out Bryzgalov probably isn't a surprise given how poorly the contract has worked out, but it still leaves the Flyers with a problem in net. The only NHL goalie on the roster is Steve Mason, and he's probably not the answer given how much his career has regressed since his Calder Trophy winning season a few years back.
Holmgren loves to make big, bold moves, so you can never count them out when it comes to Vancouver's Roberto Luongo. Then again, even with the buyouts, cap space is still an issue for the Flyers.