The Mike Sullivan era in Pittsburgh is through its first 20 games and it is starting to look like he might be on the right track to helping this team reach its full potential.
After their 2-0 win over the New Jersey Devils on Tuesday night, the Penguins are going to enter the All-Star in the second wild card spot in the Eastern Conference and sit just four points out of second place in the Metropolitan Division. Considering where this team was just a few short weeks ago, that is a noticeable improvement. Even though their overall record is only 9-7-4 with Sullivan behind the bench, they are starting to get on a roll after losing their first four games with him. They closed out the first half of the season by earning 22 out of a possible 32 points over their past 16 games, losing only three of those games in regulation. That would put them on a 112-point pace over 82 games, by far their best stretch of hockey in more than a year.
When it comes to the style of play there are certainly some differences between what Sullivan is trying to do and what Johnston tried to do this season (which was a pretty drastic change from what Johnston was trying to have them do in his first year). They seem to be a more aggressive team on the forecheck in the offensive zone and are far more organized when trying to breakout of the defensive zone, something that was a major issue at the start of the year.
But it's not just systematic changes and X's and O's that are making a difference.
1) Finding the right line combinations and defensive pairings
Before the Penguins' game against the Philadelphia Flyers on Thursday this Tweet from Tribune-Review beat writer Bill West caught my attention.
Tried to find out if Sullivan looks at adv stats. He said yes, but mentioned nothing in particular when asked for specifics. Bummer.

— Bill West (@BWest_Trib) January 21, 2016
Advanced stats have been a hot topic in the NHL over the past couple of seasons and it's reaching the point now where just about every team in the league has made some sort of investment in the field and has dedicated resources to collecting as much data as possible. The Toronto Maple Leafs have assembled an entire team of analytics experts from the hockey blogging world, while the Edmonton Oilers, Carolina Hurricanes and the first-place Florida Panthers have done similar things. The New Jersey Devils hired a former professional poker player two years ago, and on Tuesday the Minnesota Wild hired the people behind the popular stats website, War-On-Ice.
The Chicago Blackhawks are also believed to be heavily invested in the field.
But even though teams are investing in it and utilizing the information to some degree, they all pretty much refuse to speak about it, on or off the record. Other than injuries come playoff time, there is nothing in the NHL that makes team executives and coaches shut up faster than their level of interest in analytics or how they might be using them.
That doesn't mean we can't try to look at what they are doing in an effort to figure it out.
When it comes to Sullivan and the Penguins, I have some theories.
I know that Johnston had some sort of total-value metric he used in an effort to capture everything a player contributed to the play when they were on the ice (a shot, a hit, a blocked shot, a pass, a scoring chance, and so on…) but the exact details behind or how it was utilized are a complete mystery. It sounded very similar to something Dave Tippett and the Arizona Coyotes used to use (and still might?). Jacques Martin, now working behind the bench as an assistant with Sullivan, was supposedly in charge of helping to track it. My guess is that Sullivan, along with his assistants, might be using the data at his disposal to piece together the team's line combinations and defense pairings, because many of them have changed dramatically from the first part of the season.
The groupings that posted good numbers have stayed together. The ones that didn't? Thrown in the dumpster and never recovered.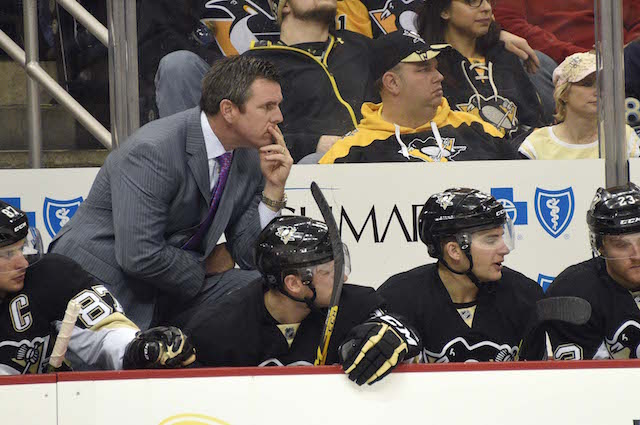 2) Putting players in a position to succeed
Here is what Sullivan had to say about the Penguins' defense pairings and how they are pieced together after Tuesday's game.
"Jacques Martin is entrusted with that responsibility," Sullivan said. "Even though we start with different defense pairs, we talk about how we're going to plan and what matchups we're looking for and how we want to put our defensemen in circumstances where they can to play to their strengths. I think Jacques does a nice job as far as deploying those guys in the right situations so that they can. That's why you see some of the mixing and matching on the backend. That's at least the philosophy behind it."
The part about deploying players and getting them in the right situations so they can play to their strengths is important to me.
One of Johnston's biggest personnel mistakes was his insistence on trying to get the Kris Letang-Ian Cole defense pairing to work. It never did. That was the Penguins' top-pairing at the start of the year, and they spent the bulk of their ice-time playing together under Johnston. And every night they were absolutely demolished during 5-on-5 play, getting outscored 12-2 and badly outshot and outchanced in more than 250 minutes of ice-time. Those are bad numbers for your third pairing. It is a nightmare for your first pairing that is playing 20 minutes a night.
For years the Penguins have been trying to find Letang a consistent partner on defense, and they have almost always tried to pair him with a steady, stay-at-home guy that is supposed to "cover" for his aggressive play. It almost never works. It didn't really work when they tried it with Brooks Orpik. It was a disaster when they tried it with Rob Scuderi. When Letang is at his best, it is when he is playing next to defenseman that shares a similar skillset. A player that can skate, can move the puck, and can make a play. Tying him down to an anchor only holds him and the team back. That is a problem because no one player seems to have a greater impact on their success (or failure) than Letang. As he goes, they go. When he is in the lineup and playing well, they win. When he is not, they lose.
The one player on the roster that best helps him play to his strengths would seem to be Olli Maatta. Even though it seemed to be part of his plan to have them as his top pairing at the start of the year, Johnston almost never used them together when games started, at least not until the very end of his tenure, giving them just 62 minutes of ice-time (where they played extremely well). Whether it was due to trying to spread out the talent on what was a laughably thin defense, or trying to ease Maatta back into the lineup after a 2014-15 season that was cut short by cancer and a significant injury, they rarely saw the ice at the same time.
For Sullivan, the Letang-Maatta duo been his go-to-pairing and it's probably not a coincidence that Letang's season has done a complete 180 under Sullivan. Letang and Cole, the failed top-pairing for Johnston? They have only spent six(!) minutes on the ice together under Sullivan. Cole, a player the Penguins thought enough of to sign to a multi-year contract extension before the season, has seen his role almost completely vanish under Sullivan, going from 20 minutes a night under Johnston to barely over 14 minutes. At times he has been a healthy scratch. He has also had some of the worst numbers, traditional and advanced, of any Penguins defenseman this season. 
Maybe it's a coincidence. Maybe it's also a coincidence that the one defense pairing that Sullivan and Martin haven't really messed with all that much (Brian Dumoulin and Ben Lovejoy) is the only one that had any kind of success and posted decent numbers under Johnston.
You can find similar trends when look at their forward groupings. Combinations that worked under Johnston have stayed; the ones that didn't, have not.
The trio of Sidney Crosby, Patric Hornqvist and Chris Kunitz has spent nearly 100 minutes of 5-on-5 ice-time together under Sullivan, and they have dominated. Johnston used them together for a grand total of 11 minutes. Johnston attempted to use Evgeni Malkin and David Perron on the same line. It never worked. Before Perron was traded to Anaheim for Carl Hagelin, he was limited to less than 60 minutes on Malkin's wing under Sullivan, with almost none of them coming over the past month.
A lot of times player usage is just as important as the system a team is running, because some players simply do not mesh with others. One of Sullivan's biggest changes has been finding combinations that do work and sticking with. And completely avoiding the ones that don't, even if it seems like they should.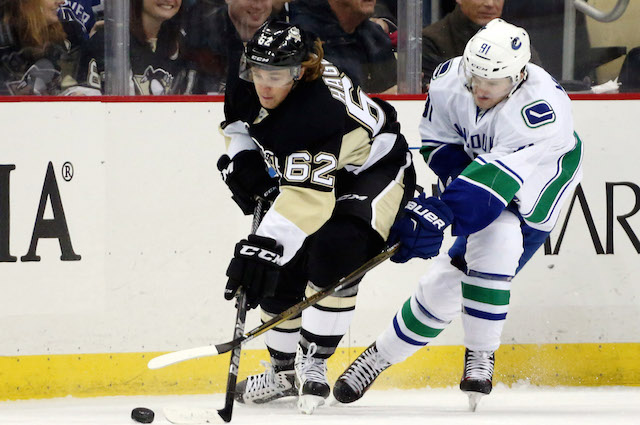 3) He also has a slightly better roster to work with
And as mentioned above, he is using it to his advantage.
There is almost never just one reason why a team fails, and this Penguins team is no different. It was never just about the coach. The changes systematically and in player usage have been significant, but that alone wasn't going to fix everything.
The fact the roster has been tweaked as many times as it has been over the past few weeks, whether through trades or AHL callups, is a pretty good sign it started the season with some major flaws that needed to be corrected (the team on the ice on Tuesday had eight different players than Mike Johnston's final game on Dec. 11 against the Los Angeles Kings).
Trevor Daley is a massive upgrade over Scuderi on defense, while the same is true for Hagelin over whatever it was they were getting from Perron on the second line. Top prospect Derrick Pouliot, finally on the NHL roster, could also prove to be an upgrade over a lot of the players they were using on their blue line earlier this season. And that doesn't even get into the fact that Sidney Crosby, after a miserable 10-game stretch to start the season, remembered that he is at his best when he shoots the puck first instead of deferring to his linemates to take the shots (a change that started under Johnston).
Put all of those factors together and you have a team that is starting to get itself back on track. They still have quite a hill to climb when it comes to getting into the playoffs, but they seem to be closer to it than they were a few weeks ago. For a number of different reasons.