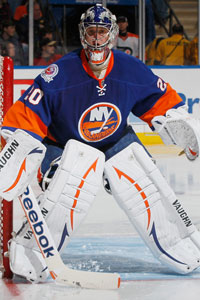 Nabokov has a 2.56 GAA and .912 save percentage this season. (Getty Images)
When the New York Islanders originally claimed Evgeni Nabokov off waivers it appeared that the veteran goaltender didn't want to return to the NHL with the Isles by not joining the team for the remainder of the season.
You can't say the same about Nabokov any more.
The Islanders announced on Wednesday that they have re-signed Nabokov to a one-year contract to bring the veteran back next season. Bob McKenzie of TSN -- who knows contract numbers sometimes before the players do -- reports the deal calls for $2.75 million but doesn't include any no-movement clauses.
"I'm thrilled to commit to this team for next season," Nabokov said in the team's release. "We have a great group in the locker room of young, talented players and we're heading in the right direction. I'm excited to have the chance to help get this team back to the playoffs."
Nabokov has been good, not great but good, for the Islanders this season. It's hard to read much into his 17-18-3 record considering his team's lack of success, but the 2.56 goals against and .912 save percentage aren't terrible. More importantly, though, he has given them a steady presence in net, something they haven't had in a long time.
"Evgeni has proven that he can still play at an elite level in the NHL," GM Garth Snow said. "He's given us a chance to win every night and we're excited to have him back for another season."
All in all, not a bad move for the Islanders. They aren't committing much in terms of time or money to Nabokov and, moreover, they will be able to move him next season if necessary/desired. There was likely to be a team or two (ahem, Toronto) interested in his services this summer.
With the uncertainty that Rick DiPietro has become, it's nice to have a bit of a comfort in your goaltender's health.
The only downside if you want to get picky is that it means they might pass on re-signing Al Montoya , a younger goaltender who's also a free agent after this season and might factor into the Isles' look a little bit more long-term.
For more hockey news, rumors and analysis, follow @EyeOnHockey and @BrianStubitsNHL on Twitter and like us on Facebook.