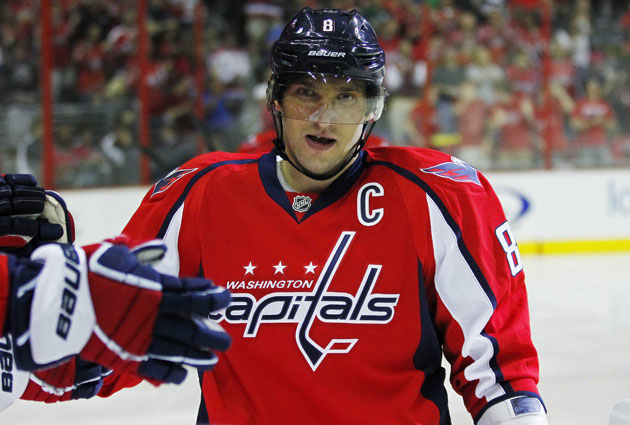 Alex Ovechkin was the NHL's leader in just about every offensive category since the last lockout. (Getty Images)
It's been seven years since the NHL lost the entire 2004-05 season due to a lockout, and when the league reopened for business in 2005 there were many changes to the game.
Some better (and more useful) than others: the salary cap, the shootout, the removal of the red line and the two-line pass, the trapezoid. A lot of it was done to increase scoring and add excitement to the game.
That said, we just wanted to take a quick look at the NHL's leaders during the past seven seasons.
The names at the top of each list probably shouldn't be much of a surprise.
When it comes to offensive dominance, it was obviously the Alex Ovechkin show, as he led the league in nearly every offensive category, and in many cases (goals, shots) by a significant margin.
Sidney Crosby's name appears in the top-three just twice, mainly because he missed so many games to injury (an ankle injury in 2007, as well as his concussion problems over the past two seasons). With better health he's probably at the top, or at the very least near the top, in most of these categories. His per-game averages over the past seven years blow away everyone else in the league.
It should be no surprise to see Joe Thornton as the top playmaker and the second-leading scorer. For a guy who seems to never be able to escape criticism for some perceived shortcoming in the playoffs that doesn't really exist, he had some monster seasons in San Jose during the past seven years, including back-to-back campaigns with at least 90 assists. Just to put that into perspective, there were only two players during this stretch who topped even 80 assists in a single season (Crosby had 84 during the '06-07 season, and Vancouver's Henrik Sedin had 83 in '09-10). He still seems to be one of the most underappreciated players of his era.
One last note: The only two players to appear in every game during the past season years were Sedin and Calgary's Jay Bouwmeester. Bouwmeester not only appeared in every game, he also played 700 more minutes than any other player in the league. But for all of that time he spent on the ice, he's yet to have the opportunity to play in an NHL playoff game (which says more about the teams he's been on than him).
As for the goalies...
NHL Leaders Since The Last Lockout: Goalies (minimum 82 games played)
Category
No. 1
No. 2
No. 3
Games played
Miikka Kiprusoff (514)
Henrik Lundqvist (468)
Roberto Luongo (461)
Save percentage
Tuukka Rask (.926)
Tim Thomas (.922)
Tomas Vokoun (.921)
Shots faced
Miikka Kiprusoff (14,402)
Roberto Luongo (13,473)
Henrik Lundqvist (13,069)
Saves
Miikka Kiprusoff (13,157)
Roberto Luongo (12,377)
Henrik Lundqvist (12,023)
GAA
Dominik Hasek (2.09)
Tuukka Rask (2.20)
Henrik Lundqvist (2.27)
Wins
Miikka Kiprusoff (273)
Roberto Luongo (259)
Martin Brodeur (253)
Shutouts
Martin Brodeur (44)
Henrik Lundqvist (43)
Roberto Luongo (37)
How about the workload for Miikka Kiprusoff in Calgary? It's a topic of discussion every offseason (how many games will he play this year?) and no team leaned on its goalie more than the Flames, having him appear in 90 percent of their games. It's a pretty absurd number, and one that no other goalie in the league came close to matching. Obviously, that resulted in him having to face nearly 1,000 more shots than any other goalie in the league.
For more hockey news, rumors and analysis, follow @EyeOnHockey and @agretz on Twitter and like us on Facebook.