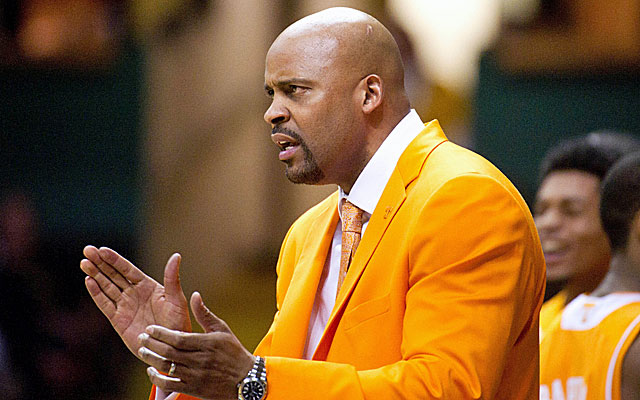 More: NBA Early Entries | 2014-15 Top 25 (And One) | Coaching Changes
Cuonzo Martin is a lot of things.
Tough. Smart. Respected. Accomplished.
But Cuonzo Martin is not Bruce Pearl, and that's basically why Martin is no longer the coach at Tennessee and suddenly the coach at California, because he was never going to be BP in the eyes of UT fans, and he was smart enough to know it. The best example of this came this season, when fans started an online petition designed to encourage the administration to fire Martin and rehire Pearl. Roughly 40,000 folks signed the petition before Pearl took the Auburn job last month, and this all happened while Martin was in the middle of a season that would culminate with a trip to the Sweet 16 of the NCAA Tournament.
Can you imagine?
You sign two five-star prospects in a span of three recruiting classes, win more games each year than the year before, mold a roster into a team that will soon make the Sweet 16, and, still, literally tens of thousands of your own fans have taken time out of their days to sign a petition requesting that you be replaced by the man you replaced three years earlier. Combine that with the fact that four of the top five players from the team you just won 24 games with are leaving college, meaning a dip was almost certainly coming next season, and can anybody on this planet blame Martin for accepting California 's offer?
I know I can't.
Because he did what I would've done.
To be clear, I have no idea if Martin will be great at California because he has no obvious ties to the area, and that's a hard job, perhaps an even harder job than the Tennessee job. But that's also beside the point because the goal for Martin should've never necessarily been to get a better job than the Tennessee job. The goal should've been to get a different job than the Tennessee job for all of the reasons previously stated, and the idea that the Tennessee players effectively congratulated Martin on the move serves as a good indicator that they did not like the way their coach was treated and thus didn't mind seeing him bounce.
Jeronne Maymon and Jordan McRae tweeted positively about Martin.
So did junior guard Josh Richardson.
And then this happened ...
@GaryParrishCBS agreed

— Jarnell Stokes (@JarnellStokes) April 15, 2014
Interesting, right?
So good for Cuonzo Martin on getting a new contract and fresh start, and now Tennessee athletic director Dave Hart is on the clock. The Vols have nice facilities, decent tradition and tons of money to spend on their next coach, if they want to spend it, and I imagine Wichita State's Gregg Marshall will get the first phone call. But Marshall is already rich and plenty smart, which is why it's fair to wonder if he'd seriously consider a move to Knoxville when he has a team, thanks to Fred VanVleet, Ron Baker and Tekele Cotton, basically guaranteed to win another 30 games next season. Would Marshall really leave that to rebuild Tennesseee now? Or is his best option to make another NCAA Tournament, remain a hot name, and see if something bigger and better -- Texas, Oklahoma State, whatever -- opens next season?
I know what I think.
Either way, we'll see what Marshall thinks soon enough.
VCU's Shaka Smart will also get a call, if only because he always gets a call. But nobody I know who knows Smart thinks UT is a job he'd take, meaning Hart will likely end up shopping from the middle of his list, at which point some obvious names -- Xavier's Chris Mack, former UCLA coach Ben Howland, Southern Miss' Donnie Tyndall, etc., -- will surface, and, eventually, somebody will accept the job, put on an orange tie and sing Rocky Top.
Meantime, Cuonzo Martin will be working 2,500 miles away.
Three weeks ago, he was in the Sweet 16.
Now he's in Berkeley -- free of Bruce Pearl's shadow and all online petitions.