Who is the best coach in the Power Five conferences? It was a simple question with a rather easy answer for us here at the CBS Sports, but what began as a light debate turned into a rather heavy one once someone finally asked, "How would you rank all the Power Five coaches?"
So that's what we did.
We treated it just like we would treat a top 25 poll with six voters turning in separate ballots of all 65 coaches (we included Brian Kelly of Notre Dame). Those votes were compiled into one final poll. Our six voters were Matthew Coca, Dennis Dodd, Robby Kalland, Chip Patterson, Jon Solomon, and of course myself, Tom Fornelli.
There were no set parameters for how we would rank the coaches. We simply ranked which ones we felt were the best in the business based on what we think makes a coach good or great.
For instance, in my ballot, I kept new coaches that haven't actually led a team yet at the bottom of my poll. I might think Kirby Smart will be successful at Georgia, but he hasn't actually coached a game yet, so until he does, he and the other assistants stepping up for the first time were kept at the bottom of my poll. While the other voters didn't follow this as strictly as I did, it did seem to be a theme.
One note: Unlike last year, we did not include BYU in these rankings, which are down to 65 teams instead of 66 teams.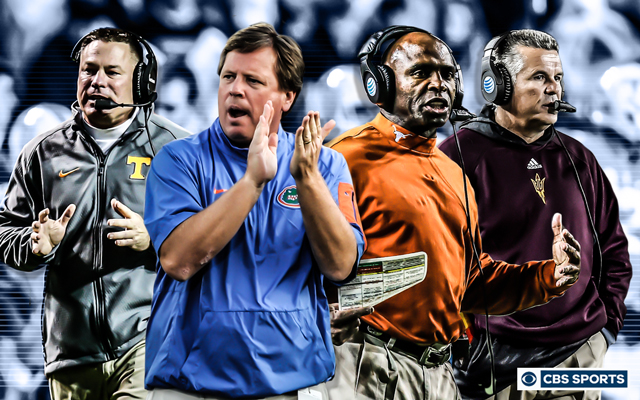 65. David Beaty, Kansas (Last year: 66): Beaty is ranked last for the second season in a row. Last year, it was because he was new; this year, it's because he has an entire season under his belt but is still looking for his first win.
64. Chris Ash, Rutgers (Not ranked): Ash hasn't coached a game yet, but he's taken over a program where it's been historically difficult to win and is now in one of the toughest divisions in college football.
63. Darrell Hazell, Purdue (64): If not for the impending retirement of Purdue's athletic director and the fact there were so many coaching vacancies last season, Hazell probably still wouldn't be around to be ranked.
62. Barry Odom, Missouri (NR): No pressure, Barry. You're just taking over the Mizzou program after the most successful coach in its history.
61. Tracy Claeys, Minnesota (NR): Claeys begins his first full season in 2016, but he did coach six games last season (and others when Jerry Kill was ill).
60. D.J. Durkin, Maryland (NR): We know Durkin can build a solid defense and put together tremendous special teams units, but can he run an entire program? 
59. Dave Clawson, Wake Forest (53): We all thought Dave Clawson was a smart hire when Wake Forest nabbed him from Bowling Green, but a 6-18 record through two seasons hasn't been enough to improve his standing here.
58. Mike MacIntyre, Colorado (61): MacIntyre has been at Colorado for three seasons now, but he only has two Pac-12 wins. 
57. Derek Mason, Vanderbilt (65): Vandy only improved by one win in Mason's second season, but it picked up two more conference wins and looked like a more formidable opponent.
56. Mark Stoops, Kentucky (58): UK took a nice step forward in Stoops' second season, improving from two to five wins, but it remained at five wins last season. Can Stoops get this team to the next level?
55. Matt Campbell, Iowa State (NR): Campbell went 35-15, is young, and could have a bright future. He also has one of the toughest jobs in the Power Five at Iowa State.
54. Steve Addazio, Boston College (47): After winning seven games in each of his first two seasons at Boston College, the Eagles took a big step back last year. Addazio's ranking reflects that.
53. Sonny Dykes, California (55): Cal has improved in each of the last two seasons, but even with the No. 1 pick in this year's NFL Draft at quarterback, the Bears couldn't get more than eight wins.
52. Gary Andersen, Oregon State (38): Andersen drops 14 spots after leaving Wisconsin to take on a tough task in Corvallis. Pure speculation on my part, but had he remained at Wisconsin, he might be creeping up on the top 25 right now.
51. Clay Helton, USC (NR): Helton only went 5-4 overall with the Trojans last season, but he was 5-1 in Pac-12 play. If that continues, he'll climb quickly.
50. Dave Doeren, NC State (42): The Wolfpack have been to two consecutive bowl games, but they're still only 6-18 in conference play under Doeren.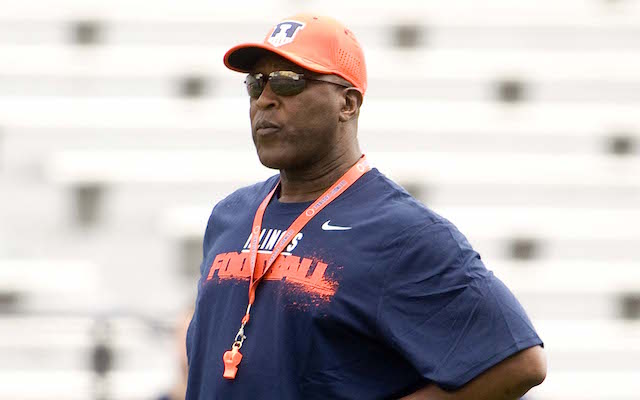 49. Lovie Smith, Illinois (NR): The most shocking hire of the offseason starts his college career at a nice spot. It remains to be seen how Lovie will do on the college level, and he takes over a program that can only have success in short bursts, but his NFL background boosts his reputation a bit.
48. Kevin Wilson, Indiana (62): Wilson led Indiana to its first bowl game in his five seasons there, and even if he only finished 6-7, doing so at Indiana and winning two Big Ten games in a very tough division gave his "street cred" a significant increase.
47. Kliff Kingsbury, Texas Tech (54): Kingsbury bounced back from a rough second year in Lubbock to get back to a bowl game, but it's hard to believe he'll be able to climb much higher without improving that defense.
46. Kirby Smart, Georgia (NR): It's clear that when it comes to some of our voters, being Nick Saban's right-hand man at Alabama is enough to land Smart a pretty high position in these rankings for a guy who hasn't actually coached a game yet.
45. Dino Babers, Syracuse (NR): Babers has won at Eastern Illinois, and he's won at Bowling Green. He just hasn't stayed at a school for longer than two seasons, but the idea of his offense playing in a domed stadium has plenty of us thinking big things for the Syracuse offense.
44. Will Muschamp, South Carolina (NR): BOOM is back. Muschamp went 28-21 at Florida and that was a much "easier" job than the one he's inheriting from Steve Spurrier. 
43. Mike Riley, Nebraska (48): Riley's first season at Nebraska was a rough adjustment for all involved, and it'll be interesting to see how things go in Year No. 2.
42. Dana Holgorsen, West Virginia (43): Holgo had his best season at West Virginia record-wise but still posted a losing record in Big 12 play. The 2016 season could be a boom or bust campaign for him and the Mountaineers.
41. James Franklin, Penn State (33): It's easy to explain Franklin's fall in the rankings. When you're going 9-4 at Vanderbilt, that's really impressive, but when you're only posting 7-6 seasons at Penn State, that changes things. Franklin's hoping his Lions take a big step forward in Year Three.
40. Pat Narduzzi, Pitt (63): Narduzzi was ranked low last year because he was a new coach, but we all held him in high esteem. Now after an 8-5 start, with a 6-2 record in the ACC, he jumps up 23 spots in the rankings. 
39. Paul Chryst, Wisconsin (51): The man Narduzzi replaced at Pitt posted a 10-win season in his first year at the alma mater, but finished in second place behind Iowa in the Big Ten West. He still remains at a program most expect to win the division each year, however, and as long as Chryst keeps that history up, he'll keep climbing our rankings.
38. Justin Fuente, Virginia Tech (NR): Fuente has no Power Five experience, but it's hard to argue against what he was able to accomplish at Memphis. He's replacing a legend at VT, but he just might be what that program needs to wake it from a recent slumber.
37. Paul Johnson, Georgia Tech (27): Tech went from an 11-win season and an Orange Bowl victory in 2014 to a 3-9 record in 2015, which affects Johnson's ranking quite a bit. That said, the man still has a career resume strong enough to keep him from plummeting too far.
36. Todd Graham, Arizona State (29): Arizona State entered 2015 with very high expectations after consecutive 10-win seasons and then fell flat on its face. Graham's ranking takes a hit because of it, but it's still clear we think he can get things back on track.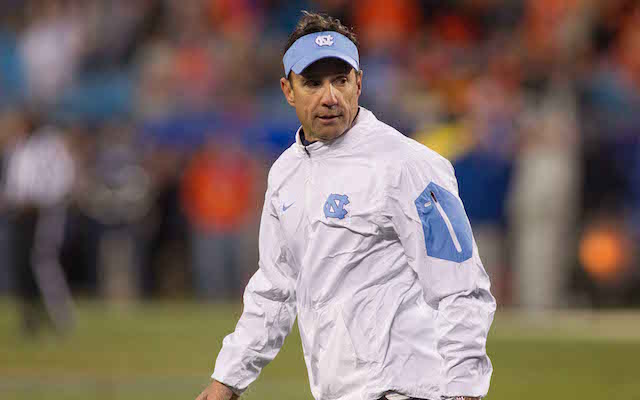 35. Larry Fedora, North Carolina (44): The Tar Heels took a major step forward last year, finishing 11-3 and helping Fedora climb nine spots. Fedora's ranking on all six our of ballots had variance, which tells me more than a few of us want to see if he can do it again. If he does? Well, he might crack the top 25 next year.
34. Pat Fitzgerald, Northwestern (46): After consecutive five-win seasons, Northwestern won 10 games last year for the second time in Fitzgerald's 10-year tenure. Which team will we see in 2016?
33. Butch Jones, Tennessee (37): The Vols have improved by two wins in each of Jones' last two seasons despite some devastating losses, and if that winning trend continues in 2016, we're going to see Jones in the top 25. Again, if that trend continues.
32. Kevin Sumlin, Texas A&M (26): The Aggies have seemingly stagnated in recent years as Sumlin burst on the scene with 11 wins in his first season; however, that dropped to nine the next year and eight each of the last two. 
31. Dan Mullen, Mississippi State (35): We clearly respect Mullen, but I can't help but feel there's a sense of, "OK, let's see what you do without Dak Prescott" in our collective votes. If the Bulldogs post another nine or 10-win season in 2016, Mullen could (and should) fly up these rankings.
30. Mike Leach, Washington State (39): There was a lot of skepticism about whether Leach could succeed at Washington State coming into last season, and Leach responded with his best season on The Palouse. 
29. Jim Mora, UCLA (34): Mora is coming off his worst season at UCLA, yet climbs five spots in the rankings. Personally, I feel this is a bit too high for him, but most of my colleagues seem to hold him in higher esteem than I do right now.
28. Charlie Strong, Texas (25): Texas' record did not improve in 2015, but the team just seemed to be more competent, and it looks to be headed in the right direction. That wasn't enough to keep Strong in the top 25, but it was enough to stop him from falling too far.
27. Jim McElwain, Florida (49): It may have been McElwain's first season at Florida, but including his time at Colorado State, he's now won 28 games the last three seasons after going 10-4 in Gainesville and leading the Gators to their first SEC East title since 2009.
26. Bronco Mendenhall, Virginia (28): Mendenhall was very successful at BYU, and he had that success in a much more difficult situation than most coaches deal with. Now he's at a Power Five school, located in a state with some very good football talent. We're very interested to see what Mendenhall can do with the Cavaliers.