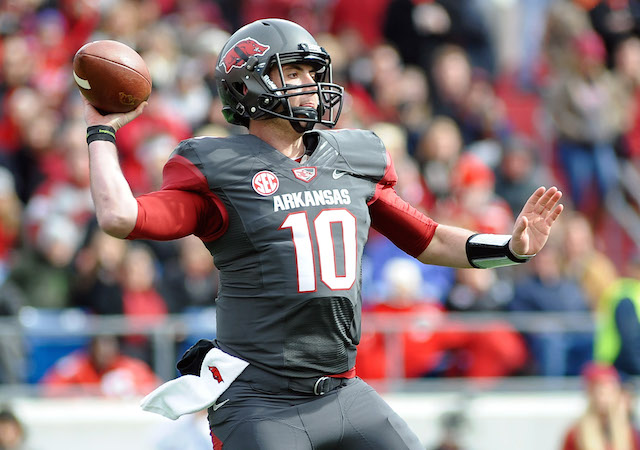 When you're the starting quarterback at an SEC school you're supposed to be treated like a king, not wake up early in the morning to find your truck has been burned, but that's exactly what happened to Arkansas quarterback Brandon Allen.
According to various reports out of Fayetteville, local police confirmed that Allen's truck was one of three automobiles to be set on fire early Monday morning. The police are investigating arson, as one car in Fayetteville was on fire around 1 a.m. and then three hours later, a mile away from the original car fire, Allen's truck was reported to be on fire as well.
Allen was reportedly woken up by the truck's alarm going off and went outside to discover it ablaze. Which is a hell of a way to start your week, isn't it?
This is Brandon Allen's driveway. As you can see, there's still some burn marks from where his truck caught fire. pic.twitter.com/7pKh6MIlLQ

— Katelynn Zoellner (@5NEWSKatelynn) August 25, 2014
Here's a picture of the ditch Allen's truck rolled into after being burned. His vehicle was towed after the incident. pic.twitter.com/JQYRmK1hyU

— Katelynn Zoellner (@5NEWSKatelynn) August 25, 2014
It'll be interesting to see what the police discover in their investigation, because if it turns out it was an angry fan who did it, well, that's just not a good look for Arkansas, is it?