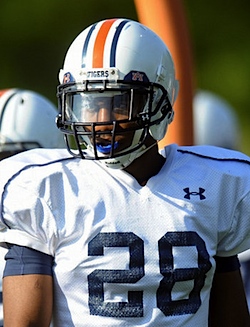 The start of preseason drills is usually accompanied by a few cases of surprise attrition, and Auburn is being bitten early: According to his former high school coach, sophomore cornerback Jonathan Rose has been dismissed by Tiger coaches for undisclosed "personal reasons." He's reportedly been given an unconditional release to transfer to any school that will have him.
"It has nothing to do with grades or anything that deals with the police or anything like that," Leeds (Ala.) High coach Keith Etheredge told the Birmingham News. "It's just that he doesn't need to be down there anymore. It has nothing to do with the coaching staff or Auburn or anything like that. They've been great to Jonathan.
"I said when he left high school here he was the type of kid I want my son to grow up to be. I still feel that way. Nothing has changed. My gosh, if Jonathan Rose can't make it in Division I college football, I don't have a kid that I have ever coached that can make it. That's the type of kid he is. He wants to fit in, but he's got to learn he can't fit in with every crowd."
Surprisingly for a program with an active revolving door, and that isn't facing any impending numbers crunch under NCAA scholarship caps, Rose is only the second member of Auburn's 2011 signing class to hit the road. He arrived last year with unanimous four-star ratings from the major recruiting sites, which generally considered him one of the top 10 incoming cornerbacks in the nation, and managed to get on the field in nine games, thereby avoiding a redshirt. But he also fell behind classmates Robenson Therezie and Jermaine Whitehead and remained buried on a crowded depth chart – the Tigers return their entire rotation at cornerback, including regular starters Chris Davis and T'Sharvan Bell and two others who started at least one game last year – despite generally positive reviews in the spring. If he remains in the FBS, Rose will have to sit out a year under standards NCAA transfer rules, but will still have three years of eligibility remaining.
- - -
Photo via the Birmingham News.