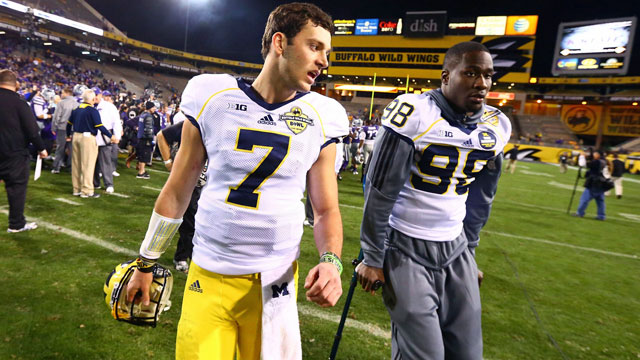 The Big Ten announced Monday new concussion protocol standards that include penalties for non-compliance and use of an independent athletic trainer.
In a news release, the Big Ten said its concussion protocols "will move from best practices and minimum requirements for schools to regulatory standards by the conference." The Big Ten will have an independent athletic trainer in the replay booth with a monitor and ability to directly contact officials on the field, in addition to doctors and athletic trainers on the field.
The Big Ten sustained two of the highest-profile concussion situations in college football this year.
Last week, Ohio State football player Kosta Karageorge was found dead of an apparent self-inflicted gunshot wound. Hours before he went missing, Karageorge sent his mother a cryptic text message that said, "Sorry if I am an embarrassment, but these concussions have my head all F----- up." A coroner told SI.com that the brain of Karageorge, a former wrestler, will be sent out for additional testing because of his history of concussions. Ohio State has said it's confident in its medical procedures.
In September, Michigan mishandled a concussion sustained by quarterback Shane Morris, who was allowed to return to the game despite concussion-like symptoms. Rep. Bill Pascrell (D-N.J.) wrote to Big Ten commissioner Jim Delany asking the conference to assess penalties for violating the conference's concussion protocol. Pascrell, who is co-chair of the Congressional Brain Injury Task Force, also urged NCAA president Mark Emmert in November to create mandatory NCAA concussion guidelines.
Details were not initially provided of how a penalty system will work in the Big Ten for not complying with concussion protocol. Attempts to speak with the Big Ten for further details were not immediately successful.
"The enhanced concussion protocols will be incorporated by reference into the existing conference-wide concussion management policy and will include reporting requirements, disciplinary action for non-compliance and a higher level of accountability for conference member institutions," the Big Ten news release said.
Pascrell, the congressman who pressed Delany and Emmert for concussion-related penalties, said he was pleased the Big Ten will implement a higher level of accountability.
"I'm eager to hear the details of how the penalties for non-compliance will be assessed, because the only way they will be meaningful is if they are severe," Pascrell said in a statement. "While this is an important step towards ensuring the safety of collegiate athletes, (the) NCAA must now step up and implement mandatory concussion protocols for all member schools and assess penalties for the violation of those protocols to protect athletes across all sports at all universities."
Ramogi Huma, president of the National College Players Association, described the Big Ten's actions as "very positive steps."
"It highlights the fact the conferences do not have to wait on the NCAA to act, and they should because these are life and death issues," Huma said. "I think it's important to realize this is not happening in a vacuum. I think if any conference would act it would be the Big Ten, where you had Northwestern football players sign union cards and win an NLRB decision with concussion reform as a part part of their goals."
Last week, the SEC proposed as part of NCAA autonomy for the five major conferences the establishment of a Concussion Safety Protocol Committee. The committee would examine and approve each school's concussion procedures and protocols.
The SEC proposal said it wants schools to rehearse concussion procedures on a weekly basis in contact-collision sports; provide information to the committee upon request concerning any incident involving a concussion; and submit a written certificate of compliance from each coach for each contact-collision sport and any other high-risk concussion sport.
The SEC proposal sounds like what NCAA chief medical officer Brian Hainline described in September after the Michigan incident. Hainline said then that the best mechanism could be a group of people reviewing concussion-related issues each week and making recommendations on discipline. Hainline has said if an NCAA enforcement system exists for concussions, it needs to cover all of the NCAA rather than a two-tier system that caters to public perception.