Clemson center Jay Guillermo couldn't shake the suicidal thoughts in his mind last year.
He never had a specific idea of how to kill himself, nor did he ever try to take his life, he says now. But the fact Guillermo entertained these thoughts are difficult for him to explain a year later since he got treated by counselors and therapists for depression and alcohol abuse.
"To me at the time -- and now I don't think this way -- suicidal thoughts were almost calming," Guillermo said. "It's weird. I don't really know how to describe it. It's something that made so much sense then. That's what depression does. It makes you think crazy thoughts and things that are insane become rational, and they're not."
A year ago, Guillermo wanted nothing to do with football; he quit school during a period of heavy drinking and went to live with his mother in North Carolina. On Monday, he will anchor Clemson's offensive line against Alabama in the 2016 College Football Playoff National Championship.
The story isn't as simple as connecting dots from his struggles to the recovery. Depression never is that easy. Guillermo has talked publicly about his battles throughout this season, largely to help others suffering from depression. In truth, talking also helps him.
"It's almost been like a therapy for me to come out and talk about," Guillermo said. "There's no miracle cure for depression. You don't wake up one morning and say, 'Yep, I feel great.' You can feel fine for months at a time and feel depressed again and fall into that trap. It's an ongoing battle."
Guillermo noticed his depression starting during the 2014 season after he broke his foot. While he sat out, Guillermo let his body go and drank alcohol excessively, which he said occurred as a coping mechanism for his depression. He said he would binge drink two or three times a week, sometimes with his friends, other times alone.
"I didn't really have to go do football so I was like, why not?" he said. "I knew I could suffer through school, so I said, 'Why not go out and drink on a Tuesday night?' I started doing it more and more and it eventually got to a point I knew I needed to slow down or it will grow into a monster and that will be another problem I have."
Christie Clary, Guillermo's mother, noticed her son become more withdrawn as his body started breaking down. His weight ballooned to 363 pounds (he now weighs 302). His vitamin D was depleted. He had thyroid problems. His cholesterol was through the roof. His blood pressure skyrocketed to 190 over 100, meaning he was almost at stroke stage.
"His whole body was completely out of whack," Clary said. "He was questioning everything."
Guillermo needed help.
Leaving Clemson for assistance
One out of every four college students suffers from some form of mental illness, including depression. Forty-four percent of American college students report having symptoms of depression, yet 75 percent of college students don't seek help for mental health problems. Suicide is the third leading cause of death for college students.
Now add the pressure of major college football into the equation for a student. Throw in a sports culture in which seeking help for depression is often viewed as a sign of weakness, and you've got a ticking time bomb for some athletes.
Athletes who become injured can lose the identity of who they are and spiral into depression and anxiety, NCAA chief medical officer Brian Hainline said. The NCAA plans to soon roll out best practice guidelines for the mental health of college athletes. That includes preemptive measures such as coaches, athletic medical providers, campus mental health officials and faculty athletic representatives all meeting at the start of each year to be on the same page.
Guillermo said there are Clemson teammates who have fought depression, too. He remembers not liking to talk about his problems when he was struggling so he gives them their space but lets them know he's there if they want.
"Everyone knows (depression) is there but no one really wants to talk about it because it does have a stigma," Guillermo said. "It's something that really does need to be talked about because it affects so many people. I can't count on all my fingers and toes how many people have come up to me and said they really appreciate my story and it helped push them through whatever battle they went through."
By early January 2015, Guillermo had told Clemson coach Dabo Swinney he wasn't sure he wanted to play football anymore. Guillermo was a high school All-American and rated by some recruiting services as the No. 1 center in the country, but football had lost its meaning to him. He stayed in school about another month before deciding to go home, remembering how his stepbrother killed himself less than a year earlier.
"I saw what my father and my stepmother went through, and that's another reason they wanted me to get help," Guillermo said. "I didn't want to have to put my family through that again. It broke my heart."
Swinney told Guillermo that when -- not if -- he returned to Clemson, he would still have a scholarship even if he never played football again. "I was thinking of ways to get money to finish school," Guillermo said. "To hear him say that kind of put me at peace."
Clary recalled the early weeks of Guillermo returning home as "crazy." Guillermo started having nightmares, horrible night sweats and insomnia.
The "bad thoughts," as Clary described them, continued. This wasn't the mama's boy she knew who was a homebody with an outgoing personality.
"It was really scary," Clary said. "When you've got a 360-pound person going through what he went through, in your mind you think, 'If he loses it, we're not going to be able to control him.' Thank God that never happened. One day he got mad at me when I said, 'This isn't you.' He said, 'Well, this is me. I've changed.' I told him, 'I gave birth to you. I know you. I know your heart and you are going through these things. But this is not you and I am not giving up on you.'"
Finding the right balance with medication was an ongoing challenge. For one thing, Clary believed Guillermo had lost a lot of magnesium and needed the proper nutrients. But she was worried about what medicine he took in case he returned to football because of NCAA drug-testing guidelines. "I kind of got frustrated like, 'Are you kidding me?'" she said.
Also at issue was how to handle Guillermo's thyroid and depression. By the end of the 2014 season, Guillermo was on thyroid medication that Clary thinks resulted in his increased blood pressure. He also began taking medication for depression while at Clemson, but it wasn't making a difference, she said.
"He hated the way it made him feel and decided not to take it anymore," Clary said. "It's not smart to just stop taking your medicine. It tore my nerves up, to be honest. I could tell he was a little testy when he did that. I told him the right way was to go to a doctor and wean himself off it."
Initially, Clary thought Guillermo needed an in-patient treatment center. He went to one in Georgia but hated it and left after one day. He felt the policies were too strict and intense, such as checking every patient to make sure they weren't bringing in substances. Clary came to believe her son needed a stable place where he could be loved and decompress.
Guillermo still needed help.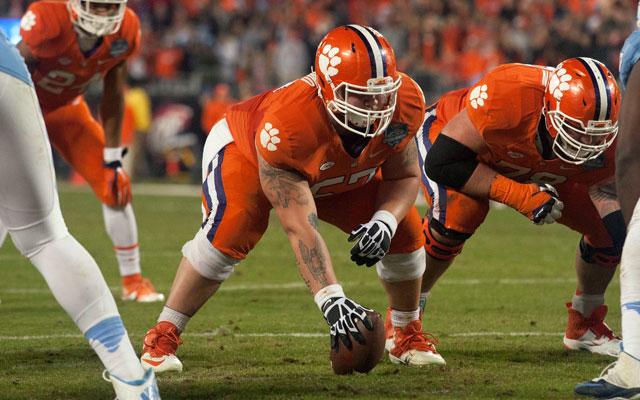 'I'm a lot better, but it's never over'
Brad Wilkerson was once in Guillermo's shoes. Wilkerson, a childhood friend of Guillermo's father, played center on the Division III Mars Hill College football team.
When Wilkerson's alcoholic father died, his life spiraled out of control. He became depressed. He became addicted to methamphetamine. He got into legal trouble. He wound up sleeping under a bridge before changing his life.
The day Guillermo left the treatment center in Georgia, Clary took her son directly to Wilkerson's North Carolina home for a late-night, heart-to-heart talk at his dining room table.
"Brad challenged Jay," Clary said. "He looked Jay in the face and said, 'I know where you're at. We can help you, but you have to do the work and it's not easy.'"
Said Wilkerson: "You get a look in someone's eyes and Jay wanted it. Jay wanted to get well."
For about four months starting in March 2015, Guillermo got counseling about four days a week at Legacy Freedom Treatment Centers in Charlotte, North Carolina, where Wilkerson serves as the chief operating officer. Clary liked that Legacy Freedom also checks blood work and looks at the biological effects of depression. Most of Guillermo's counseling was for depression, though there was alcohol counseling as well.
"I wasn't to the point yet where I was an alcoholic," Guillermo said. "I was kind of using it to mask my feelings."
The group meetings were eye opening to Guillermo. They didn't mirror scenes he had seen on television or in movies when an addict stands up at an Alcoholic Anonymous meeting and gives a lengthy talk. The sessions focused more on teaching and reflection.
Guillermo said he realized his problems were small compared to what other people had. He never would have guessed some of the patients he saw were addicts.
"I feel like addicts get a bad rap for maybe looking like homeless people, and that's not it," he said. "It could easily be you or me. These people really inspired me more than I could ever inspire them."
Guillermo's recovery also came at home. He said long talks with his grandfather, Ron Greene, about life and football inspired him. Guillermo began working out again and lifted weights at Burns High School in Lawndale, North Carolina, where Greene had been the football coach.
One day, Guillermo felt he needed to do more than lifting so he got an ax from Greene and started chopping pines. That became therapeutic, too.
Swinney stayed in touch with Guillermo and sent him videos of spring practices he was missing. Last July, he returned to Clemson -- the school he dreamed of playing football for since he was a kid -- for the second semester of summer school and rejoined the team.
When Guillermo started talking publicly about his depression in September, he got flooded with people thanking him for speaking out. Legacy Freedom's volume of calls for potential patients increased by 20 percent to 30 percent, Wilkerson estimated.
Clary said most of Guillermo's problems stemmed from him being a perfectionist and too hard on himself. Anytime he made a mistake, especially in football, he would over think what went wrong, make mistakes again and then get upset.
Clary said he doesn't know exactly the state of mind her son now. She sees a much happier person. She hopes he continues to meet with his counselor after the football season.
"If he can keep his body regulated and eat well and get the medication he needs, maybe he will be OK," Clary said. "But maybe he won't. Really, we don't know. I know he is doing wonderful now. I know that he is very passionate about this. He wants to help young people."
Guillermo tries to now do more activities that make him happy. Always a jokester, he frequently does impersonations of Swinney and offensive line coach Robbie Caldwell. Before the weather turned cold, Guillermo regularly played golf or went for a run on Sundays the day after a game, or he went hiking, or he went camping -- anything to avoid his old routine of sitting around and thinking how bad he felt.
Guillermo said his depression hasn't been a problem since returning to Clemson. There are still times, though, when he doesn't have a great practice that he starts feeling down.
"It starts creeping back up, but I kind of know more about how to deal with it," he said. "I don't lock myself out from everyone. I go see my friends or start talking about it or I call my mom or my grandfather. They're a very big part of my recovery."
Guillermo's body is filled with tattoos. He's thinking of getting a new tattoo to remind him of what he experienced -- perhaps a tree, which is the symbol of Legacy Freedom. Trees represent life. They also need care.
Guillermo still needs help.
"I'm a lot better," he said, "but it's never over."
Follow and read more from Jon Solomon on Facebook and Twitter.