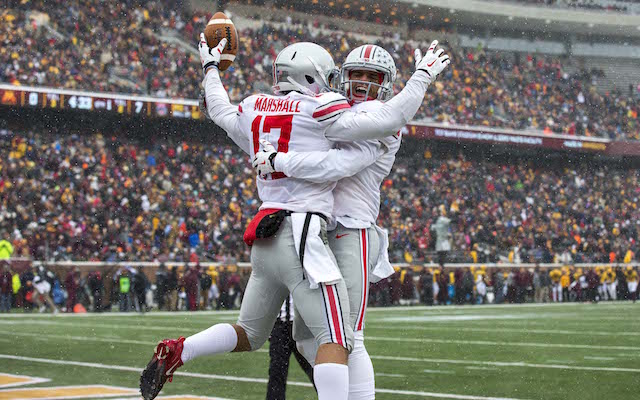 The 110th meeting between Michigan and Ohio State will take place Nov. 29 (Michigan leads the series 58-45-6 but has lost 10 of the last 12). As the two programs move toward rivalry week, we take a weekly look at current trends, and the current state of hostilities, between the Wolverines and Buckeyes.
Days until game: 10
Michigan last week: The Wolverines had a bye, which means they avoided another loss.
Ohio State last week: The Buckeyes went into frigid Minneapolis and picked up a 31-24 win over the Gophers on the road, which helped bump them up to No. 6 in the CFP Top 25.
2014 Michigan-Ohio State Power Index: 1. Ohio State, 2. Michigan
Michigan this week: vs. Maryland, 3:30 p.m. ET (Michigan -5)
Ohio State this week: vs. Indiana, noon ET (Ohio State -34.5)
Michigan storyline: The bye week actually cost Michigan something significant, as defensive end Frank Clark was arrested on suspicion of domestic violence and dismissed from the team as a result. Given the details in the police report, it's hard to blame Michigan for the decision to cut ties, even if Clark is one of the best players it had on its defense. 
Ohio State storyline: All eyes in Columbus remain fixed on the selection committee's rankings, as the Buckeyes climbed up to No. 6 ahead of Baylor. As for what this means going forward, it's hard to see it as anything other than good news. Should Ohio State win its final two games of the season as well as the Big Ten Championship Game, there's a good chance the Buckeyes will be one of the four teams chosen for the playoff -- Virginia Tech loss be damned.
Moment in Hatestory: Nov. 18, 2000
John Cooper spent 13 seasons at Ohio State, compiling a win-loss record of 111-43-4 in Columbus while winning three Big Ten titles as well as a Rose Bowl in 1996. But there was one thing Cooper couldn't do often enough.
Of his 43 losses at Ohio State, 10 of them came against Michigan. Cooper's Buckeyes went 2-10-1 against the Wolverines, and the 38-26 loss to end the 2000 regular season was the last time Cooper would lose to that School Up North. While the final score represented a relatively close game, the fact of the matter is Michigan held a 31-12 lead heading into the fourth quarter before a couple of Ohio State touchdowns helped make things a bit tighter.
At the end of the day, though, Steve Belliari's three interceptions were just too much for the Buckeyes to overcome, and that 10th loss to Michigan was too much for Cooper to overcome. Cooper would be fired at the end of the season, which would actually lead to Michigan students holding a "John Cooper Day" on Feb. 10, 2001, in order to celebrate Cooper's contributions to the rivalry.
Hate tweets:
@rayzimm it's 9:25 PM on Monday November 17th and Michigan......STILL SUCKS....... #GoBucks

— John David Crain (@johndcrain) November 18, 2014
At least Michigan fans can enjoy watching buckeyes blow their chance at a national playoff game. #GoBlue

— Mark Baade (@mark_baade) November 15, 2014
I'd rather walk naked through a blizzard listening to Nickelback than see Ohio State in the College Football playoffs. #GoBlue

— Evan Gilles (@EvanD_Gilles37) November 19, 2014
Give us your thoughts on the Michigan/Ohio State rivalry below, or @CBSSportsCFB. If your tweet is selected for "Countdown to Michigan at Ohio State" next week, you will definitely make people on the Internet mad at you, and that's what being on the Internet is all about.