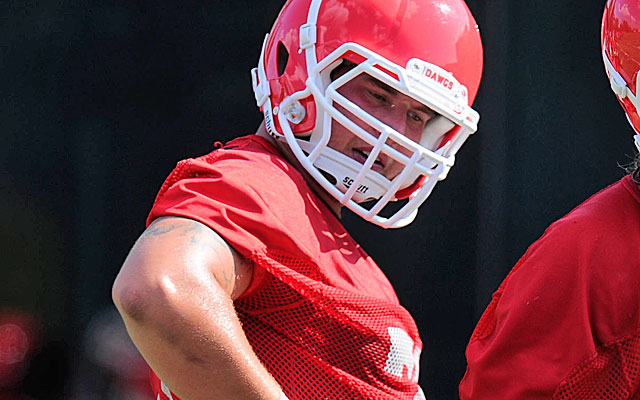 Kolton Houston says -- in fact he insists -- that he is not bitter.
I admire him for that. Because if what happened to Kolton Houston happened to my son, I'd be damned bitter.
That's bitter, as in hauling-somebody's-butt-to-court bitter.
For the past 3 ½ years Kolton Houston's childhood dream of playing college football for the Georgia Bulldogs has been deferred -- and was almost denied -- for a mistake a doctor made when he was in high school.
That mistake -- an injection of a banned steroid by an unscrupulous doctor in an attempt to heal a surgically-repaired shoulder -- ran head first into an inflexible NCAA drug testing policy that, in this reporters opinion, runs contrary to the organization's stated mission of looking out for the best interests of the student-athlete. More on that later.
In April of 2010, Houston was an early enrollee at Georgia and took a random NCAA drug test. The test found high levels of the steroid Norandrolone. He received a one-year ban from competition that eventually lasted almost four years.
In that course of time, Houston has done the following in an attempt to get the substance out of his system and regain his eligibility:
•Taken more than 100 drug tests that proved that the banned substance was declining in value in his system.
•Taken a series of ultrasound and deep tissue massage treatments.
• Started a prescription of Rifampin, a strong antibiotic which is normally used to treat tuberculosis.
• Taken sauna treatments that put him in a 150-degree room, eight hours a day for 30 days.
• And finally had surgery to remove five fatty deposits from his body where the banned substance was stored.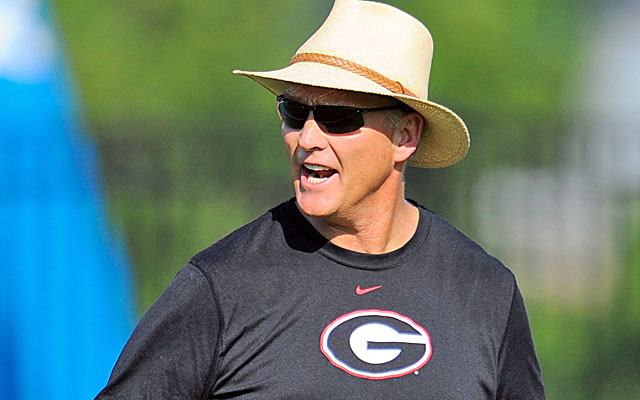 Nobody in Houston's family -- or even his teammates -- would have blamed Houston for throwing up his hands and deciding that college football just wasn't worth it.
"We would have supported whatever decision he made," said his mother, Tiffany. "But he was just determined that as long as there was a door -- as long as there was a chance -- he wasn't going to give up on his dream."
"To tell you the truth, it got to the point where I really didn't want this [playing football] for myself," said Houston. "I wanted it for my family. I saw the pain on my mom's and dad's faces. It's terrible to watch your child go through this. They felt so bad for me."
This story does have a happy ending. But we'll get to that a little later.
This is a complex case. In fact, to the best of anyone's knowledge, there has never been one quite like it.
"I know I haven't seen anything like it and I've been doing this a long time," said Ron Courson, Georgia's director of sports medicine who is considered to be one of the very best in his field. "It was an educational experience for me. And I hope what we learned will keep it from happening again."
This is a story where it is easy to get bogged down in the science. Here are just the basics of what happened:
• Norandolone is a steroid that is known to remain in the body for extended periods of time, even when injected properly into the muscle tissue. The person who injected Houston put the steroid in the fat tissue, where it remained trapped.
• The NCAA limit for this particular banned substance in the system is 2.5 nanograms per milliter (ng/ml). Houston's reading after the initial test in April of 2010 was 260 ng/ml. That resulted in an automatic one-year ban.
"Everybody understood that the one-year ban would be in effect," said Courson. "Everyone admitted that a mistake had been made. That was the appropriate punishment."

• The belief was that the substance would eventually flush itself out of Houston's system. Almost a year later, on Feb. 2, 2011, Houston received another random drug test from the NCAA. The level of the banned substance had dropped from 260 ng/ml to 26, according a letter from Courson to UGA athletics director Greg McGarity.
Despite that huge drop, the NCAA considered that level was evidence that Houston was still using and banned him from college football for life.
"I couldn't believe it," said Houston. "That was when I really got scared this could be over."
• Courson would not accept the NCAA's decision and went to work. Through constant testing in house he began to make the scientific case that the levels of the substance in Houston's system were continuing to decline. Courson also made the case that the levels in Houston's system had grown so small that it did not constitute a competitive advantage for the athlete.

• On July 2, 2011 Courson presented his evidence in a conference call with Georgia's legal team and NCAA lawyers. The NCAA ultimately relented on the lifetime ban but stuck to its guns that Houston would not play until he got below the 2.5 ng/ml threshold. Houston missed his second season of college football.
• On June 8, 2012 Georgia tested Houston again and the level had dropped to 5.9 ng/ml. The NCAA continued the ban.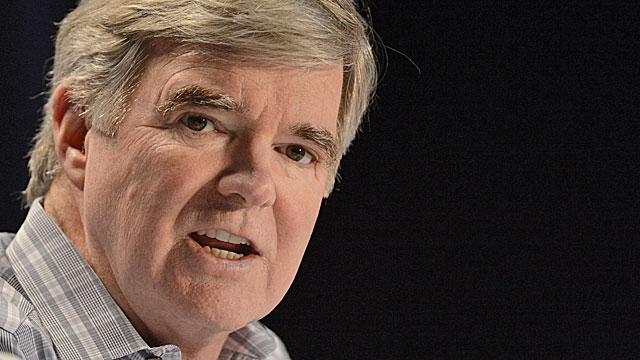 • On July 12, 2012 Georgia's McGarity sends a letter to NCAA President Mark Emmert outlining Houston's case and asking that, because of its unique nature and the school's belief that there was no competitive advantage currently being gained, that the NCAA reinstate Houston to play.
Not only did Emmert say no, he chastised Georgia for even making the request. A copy of Emmert's letter to McGarity, dated July 31, 2012, was obtained by CBSSports.com:
"While I understand the institution's empathy for Kolton's situation, I am surprised the institution would make such a request," Emmert wrote to McGarity. "The exit test policy, however, which would require Kolton not to have elevated levels of a banned substance in his system prior to competing against other student-athletes who are competing clean, is not something that can be waived or appealed because doing so would undermine the purpose of the drug testing program."
So in 2012 Kolton Houston missed his third season of college football.
That's when Kolton and his family embarked on a series of procedures in an effort to get the substance out of his system and meet the NCAA threshold.
In August of 2012 an MRI and ultrasound discovered five soft tissue masses where the banned substance had been stored. On Oct. 2, Houston underwent surgery to remove those masses.
"We had talked it over and if it didn't work I was going to graduate in May and move on with my life," Houston said.
Courson had some reservations about the surgery.
"Basically we were doing a medical procedure for a non-medical reason," said Courson. "We were just doing it to meet a number set by the NCAA."
In subsequent tests after the surgery the level of the substance got down to 4.0 ng/ml. Still, the NCAA was not going to budge until it got to below 2.5.
On July 18, 2013 Kolton took another yet drug test. His total drug tests had now surpassed the 100 mark.
"We knew this was going to be the last one," said Tiffany Houston. "If he didn't pass it would be over. He wouldn't play this season. He would graduate and that would be it."
The phone call came on July 25, 2013. Courson had the test results. The level had dropped to 1.8 ng/ml.
It was Kolton Houston's 22nd birthday.
"One of the best phone calls I've ever made," said Courson.
Houston's family was on their way to Athens to celebrate his birthday and to help him move into a new apartment. He wanted to give them the news to them in person.
"We finally got there and he waited until his roommates left and we were alone," said Tiffany. "When he told us nobody said a word for 30 minutes because all we could do is cry and hug."
Later that day, in a Georgia team meeting, head coach Mark Richt made the announcement. The room exploded.
"Guys started jumping up and down and hugging me," said Houston. "I'll never forget it."
It's an incredible story that does end happily. But before we close the book on this chapter in Kolton Houston's story, a few observations:
• One of the NCAA's stated missions is to make the student-athlete experience the best it can be and to do what is fair and right for each INDIVIDUAL. By ignoring the science and stubbornly adhering to a number -- in this case the 2.5 ng/ml -- the NCAA did not fulfill its mission in the Kolton Houston case.
The NCAA enforcement staff tells us ad infinitum that every case is different and that every case must stand or fall on its own merits. The NCAA did not treat this kid as an individual. They treated him like a number. And that number was 2.5.
We reached out to Emmert's office and the NCAA to hear their side of the story. NCAA spokesperson Stacy Osburn issued this statement:
"We wish Kolton the best moving forward and appreciate his cooperation throughout this situation. All student-athletes must meet the requirements of the NCAA drug testing program. Kolton was held to the same standard as any student-athlete stepping onto the playing field."
Everyone in Houston's camp was measured in their responses when asked about the NCAA and the fairness of it all.
"The NCAA has a tough job to do," said McGarity. "I just appreciate that they were ultimately willing to work with us to get Kolton cleared."
I know it's a tough deal. I understand and respect Emmert's position as stated in the letter to McGarity. I just don't agree with it.
• Mark Richt told Houston he would remain on football scholarship for his entire time at Georgia -- even if he never played a down. Not every school would have done that.
• Courson refused to accept the NCAA's arbitrary stance and went to work to fix something he believed was fundamentally wrong.
"On the first day Ron Courson told me he was going to treat me like his own son," said Houston. "I will never be able to repay what that man did for me."
• After a three-year ban, Kolton Houston has two years of eligibility left. At the end of that, he can petition the NCAA for a third year for unusual medial circumstances. I feel confident that request would be granted.
• Kolton Houston began practice on Thursday as Georgia's No. 2 left guard. In 2011 and 2012 he was projected to be a starter coming out of spring ball. Richt expects Houston to play "a lot" this season.
So on Aug. 31, Tiffany and Shane Houston, who met and fell in love at the University of Georgia (where he was a walk-on linebacker), will drive to Clemson, S.C. On that night their son will finally realize his dream of playing college football as Georgia takes on Clemson in a nationally-televised game.
"We will be there with as many family members as we can get tickets for," said Tiffany Houston. "It's going to be the best tailgate party ever. I can promise you that."