BATON ROUGE, La. -- Five months later, Les Miles still hasn't cracked.
Not that you would expect any sign of wear on the 62-year-old face of LSU football. His administration's spectacular bungling of Miles' job status eventually emerged as the bigger story than the coach's worry lines.
"I have to be very honest with you. I was not distracted," Miles told CBS Sports recently from his office. "I think there was one time I had to address the team because the information was falling into the building. I went to them and told them I'm communicating very effectively with the AD."
At the time, that was largely perceived to be a one-way communication because that athletic director, Joe Alleva, wasn't talking to anyone publicly.
***
To catch you up: It leaked last November that Miles was essentially coaching for his job down the stretch. Many surmised that the story would never have been written without tacit approval from Alleva, now entering his ninth year on the job.
There was a report the Monday of the last regular-season game, that Miles could be out by the end of the day. Whatever the case, Alleva allowed his coach to address the media at his weekly briefing with that fact hanging in the air.
It was later revealed that Miles held onto his job only after a halftime decision by the administration in that last game against Texas A&M.
***
Through a spokesman, Alleva told CBS Sports he did not want to comment on the developments of last season. Nevertheless, Miles' situation was one of the biggest stories of the year. His bosses essentially constructed a gallows of innuendo set to hang Crazy Les in the public square. Then, they ultimately did nothing without so much as an apology.
"Football coaches are always blamed for their job," Miles said. "I can't imagine it being any different, right? After I addressed the team, I do the things I always do. I told our staff, 'I'm not worried about this thing. Don't you be worried about it. Go play, have fun.'"
And so they did, winning at least nine games for the ninth time in Miles' 11 seasons. He has been to a bowl in each one of those seasons, winning seven.
Miles and the Tigers arrive at Saturday's spring game ready for the annual celebration the event should be. After Alabama, LSU may be the next-best team in the SEC in 2016. They have a returning superstar tailback (Leonard Fournette) and an improving quarterback (Brandon Harris). New defensive coordinator Dave Aranda has brought a new excitement.
But even if Miles is ready to move on, there is still a lot to think about, starting with the fact that no one deserves to be treated the way LSU's coach was last season.
"I have to be honest with you," Miles said, "At some point in time in the back end of this life, [I will] reconcile. As far as I'm concerned, all I've ever been asked to do is with a great school and a great fan base and a wonderful stadium and a great tradition is win and play that represents the state of Louisiana well.
"And so, I'm good."
We know the Miles' job situation weighed on the team if only because of the performance on the field. There was a team meeting among the Tigers the day before that A&M victory. LSU had lost three in a row for the first time since 1999. The Tigers had gone from 7-0 and No. 2 in the College Football Playoff Rankings to disappointment.
"Everybody was against us, I felt like," Harris said. "We didn't care what anybody said outside the building."
The biggest influence that day may have come from a player no longer here. Wide receiver John Diarse left for TCU in January as a graduate transfer, but not before he stood up in front of teammates the night before that Texas A&M game with the world crashing in around them.
"What's your 'why?'" Diarse asked, according to recollections from that meeting. "Why do you play this game? What started you to play this game?"
There were about a half-dozen players who addressed the team. One of them was Fournette, nearing the end of a spectacular sophomore season.
"Everybody was thinking back to their childhood memories, when they first fell in love with the sport," he said. "My speech was telling them how much the team meant to me. … I remember getting a flat tire on the highway. I called one of them and they're right there. That's a blessing to have those guys, those older guys on the team. Everybody needs an older brother."
There is a mentality here that some may not want to admit. A lot of fans forgot that LSU used hopscotch from mediocre coach to mediocre coach. The Tigers simply were not a factor in the SEC for, well, decades until Nick Saban arrived.
Next to Saban resurrecting the program, the next biggest accomplishment was Miles keeping it on the top shelf. The problem is too many of those Tigers loyalists thought their program was Alabama.
They mistook hard-earned wins -- and a nouveau tradition of such that basically started in 2000 -- for a birthright. They didn't take into account injuries, the SEC West and Saban himself.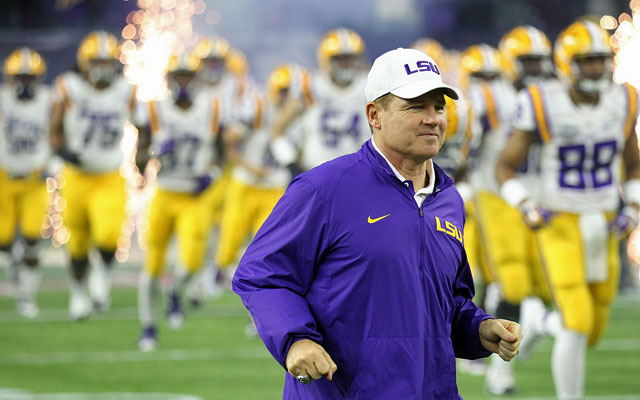 Apparently, part of Miles' downfall was losing five in a row to Alabama since the Game of the Century win in Tuscaloosa in 2011. Guess what? Pretty much everyone was losing five in a row to Alabama.
That's not counting Ole Miss' Hugh Freeze, who along with Miles, is the only active coach to beat Saban in consecutive meetings. But whether you're working in a factory or as a $4.3 million a year coach, it's never comfortable when they want you out.
"He's honestly one of the toughest coaches I've ever been around," Harris said. "You think of the top five head coaches in college football; he's one of those guys. He's been a great figure in the sport. He didn't show any kind of emotion and was coaching us hard to the very end."
Only four active coaches have been at their school longer. And maybe that's part of the issue. After all that time, it might be human nature to covet what you can't have. But Alleva clumsily forgot the first rule of running a successful coach out of town: You'd better make damn sure you have a solid commitment from someone better.
Alleva didn't. The man rumored to be Miles' potential replacement, Jimbo Fisher, stayed at Florida State. Now the athletic director's job might be on the line.
None of it was thought through very well. The state is in a financial crunch. Millions have been slashed from the LSU school budget. It would have been a bad look -- and probably bad money management -- to pay Miles a $15 million buyout before spending millions more to hire a new staff.
We're talking upwards of a $30 million expenditure. That's a decision that has to be made way earlier than halftime of the season's last game.
Miles has a contract through 2019. That means unless he gets an extension, the coach won't be able to tell his 2017 recruiting class he'll be around when they're seniors.
That leads to the obvious question heading into Saturday: Does Miles feel like he has to win X amount of games this year to keep his job?
"I've never felt that way," Miles said. "Here's what you have to realize: Sometimes you get a flat tire. You have to pull off the side of the road and get that tire fixed."
How can Miles crack when his career has proven he always has a spare?