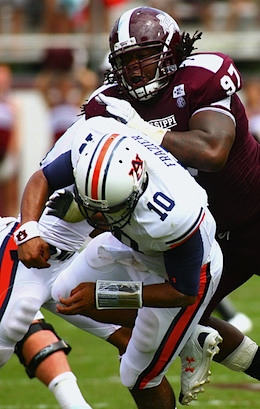 Celebrating the weekend's losers, on the scoreboard and in spirit.
• Kiehl or be Kiehl'd. Contrary to the assessment of most Auburn fans, sophomore quarterback Kiehl Frazier's first SEC start could have been worse: It could have ended at halftime. In the first two quarters at Mississippi State , Frazier completed just one of his seven passes – for a two-yard loss – and was intercepted twice, leaving him with an astonishing pass efficiency rating of –45.3heading into the locker room.
For the game, he finished 13-of-22 passing for 125 yards and three interceptions, and Auburn did not come close to scoring an offensive touchdown in a 28-10 loss.
• Badger Breakdown. For some measure of how bad Wisconsin's offense looked in a 10-7 debacle at Oregon State, you can look at the numbers – the Badgers were held to a paltry 206 total yards, just 35 of them coming on the ground, and prolific tailback Montee Ball failed to score a touchdown for the first time in 21 games – or you can look at the fallout: By Sunday night, first-year offensive line coach Mike Markuson was out of a jobafter just two games.
• Release the Ficken!… Oh, we're not allowed to do that in college? In August, Penn State lost its starting kicker, Anthony Fera, to Texas as part of the hasty exodus of players in the wake of overbearing NCAA sanctions handed down just before the start of the season. It took exactly two games to fully appreciate his absence: In Fera's place, 19-year-old sophomore Sam Ficken missed four of five field goal attempts in the Nittany Lions' 17-16 lossat Virginia, including a 20-yard chip shot in the third quarter and a 42-yarder to win as time expired. Ficken also had an extra point blocked, eventually proving to be the margin of defeat as the Lions dropped to 0-2.
• LOWLIGHT HALL OF FAME: Collin Klein and Chris Harper, Kansas State. Klein was ruthlessly efficient in K-State's 52-13 romp over Miami, hitting nine of eleven passes for nearly 20 yards a pop and adding three short, tough touchdowns on the ground. But let's just say that this… whatever thisis supposed to be… is not going to go down as his finest moment:
Sporting of the Wildcats to give Miami a fighting chance: The 'Cats would subsequently miss a field goal, making that the only one of their first six poessessions that didn't result in points.
• Pitt of Despair. Pittsburgh was a start-to-finish disaster for the second week in a row in a 34-10 embarrassmentat Cincinnati, and refused to help its own cause when given the opportunity. First, down 14-0 in the second quarter with the ball inside the Cincy 10-yard line, the Panthers actually punched the ball in for a crucial score that would have cut the Bearcats' lead to just seven points… only to have the touchdown negated by a holding penalty, and then by a Tino Sunseri interception in the end zone that ended the threat. At the end of the first half, now down 17-0 and again with the ball inside the Cincy 10-yard line after an 11-play, 69-yard drive that had been extended by three successful third-down conversions, Pitt came away empty again when Sunseri simply held the ball too long as the clock ran out.
This on top of two turnovers (one fumble, one interception) that set up Bearcat points and a general lack of execution. It's one thing to get beat by an opponent who's bigger, stronger, faster and executing better than you. It's another to give a conference rival with ostensibly equal talent the gift of dumb mistakes.
• WORST GAME OF THE WEEK: Florida State 55, Savannah State 0.
Savannah State limped into Tallahassee the much-pitied victim of an 84-0 thrashing at the hands of Oklahoma State, and subsequently as the first 70-point underdog in college football history against the Seminoles. Even Florida State didn't want to play this game: It was only scheduled in February as a last-second, emergency replacement for West Virginia, which backed out of a scheduled game in Tallahassee to open up a date for a Big 12 game. (As it turned out, the Big 12 never filled that slot, and the Mountaineers took the weekend off.) As expected, FSU ran out to a 35-0 lead in the first quarter before retreating into patty-cake mode in the second, and finally called the whole thing offdue to bad weather in the third.
Of course, a little rain wouldn't have stopped a heavily anticipated FSU-West Virginia showdown, but for this one, if they hadn't been presented with a convenient excuse to shut it down, they would have had to invent one.
On the other hand: The Tigers covered, baby!
• WORST PLAY OF THE WEEK: Missouri's Fake Punt.
Trailing Georgia 24-20 with barely a minute gone in the fourth quarter and facing a 4th-and-11 from his own 35-yard line, Mizzou coach Gary Pinkel decided to roll the dice on… uh, his punter… who is taking the snap 25 yards from the sticks… to outrun Georgia's entire punt return team… or else give the ball back to the Bulldog offense with exceptional field position. This went about as well as you'd expect:
In fact, tactically speaking, Mizzou had the numbers on the edge – three blockers against one defender – but realistically speaking, the Tigers never had a chance. From there, UGA kicked a gimme field goal and went on to score the game's final 17 points en route to a comfortable, 41-20 win, and the myth of "Grown Man Football"was born. (Let the record show that the side thumping its chest as "Grown Men" in this case has lost nine consecutive games to teams that finished ranked in the final polls. Nice slogan, though.)
• DEMERITS. Also coming for scorn this week:
• Mississippi State's kickoff coverage.
• Illinois' backup quarterbacks. And defense.
• Kent State's self-imposed safety.
• Oklahoma State's penalty yardage.

• DREADFUL DOZEN. The worst of the worst, in ascending order…
- - -
1. UMass (0-2). Minutemen have been blown out of their first two games as an FBS program by a combined score of 88 to 6. And that's against UConn and Indiana.
2. Colorado (0-2). Buffaloes followed up a season-opening loss at the hands of Colorado State with an equally painful loss to an FCS team, Sacramento State, on a last-second field goal. Even worse? Colorado State got beat by an FCS team on Saturday, too.
3. Colorado State (1-1). It's going to be a long year in the Rocky Mountain State.
4. Idaho (0-2). Vandals are searching for a conference after this season and searching for a win anywhere they can find it. Even odds on which comes first.
5. Memphis (0-2). Just Memphis being Memphis.
6. Akron (0-2). Zips actually made it to overtime in a 41-38 loss at Florida International, which would be sort of like half a win if this was hockey.
7. Eastern " data-canon="Michigan Wolverines" data-type="SPORTS_OBJECT_TEAM" id="shortcode0"> (0-2). Eagles actually broke even in the win-loss column in 2011, but a 17-point loss to Illinois State has them back in their familiar place in the cellar.
8. Pittsburgh (0-2). Pitt laid an egg against Youngstown State on opening day, and proceeded to lay another one on national television Thursday in their Big East opener at Cincinnati. Memo to Panthers: You may play in an NFL stadium, but you don't get a preseason. (And we can all see you. Pull it together.)
9. UNLV (0-2). The Runnin' Rebels blew a 14-point halftime lead to Northern Arizona, which still may not be as bad their overtime loss to Minnesota in the opener.
10. Florida Atlantic (1-1). Owls had better cherish that intense, come-from-behind win over Wagner for all it's worth.
11. Houston (0-2). Losing by single digits to Louisiana Tech is not that bad. This is: The team that stunned the Cougars in the opener, Texas State, followed up by getting crushed by Texas Tech.
12. Kansas (1-1). Jayhawks are feeling optimistic about the direction of the program under first-year coach Charlie Weis, who has overhauled the roster and… yep, they just lost to Rice, at home. So much for that, then.
Next week in the Worst: Akron gets its best chance for a win against Morgan State, and Idaho goes to LSU to die.