Tom Hall and Brian Dixon are stuck in bowl purgatory, not that they really mind. Your annoyance at too many bowl games is their determination to attend a different bowl every year.
The Bowl Guys, as they call themselves, might be cashing social security checks whenever this mission ends.
When Tom and Brian started their journey in 1984 as recent University of Kansas graduates, college football had 18 bowl games. They figured it would be an 18-year adventure to keep their friendship alive, have some fun and get their names in Sports Illustrated like rabid fans who tour every Major League Baseball ballpark. They should have been done by now to focus exclusively on their next goal of attending every major rivalry game in college football.
Instead, just when they see the finish line, their goal gets yanked away. More bowls get added in the name of December television programming. The Bowl Guys are Charlie Brown and conference commissioners are Lucy.
On Dec. 29, Tom and Brian will attend their 36th different bowl, the inaugural Arizona Bowl in Tucson. Tom and Brian have done this for so long that they'll be at an All-Mountain West Conference bowl (the league didn't exist until 15 years after the Bowl Guys' streak started) to watch a game televised on something called the American Sports Network.
"Brian is a little bummed because he doesn't know when this thing is ever gonna end," Tom said. "He's of the opinion we can just finish and move on to something else. I'm like, 'Brian, this is our life mission. No one will ever be able to repeat this accomplishment.'"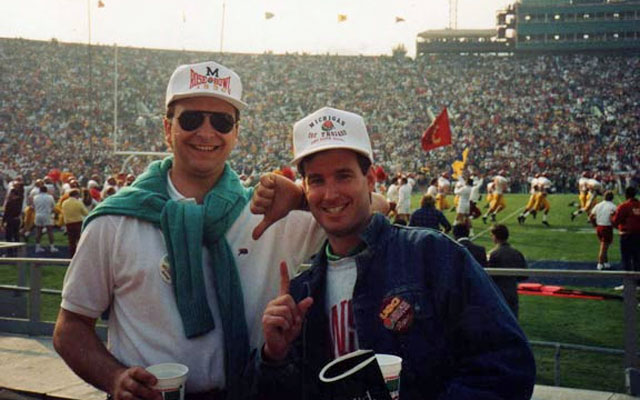 After the Bowl Guys attended the MicronPC Bowl in 2000 (there's a blast from the past!), they had five bowl games remaining. When I met them for the first time in 2011 in Birmingham, Alabama, they had seven bowls left to conquer and they've since gone to four of those. After the Arizona Bowl gets checked off, they'll have eight left: Gator, Poinsettia, Hawaii, Bahamas, Miami Beach, Boca Raton and Camellia. It's up for debate whether they must attend the new College Football Playoff National Championship to complete the mission.
"Early on we thought we can't do Hawaii until later because we didn't have any money," Tom said. "Then we realized that's a bad call because now we have families to haul them there and that's too expensive. Now we're hoping all the kids are old enough they can take their dads to the game at that time. That might be a good one to end on."
Except it's never-ending. Brian is 56 and lives in Denver. Tom is 55 and in Kansas City. The Bowl Guys love the trips and the people they meet. But when even the Bowl Guys shake their heads at 5-7 teams in bowl games, you know college football's postseason has a problem.
"When we started, you had to have a winning record, not just a .500 record," Brian said. "I don't know how much further you can take it with three teams (getting bowl bids) at 5-7. We hope to see all of the bowls. But they severely diluted the games when you go from 18 to now 40."
There are rules for the Bowl Guys, who have a website and often get local press coverage at each stop. For starters, when they choose which bowl to attend next, inaugural games, final games and least-expensive venues take priority.
The Bowl Guys started this journey right after college when money was tight. They remain frugal, often trying to use frequent-flyer miles for plane flights and crashing at someone's house in each city. They haven't paid for bowl tickets since 1990. Tom and Brian reach out to the participating teams' alumni groups or the bowl to find free tickets. Whoever donates tickets gets a picture included in the Bowl Guys' annual newsletter.
"We are professionals so this is not for you at home to try to do what we're doing," Tom said. "The truth be known, most of the games have a lot of giveaway tickets being circulated. We've done this now for so long, it's almost like a thrill of waiting until the last minute and see what unfolds."
They almost had to buy bowl tickets last year -- the horror! -- after choosing to attend Boston College vs. Penn State at the sold-out Pinstripe Bowl in New York. New Yorkers weren't too interested in giving away free tickets, but Scott Paterno (Joe's son) heard the Bowl Guys' pitch and gave them two of his tickets right behind the Penn State bench.
Another Bowl Guys rule: Tom and Brian must root for different teams. They wear the participating teams' respective paraphernalia. The amount of college swag they've collected through the years is immense.
The loser of each bowl pays for all post-game activities. Brian and Tom are tied at 17. (They didn't make picks at their first bowl, the 1984 Sugar Bowl.) The previous year's loser gets to pick the team to root for the next year. It's Brian's turn to choose between Colorado State and Nevada as he rides a stretch of five losses in the past six bowls.
Bowl Guys trivia: This is now the third time since 2001 they will see Colorado State play in person. The Rams are 2-0.
Tom and Brian say their families are supportive of their annual trip. They once tried bringing their wives to the Liberty Bowl in freezing Memphis. After the game, the Bowl Guys didn't get the souvenir cups they wanted so they hung around with 8-year-old kids to collect them.
"That pretty much killed the spouses coming," Tom said. "They said you guys do this by yourselves." Brian got divorced several years ago. Tom is in the process of getting divorced.
Oh, the stories they can tell from bowl trips. They saw Bo Schembechler's final game (1990 Rose Bowl, the last time the Bowl Guys paid for tickets). They witnessed their beloved Jayhawks win the Orange Bowl. They met Philip Rivers after a bowl game and Tony Dorsett before one. They got into the press box and on the field at the MicronPC Bowl thanks to broadcaster Kevin Harlan.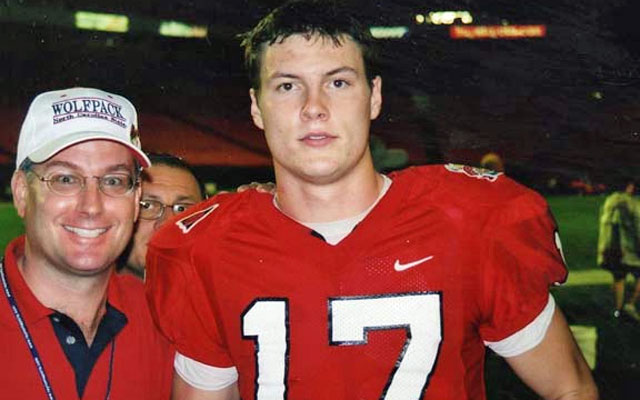 At the 1985 Holiday Bowl, the Bowl Guys tagged along to a team luncheon on an aircraft carrier and to the San Diego Zoo with the teams. Tom interviewed Arkansas coach Ken Hatfield on a video recorder. "VCRs had just come on the market," Tom said.
At the 1996 Outback Bowl, the Bowl Guys wore sweaters and slacks and talked their way into a coat-and-tie president's reception. It was an open bar so they hung around until the end and got photos taken with Joe Paterno as he left the podium.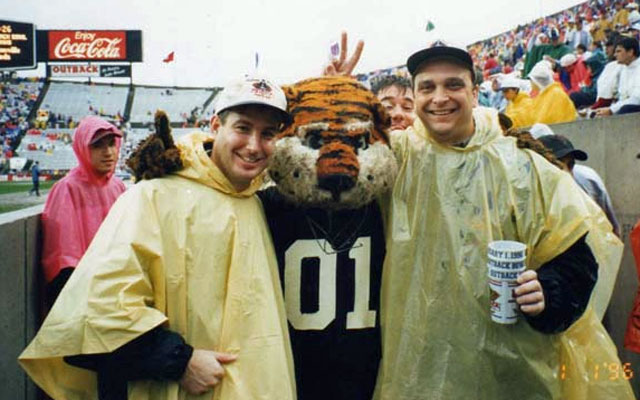 After the 2011 Little Caesars Bowl, the Bowl Guys went to a bar and found the winning coach, Purdue's Danny Hope, eating dinner with his family. The Bowl Guys introduced themselves "and he had us sit down with his family and stick around," Tom said. "He loved our story."
Their bowl streak nearly ended at the 2006 Armed Forces Bowl. (Isn't that where all bowl streaks should end?) Three feet of snow closed down Denver's airport and canceled Brian's flight to Dallas. Brian called Tom with the bad news. Tom shamed Brian to start driving -- "It was the greatest sales call I ever made," Tom said.
Brian arrived the morning of the game. "I saw a lot of cars on the side of the road and fortunately made it through the treacherous Colorado drive," he said. "I think I was in Fort Worth for maybe eight hours."
Tom and Brian have done this for so long that they have compiled their own All-Bowl Team. (Bruce Smith, Emmitt Smith, Peyton Manning, LaDainian Tomlinson, Junior Seau and Bo Jackson are among the players they have watched in person.) Naturally, they also have the Bowl Guys All-Bartender Team.
Through all of the ups and downs of life -- marriage, kids, careers, divorces -- Tom and Brian stayed close because of bowl games.
"We'd still be friends," Brian said, "but I don't think we'd be as close as we are without taking a trip with a friend 30-plus years in a row."
The Bowl Guys are not young anymore. They joke they're at the age now where life expectancy and the number of bowls left to attend go hand in hand.
"I have to really watch what I eat and my health is more of a concern," Tom said. "I've got another eight years I've got to live for bowl games."
For the love of God, college football: Stop yanking away their dream. Let the Bowl Guys kick the damn ball before they die trying.
Follow and read more from Jon Solomon on Facebook and Twitter.