The already compromised foundation of the NCAA shook a little more Tuesday, and tremors were felt all the way from Indianapolis to my cell phone, which rang late in the afternoon.
On the other end was a prominent administrator at a BCS-level school.
"It would be the end of college athletics," he said.
He was reacting to possible unionization of players at Northwestern. You saw the original story. You saw CBSSports.com's Jeremy Fowler cover the press conference. You saw Northwestern coach Pat Fitzgerald's rather eye-opening tweet.
What all of us should be realizing is that college athletics as we know them are about to change -- radically. The war that began Tuesday in Evanston has assured it.
The model has to change. The NCAA currently resembles Germany at the end of World War II. It is vulnerable on so many fronts that one opponent or another is likely to break through. The association must change or the membership or the courts or a union is going to change it for them.
Too much money in the system, too little attention paid to the unpaid labor pool. A crucial moment emerged earlier this month at the NCAA Convention. Georgia receiver Chris Conley of the NCAA's own Student-Athlete Advisory Committee rose in front of 800 attendees. He asked why a restructured governance model shown on a large screen didn't include a spot for the student-athlete.
"I don't know if we've wrestled with that substantially," said Wake Forest president Nathan Hatch, chair of the NCAA executive committee.
How out of touch. It's clear the players are going to be part of the solution one way or the other. That unpaid labor pool is becoming more self-aware.
"The NCAA is talking about, this [unionization] is going to turn players into employees," said Ramogi Huma, president of the National College Players Association. "The players have already been turned into employees by the NCAA decades ago ...
"Players are asserting their rights under labor law."
Huma and his organization that was behind Tuesday's news have been underestimated. The former UCLA linebacker started the NCPA almost 13 years ago. It runs on a modest $200,000 budget. It has made some nice gains, made some nice headlines, including flying a protest banner over the NCAA Convention.
But this? This has the added muscle of the United Steelworkers. This has the credibility of Northwestern and a supportive tweet from the head coach. This is catching the NCAA by total surprise. Or so it seemed.
This should not be construed as a kill-the-NCAA column. This is asking an unanswerable question at the moment: What is going to evolve to replace it?
If players at Northwestern can get union cards, is it worth the NCAA even existing to negotiate with them? Point being, you know it isn't going to end with Northwestern. Labor laws make it easier for private institutions to unionize right now. Even if the current movement fails, there will be appeals and appeals of appeals.
The movement isn't going to die. This seems like some larger Norma Rae moment. Northwestern quarterback Kain Colter may have been that figure on Tuesday as the movement's de facto leader. But this isn't some Southern textile mill. This is college athletics as we know it. Unionizing attacks the very underpinnings of the entire NCAA enterprise.
The association says it's about education? Tuesday's announcement screamed, "Prove it." 
Prove that a $7.2 billion playoff is about education.
Prove that an $11 billion basketball contract is about education.
Prove that a 20-hour work week for athletes that is winked at is about education.
Prove that handing out scholarships to alleged illiterates because they can hoop it is about education.
Prove whatever you want about concussions because we have no idea what condition this year's All-Americans are going to be like in 30 years.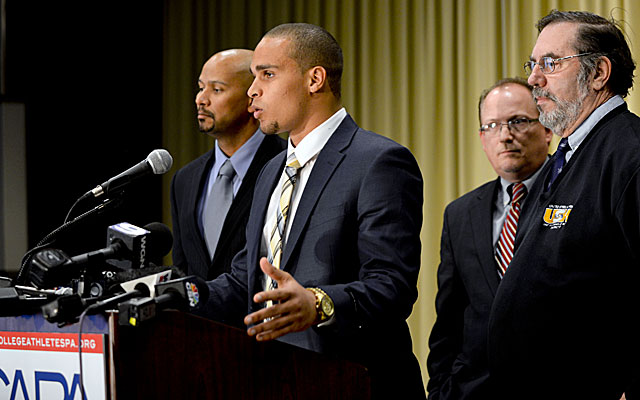 On the head trauma issue alone you can understand why some players want to collectively bargain. The NCAA denied in a November court filing, "that it has a legal duty to protect student-athletes."
You can also understand, from Huma's standpoint, what would be on the table in such bargaining sessions.
"Anything that is allowable by NCAA rules would be fair game to talk about, to discuss, to negotiate over ... anything under the sun," he said.
That's why Tuesday's developments were so significant. They were merely a manifestation of where we are with the collegiate model, what happened earlier this month at the NCAA Convention.
Cost of attendance? Interaction with agents?
The NCAA may find itself having to pay players enough in that cost of attendance so they don't unionize.
One possible impact of a union is players getting a cut of the jersey sales. They could conceivably bundle and sell their marketing rights to the highest bidder. Think of a network having to pay a rights fee to a school, a conference and a players' union. Negotiating a salary? That could be on the table in the future, as well.
A shiver of fear is shooting up the spines of ADs everywhere. They already manage the budgets of largely money-losing propositions. A union could conceivably break the system.
That might not be the worst thing.
Of course someone was going to come along sooner or later to unionize players. That it happened at an august academic institution like Northwestern should stop everyone in their tracks. Two years ago the NCAA membership was overriding a $2,000 stipend for players.  Now the NCAA is hoping for a favorable ruling from the National Labor Relations Board.
What just happened here?
The last time the NCAA was under this much attack legally was the landmark Jerry Tarkanian lawsuit. That one was about enforcement. The NCAA hung on in that one with 5-4 Supreme Court vote. One vote. It's basically the reason the NCAA exists as it does today. 
Enforcement is only a small part of the current discussion. Given the climate, it's hard to image the NCAA ever overreaching the way it did against USC, Penn State and Miami. Fowler reported that the NCAA apparently isn't even investigating a widespread agent issue at Alabama first detailed by Yahoo! Sports.
It's a different age, one that in the future might not include the acronym NCAA. That doesn't mean college athletics are dead; they're just redefined. The war that emerged Tuesday in Evanston assured it.