Report: Tide players took banned antler spray before '12 title game
Spray made from deer antlers contains the banned substance IGF-1.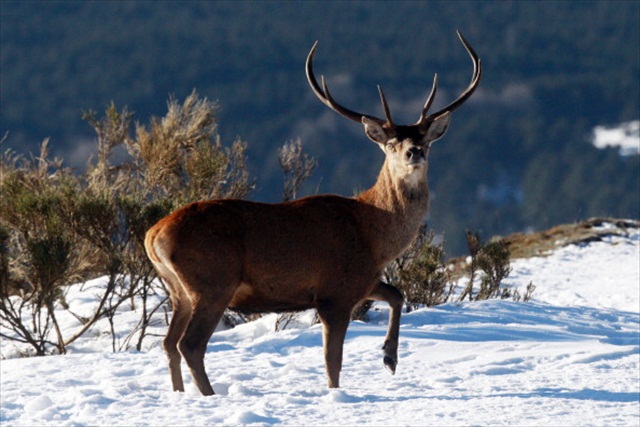 A spray made from deer antlers is banned in both the NCAA and NFL (Getty Images)
Most of the headlines generated from this Tuesday's Sports Illustrated cover story on controversial sports supplement company S.W.A.T.S. concern the allegation that Super Bowl man-of-the-moment Ray Lewis may have used the company's banned deer antler spray as part of his injury rehab.
But college football fans -- particularly those from the state of Alabama -- may remember that the Fultondale, Ala.-based S.W.A.T.S. has tried to make inroads at the collegiate level before. So it's arguably no surprise that the SI story also alleges that a collection of Alabama players used the antler spray at a hotel room meeting the night before their 2012 BCS title game triumph over LSU -- despite the fact that a substance contained in the spray, IGF-1, is as banned in the NCAA as it is in the NFL.
From the story:
[O]n the eve of facing LSU in the biggest game of their careers, a clutch of Alabama players huddled around Key, an aggressive pitchman who once was arrested for trespassing after giving chips and the beam-ray treatment to an LSU player in his hotel room at the 2010 Senior Bowl. (The charges were dropped, but he was banned from the hotel for life.) Neither Key nor S.W.A.T.S.'s owner, Mitch Ross, an erstwhile male stripper and admitted former steroid dealer, has a college degree in science. No matter. Unbeknownst to Crimson Tide coaches, S.W.A.T.S. had an audience with players on the No. 2 team in college football, a gathering that Key taped with a pen camera and showed to SI. He handed out some of the company's products gratis -- "It should never come up, but I'll go to the grave saying you bought this," Key told them -- and one, linebacker Alex Watkins, six months later gave a video testimonial on YouTube citing the boost he got from the chips, water and deer-antler pills during Bama's 21-0 BCS title victory.
An Alabama official told SI that S.W.A.T.S. had been sent two cease-and-desist letters by the program, and Auburn and LSU have sent similar letters -- letters the company displays in its offices -- after similar run-ins with the company.
The fallout from the allegations, even if proven true, even if anyone makes the effort to prove them true, will almost certainly amount to either nothing or only slightly more than nothing. The NCAA isn't about to force a vacation of that BCS title or level any meaningful sanction over a handful of free samples of deer spray. (Or so we'd think. The impossible might always prove possible where NCAA enforcement is concerned.)
But that doesn't mean there's no story here. The story is that even on the night before the biggest game of the season, the biggest game in the entire college football season, representatives from an extremely suspect company the school had already attempted to distance from the program were able to set up such a meeting right in the team hotel. If it's this easy for motivated salesmen* like S.W.A.T.S. to reach some of the top college football players in the country, what does that say about how easily even a disassociated big-money booster could reach his favorite athletes?
What it says is the same thing so many other recent stories have said: even when the NCAA is fighting the good fight (and it's highly debatable if that's what it's done of late), the battle is an enormous one.
*After reading their claims that a set of irradiated hologram stickers can transmit radio waves into the body that raise testosterone production and block negative waves from cell phones, "hucksters" or "charlatans" is probably the more accurate term here.
CBS Sports HQ Newsletter
We bring sports news that matters to your inbox, to help you stay informed and get a winning edge.
Please check the opt-in box to acknowledge that you would like to subscribe.
Thanks for signing up!
Keep an eye on your inbox for the latest sports news.
Sorry!
There was an error processing your subscription.
The conferences had previously disallowed such meetings to prevent competitive advantages

A look at the best individual seasons produced by all 14 ACC teams (plus Notre Dame)

All remaining contenders are double-digits seeds, and yet, they are certified bangers
Handicapper Josh Nagel is 40-22 on college football prop bets and he just revealed his top...

Financial concerns and other potential implications make the eligibility vote far from guaranteed

We move on to the region final round of voting for the best pop song of the '90s
CBS Sports was with you all day covering National Signing Day as the Class of 2020 wrapped...

Complete analysis, highlights and coverage of the 2020 College Football Playoff National Championship

Live scores, highlights and updates from the Miami (OH) vs. Louisiana football game