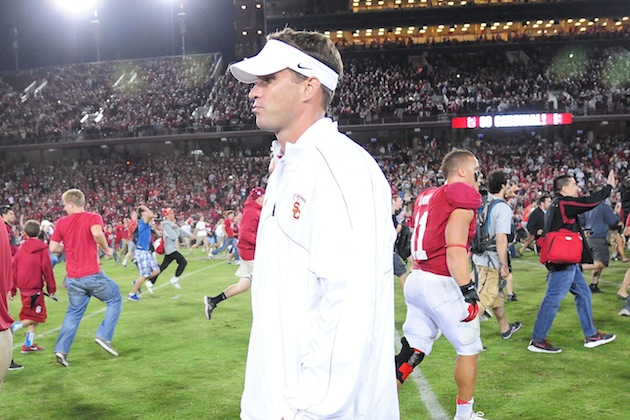 Stanford, is it up to Oregon or Florida State to challenge the SEC? (US Presswire)
One of the great things about college football is that there's always the allure of a Cinderella story even if the crushing reality of the sport says otherwise. For most who follow the sport, it's easy to -- in addition to following your own team -- get caught up in the story lines involving Boise State playing for a crystal football or the remarkable run of somebody from the unknown to stardom. Beyond the wins and the losses, it's the spectacular and mesmerizing memories that 18- to 23-year-olds produce that really draw people and is one reason why, despite regionalization and fragmentation, the sport is healthier and more popular than ever.
But even in a year in which Robert Griffin III is the most outstanding college football player from a small private school without much history of success, the preseason favorite with the most history winds up with the national title at the end of the year. In this sport, it's hard to find years like 1984, when Cinderella -- Hail Flutie -- and circumstance -- BYU being the lone undefeated team to produce a national title -- collided in one season.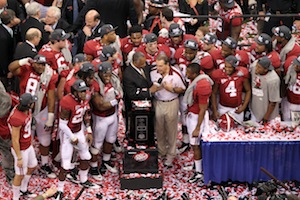 It will be difficult to stop the confetti from falling on an SEC team this season from the looks of it. (US Presswire)
Which brings us to what happened on Saturday in Palo Alto. Much has already been written on what happened and what to make of both Stanford and USC in the aftermath. This much is clear following the 21-14 Cardinal victory: in winning four straight in the series, Stanford has USC's number, and any shot the Trojans had of playing for the national title likely fell to the grass with quarterback Matt Barkley under a barrage of pressure from the Cardinal.
Afterward, Barkley looked ghostly. Beaten and bruised by a Stanford front seven that was in his face all night, the golden child appeared in front of the media broken. Living in Southern California and covering USC for several years has allowed me to follow Barkley from high school through today, and I had never seen the signal-caller look so shaken. When he faced a media horde following the announcement of USC sanctions a few years ago, he was 10 times more energetic and positive. It was that kind of night, both physically and in terms of what the loss represented.
There were plenty of people who were happy at the outcome, from the state of Tennessee to Notre Dame fans to the rest of the country who tend to always celebrate when the polarizing Lane Kiffin loses. USC could have been a Cinderella story this season; from the harshest NCAA sanctions to preseason No. 1 to a crystal ball in Miami led by a charismatic quarterback. Had it been any other program besides USC -- divisive because of their flashy winning ways and troubled history -- without Kiffin at the helm more people might have pulled for them. In fact, I had one NCAA staffer tell me they were indeed pulling for the Trojans because of what they've gone through the past two years. All is not meant to be, however, and Troy's glass slipper has, well, slipped.
USC has now lost its conference road opener in four of the last five seasons, and we should have seen it coming once again this year with the Cardinal on the calendar to open Pac-12 play. Kiffin didn't take much responsibility for Saturday's loss when speaking to reporters on Sunday and didn't think he'd make many changes to how the team prepares for games like this one going forward. I still think he's a good offensive mind, Saturday's loss notwithstanding. But at this point, the 37-year-old brings all the attitude of Nick Saban at his worst without any of the big wins. He's young and going through the growing pains of being a head coach at a major program with the spotlight on it, but the jury is still out on Kiffin after it had looked like he'd turned the corner last season.
Regardless, now we're left with our first major reset of the national title race. Get ready to brace yourself, too, because USC was only the first to fall and will not be the last. The task of going undefeated and making it into the top two in the BCS (which we still have to worry about for another two years, sadly) is monumental, and there's still a decent chance we're looking at the prospect of Game of the Century Part III and Part IV this year between Alabama and LSU.
One of the reasons the Trojans picked up so much hype in the preseason and became the team with plenty of talking points was because it was with a high-flying offense and solid enough defense that it might just be the team to knock the mighty SEC off its perch high atop college football this year. What that league has accomplished is nothing short of amazing, but streaks were made to be broken and many saw USC as the one possible team to do it. That seems to be out the window because, if history is indication, it will be tough for Kiffin's squad to get back in this race. The Trojans have lost early and lost late in the BCS era but never have gotten the benefit of the doubt to be put into the title game, so it's hard to expect anything different this season. In fact, no Pac-10/12 team with a loss has played for the championship and that's simply a tall order to overcome.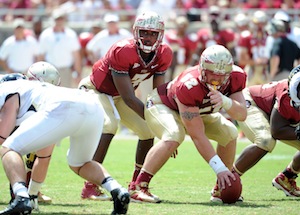 We'll soon find out if the offensive line can hold up and get Florida State to Miami. (US Presswire)
So, who else could possibly challenge for that crystal ball that won't have an "S-E-C" chant break out at the end of the game? The answer might be the team that USC knocked out of the race last season: Oregon. It also could be Florida State.
We don't know if the Ducks are "for real" this year because, like the Seminoles, they have put up big offensive numbers an early season schedule that's been as easy as your local high school's JV team. Heck, Florida State had a running clock against Savannah State. We'll get our first real chance to see if either of these two teams can handle the pressure as Arizona rolls into Eugene with a spiffy offense and Clemson travels to Tallahassee for a huge ACC showdown we're unaccustomed to seeing as of late. There's also a chance an off-the-radar program emerges to get to the title game as well -- Auburn was ranked 17th two years ago at this point in the year, after all.
Still, there's a lot to like about the two programs that give you the sense that maybe, just maybe, they can wind up in Miami ready to tussle with the best. Marcus Mariota has proven to have touch in the passing game as a first-time starter. With Kenjon Barner, De'Anthony Thomas and others to take the pressure off Mariota, it's no easy challenge to stop the Oregon offense. The defense is overlooked by most but features a deep rotation among the front seven with a solid-but-not-spectacular secondary following the loss of John Boyett for the season. If they can correct the turnover issue in big games -- which doomed them against both Auburn and LSU -- this squad is primed to at least make a run at it in what is proving to be a very tough Pac-12.
If there's a defense that could go toe-to-toe with Alabama and LSU, it might be the unit that Jimbo Fisher is sending out. It will change, but it's still impressive (and a tad funny) that Florida State is allowing just a point a game so far this season. With a talented defensive line (though not as deep as it was once thought, with the injury to Brandon Jenkins) led by Bjoern Werner and one of the fastest secondary's in the country, this isn't an easy team to move the ball on. We're not sure if the young offensive line can hold up against a good team yet, but there's a veteran quarterback in EJ Manuel to go with a fairly productive running game now that Chris Thompson looks 100 percent healthy and full speed. Add in the fact that they have one of the best kickers in the country in Dustin Hopkins, and maybe, just maybe, this is the year the Seminoles finally live up to their lofty rankings.
I'd still bet on Nick Saban or Les Miles holding up the crystal football in January. There are challengers this season, though, and early on, neither Alabama or LSU look as invincible as they did a year ago. As my colleague Tony Barnhart wrote Monday, the playoffs start this week. Can Oregon, Florida State (or Stanford, West Virginia or Oklahoma) or somebody else rise up and challenge the SEC heavyweights? We're about to find out in what should be a great sprint to the finish.
Stat of the week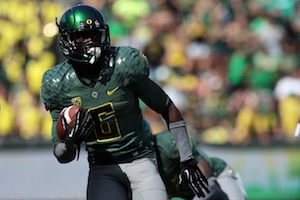 Fast meets faster in the case of De'Anthony Thomas. (US Presswire)
Per the Oregon SID office, De'Anthony Thomas' last 5 touchdowns have averaged 55.6 yards per score. Against Tennessee Tech, Oregon had a 652-177 advantage in total yards and 127 of Tech's yards came with Ducks defensive starters out of the game.
Stats to chew on
- Impressive effort for Notre Dame as their defense, not Michigan State's, was the best on the field Saturday night. According to the school, 32 of 33 second-half plays for the Spartans offense occurred in their own territory. The only snap in Irish territory came at the ND 48, and MSU didn't have a single play in the red zone all night.
- Marcus Lattimore is South Carolina's career leader in rushing touchdowns. Hard to believe considering how many games he missed last year.
- TCU has now won 25 consecutive conference games, the nation's longest streak. Of course, just one (last Saturday against Kansas) was in the Big 12 and the other 24 were in the Mountain West. The Horned Frogs have the longest overall winning streak in the country at 10 games.
- Against Stanford, Matt Barkley failed to throw a touchdown pass for the first time since his sophomore year.
- Colorado gave up a school-record 516 yards in the first half to Fresno State, which had twice as many touchdowns (eight) as the Buffaloes had first downs (four) at that point. Robbie Rouse had four touchdowns in the first quarter, had a 94-yard run to set a school record and also became the career leader for rushing yards at the program on the same play.
- LSU and TCU have played 15 true freshmen this season, most in the nation (per Colorado's SID).
- The AP's Tim Reynolds passes this stat along. Number of 50-yard touchdowns by Miami's offense/special teams last season: 4. Number of 50-yard touchdowns by the Hurricanes' Duke Johnson this season: 4. Johnson ranks second nationally in all-purpose yardage.
- With the loss to Texas on Saturday, Ole Miss has only seven wins in Oxford against BCS AQ or major conference opponents and none of them came recently. The latest was against TCU in 1982 (they were in the SWC at the time). The others: Florida State (1961), Clemson (1928), Maryland (1952), Boston College (1950) and Arkansas (1955, 1928). At least they have The Grove.
- The leaders in passing efficiency? The two Big 12 newcomers Casey Pachall and Geno Smith. Although neither has played a great defense, the numbers are still eye-popping. Pachall is 33-of-39 (85%) with five touchdowns and no interceptions while Smith has as many touchdowns as incompletions -- a very RG3-like start to the season for him.
- Oklahoma is a perfect 14-0 under Bob Stoops at home against ranked teams. The Sooners are 78-3 overall in Norman under Stoops.
- Two came against FCS lightweights but it's still remarkable, given the players to come through the school, that the win against Wake Forest was the first time that Florida State has scored 50 points in three straight games in school history. It was the first time an ACC school has ever opened the season with three straight 50-point games. On the flip side, the Seminoles lead the nation in five major defensive categories. That might change this week as they face Clemson in the first ACC game involving top-10 teams since 2007.
- Interesting note from the ACC, half the conference's starting quarterbacks hail from the state of Virginia.
- UTSA, a new FBS team, is tied for the sixth-longest winning streak in the country.
- Through three weeks, the Big 12 leads the country in non-conference winning percentage with a 21-2 (91%) record.
- According to Texas, the Longhorns had more than 300 rushing and 300 pass yards for only the third time in school history against Ole Miss on Saturday.
Tweet(s) of the week
#CBS. Can't beat Stanford!!

— Tiger Woods (@TigerWoods) September 16, 2012
I guess USC's 75... aren't better than your 85.

— The Solid Verbal (@SolidVerbal) September 16, 2012
Fisch's Finest
1. Alabama
2. LSU
3. Oregon
4. Georgia
5. Clemson
7. Florida State
8. Stanford
9. Kansas State
10. USC
Where we'll be this week
Dennis Dodd ventures into the land of Chief Osceola to see Florida State host Clemson in a battle of unbeaten ACC teams with national title hopes. I'll head to Oklahoma to see if Kansas State can pull off an upset and shake up the Big 12 race before it gets going. Meanwhile, Bruce Feldman heads to Eugene to catch what should be an offensive explosion out west with Oregon hosting Arizona.
Leaning this way
Michigan at Notre Dame
This pick is much tougher to make than it was a week ago when Notre Dame, led my Manti T'eo and a fearsome front seven helped contain Michigan State. Michigan presents a different challenge with Denard Robinson being a dynamic runner who has beaten the Irish with his legs as well as his arm. It should be a closely contested battle that once again comes down to the final few minutes but we're not ready to buy stock in Notre Dame just yet.
Pick: Michigan
Kansas State at Oklahoma
Based on the early season results and how the teams have looked, there's hardly any team that deserves to be in the top 10 less than Oklahoma. Kansas State quarterback Collin Klein has proved to be a better signal-caller than Landry Jones and the Wildcats' defense looks to be a little sharper than last season so far. Still, despite Bill Snyder looking like he may be able to pull off the upset, no ranked team has beaten Bob Stoops at home and that streak will continue.
Pick: Oklahoma
Clemson at Florida State
We'll finally figure out if either top 10 team is a true national championship challenger in a primetime match up at Doak Campbell. Florida State has looked good against weaker competition while Clemson managed just fine without Sammy Watkins. A side note to this game is the fact that new Tigers defensive coordinator Brent Venables helped keep the Seminoles under 17 points the past two seasons so he's well aware of how to stop this team. Still, the home team has won the last five and that should continue in a close one.
Pick: Florida State