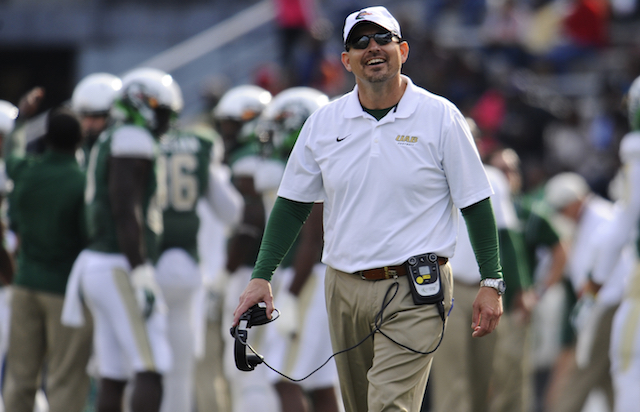 UAB will make its return to the football field in 2017 after the program was shut down following the 2014 season. The Blazers announced their four-game nonconference schedule for the 2017 season on Thursday, which includes a game in The Swamp against Florida. 
The first game of the new football program at UAB will be a home game against FCS opponent Alabama A&M on Sept. 2, 2017. The Blazers' first road game will be Sept. 9, when they travel to Ball State.
UAB will host Coastal Carolina on Sept. 16 in the third game of the season before beginning Conference USA league play (it is in the West division). The Blazers' final nonconference game will be a Nov. 18 road trip to Gainesville, Florida, to take on the Gators. 
"We are unbelievably excited about UAB Football's return to the field in 2017 and look forward to great competition with this slate of non-conference games," coach Bill Clark said in the team release. "This type of schedule, in addition to eight highly competitive Conference USA contests, will provide Blazer fans with great entertainment. We look forward to playing in front of record crowds as UAB Football represents Birmingham and the Blazer Nation!"
UAB is 0-2 all-time against Florida, dropping those contests (2002, 2011) by a combined score of 92-3.