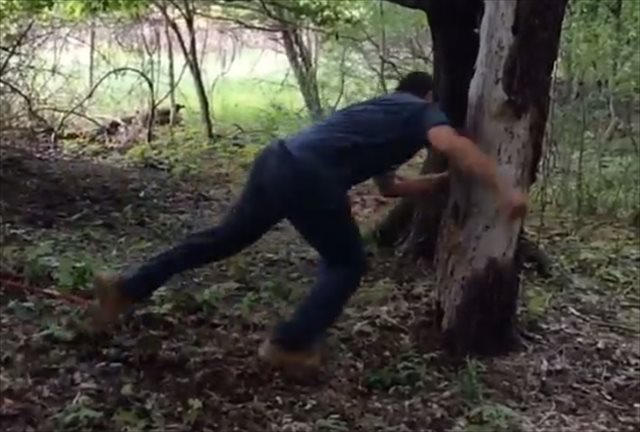 If you grew up exclusively in urban areas, or have a second X chromosome, or just otherwise haven't ever been a guy spending some time in the woods, let me fill you in on something: if you are a guy who's spending time in the woods, there is nothing better in the world than knocking over some old, rotten tree that's just asking to get knocked over. 
Maybe it's with a little hatchet. Maybe it's with a roundhouse kick to the tree's solar plexus, or where the solar plexus would be if trees had them. If it's already leaning, maybe it's jumping up and pulling it down the top. Or maybe -- as Penn State senior defensive tackle Anthony Zettel ably demonstrates in this Instagram video posted by teammate Jordan Dudas -- it's with a perfect form tackle:  
Oh baby. That tree totally had it coming. Sure, at some point this season Zettel -- who, as Dudas's narration points out, made All-Big Ten in 2014 and should be one of the league's best defenders in 2015 -- will shove an opposing offensive lineman into the backfield and make a critical tackle-for-loss.
But this will still be the most awesome highlight he'll have this year. Take that, nature.