It's hard to remember now, but George O'Leary was going to be Central Florida's entree into the big time: big coach, big guy, big expectations.
His personality overwhelmed you. His NFL background was intriguing. His college experience impressed you: 10 wins in 1998 and five straight bowls with Georgia Tech.
As it played out, his hiring in 2004 seemed to be some sort of perfect marriage. Central Florida was growing. The college landscape was changing. The school built a new stadium. It was recruiting better players.
With the right guy, the Knights were going to catch on with a major conference.
It was also a rebound job for O'Leary -- depending on how you want to view his resume flap at Notre Dame. Going from a tradition-rich football flagship to Orlando could have been seen as settling. But O'Leary never treated it that way.
It can be argued the Knights got that 2014 Fiesta Bowl berth only because college football was in transition from the BCS to the College Football Playoff. The American Athletic Conference champion was an automatic qualifier in 2013. Not since. The American is relegated now -- and perhaps forever -- to second-tier status in the Group of Five.
But beating Baylor in the Fiesta proved that Central Florida belonged, even if it never reaches the Power Five.
Sadly, it doesn't matter to the Big 12 (for example) that O'Leary took the Knights to six bowls in 11 years. Or that he coached first-round draft choice Blake Bortles.
But despite his resignation Sunday, the Knights will always have George Joseph O'Leary.
It's OK for now just to remember how O'Leary took the program to unprecedented heights. It ended the way it will end for most of us -- age. O'Leary is 69 and 0-8. Not a good combination.
The Bright House Networks Stadium that his winning momentum helped build was mostly empty on Saturday for a thrashing by Houston. On homecoming.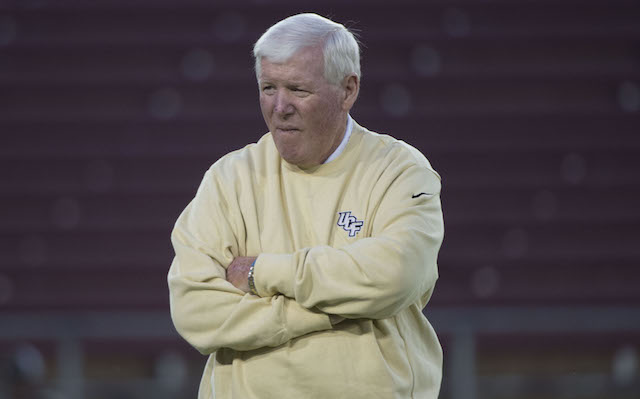 It's OK to remember the UCF that flirted with that big time. Membership in a major conference may never happen. Lines have clearly been drawn that have little to do with football.
For all is success under O'Leary, the school adds little to the bottom line. Texas still makes $25.2 million per year from its Big 12 television contract whether UCF is in the league or not. And neither Texas, Oklahoma nor any of the Big 12 schools need Central Florida to be able to recruit in Florida. It's a big state.
In the end, the same conference (American) that currently sports three undefeated top 25 teams, also contains one of the four nationally that are winless (UCF, plus North Texas, New Mexico State and Kansas).
That's sad because O'Leary had contributed so much. He made it possible for what was once considered a commuter college to have successful major-college football.
There was a huge turnaround in 2005 from 0-11 to 8-5. He was a conference coach of the year, national coach of the year. His academic record was more than stellar.
At one time, it was hard to find two more powerful men in college football than Central Florida president John Hitt and his coach -- if for no other reason than what they got away with.
One was in charge of an emerging football program. The other enabled him -- in every positive and negative way you can conceive.
O'Leary had a player, Ereck Plancher, die on his watch during an offseason drill. A jury later found the UCF Athletics Association guilty of negligence.
In 2012, the NCAA hit O'Leary's program with a one-year postseason ban for recruiting violations. (To be fair, most of the violations were related to basketball and an out-of-control athletic director.)
Lately, with the added title of interim AD, O'Leary had consolidated so much power he literally could have fired himself and named his own successor.
But the world isn't a simple place. He resigned from his interim post two weeks ago and made the call to step down as football coach with the Knights at their lowest point since before his hiring.
Mostly, we'll remember O'Leary fondly. He was old school and no nonsense in a sport filled with frauds. He single-handedly established a program that he later led to its first national ranking in 2010. The Knights beat Georgia and Penn State under O'Leary. Five times since 2007 they won at least nine games.
The dude could coach him some ball.
But the negative has to be weighed against the positive. The Notre Dame resume thing, I've long given him a pass on. That was more a statement about the Irish than O'Leary. The school proudly adhered to standards that were at least questioned, if not ignored, in more serious scandals involving Lizzie Seeberg and Declan Sullivan.
O'Leary got to keep the job of his dreams for four days. Two years later, he made it OK for Central Florida to dream big. On balance, it was remarkable partnership -- complete with flaws.
Perhaps O'Leary's College Football Hall of Fame prospects are a good way to sum up his career. He'll need a waiver from the National Football Foundation to get in. His career winning percentage (.568) is a few decimal points short of automatic consideration (.600).
And that seems about right. O'Leary will be known both for all he did -- and what his career could have been.