California Chrome owner Coburn's 'coward' rant wrong; record shows it
Not only was Steve Coburn's post-Belmont 'coward' rant misguided, but California Chrome's owner didn't bother understanding the facts before spouting off.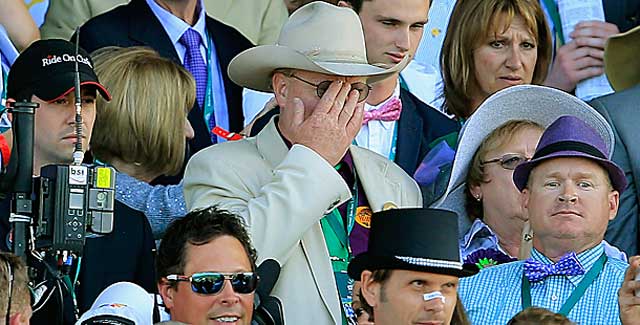 More: Tonalist dashes 'Chrome' dream in Belmont | Owner rips system
After his horse lost in the Belmont to become the latest in a long line of near-miss Triple Crown candidates, California Chrome owner Steve Coburn opened his mouth and showed his ass.
It was a pointed display of classlessness that couldn't be redeemed by accuracy, but Coburn didn't even have accuracy in his favor.
He was blunt, he was fascinating, he was wrong. The little owner that could, the guy who presciently named his modest racing outfit Dumb Ass Partners, was dumb and he was an ass. And if America fell for it, mesmerized by the sight and sound of a 61-year-old owner in the sport of kings channeling his inner Vince McMahon, well, America can be excused. I excuse you, and I excuse me. Because after watching Steve Coburn spit fire after losing the Belmont on Saturday, I was so intrigued that I took to Twitter and wrote this:
That was some WWE stuff I just heard from a horse owner. I wanna hear him some more.

— Gregg Doyel (@GreggDoyelCBS) June 7, 2014
Because I'm like a lot of you. I don't know horse racing like (you'd think) a guy who owns a Kentucky Derby winner knows horse racing.
The owner of California Chrome went off on live television, telling NBC's cameras, "This is the coward's way out, in my opinion." Coburn then punctuated his spiel by jamming a finger in the direction of Tonalist, which skipped the Kentucky Derby and Preakness and won the Belmont. "This is the coward's way out."
Then he said it again. More finger pointing.
"This is a coward's way out."
Don't give Coburn the benefit of the doubt, either, and excuse his outburst as something that happened in the heat of the moment. On Sunday morning, given a night to sleep on it, he doubled down on stupid and then some, comparing what California Chrome had faced on Saturday to "playing basketball against a kid in a wheelchair."
That was Sunday. Back to Saturday: After his nasty NBC outburst, as more time passed and as his own wife tried to calm him down, Coburn got nastier. He said the Belmont was won by "a bunch of goddamn cheaters" a statement that is indefensible even if his larger point -- that in recent years the Triple Crown has become stacked against a horse like California Chrome -- were true.
But it's not true. Steve Coburn was wrong, and I'm going to show him the courtesy he showed nobody else after the Belmont. I'm not going to napalm him with incendiary and false insults. I'm not going to call him a liar, because that implies Coburn knew what he was talking about. And he didn't.
So I'm going to call him what he already has called himself. He's a dumbass. And unlike Coburn, who had all kinds of emotion and zero facts in his favor, I'm going to explain why he was wrong, how badly he was wrong, with facts.
Like this one:
All three horses who won the most recent Triple Crowns -- all in the 1970s -- faced fields brimming with fresh horses like the field California Chrome faced Saturday at the Belmont. In the 1978 Belmont, Affirmed had to beat only one horse (Alydar) that had joined it in the first two Triple Crown races. In the 1977 Belmont, exactly half the field that Seattle Slew beat had also raced in the Derby and the Preakness; three of the eight horses in the field were one-and-done Triple Crown entries into the 1977 Belmont, as Tonalist was Saturday. And in 1973, only one other horse (Sham) joined Secretariat in racing all three Triple Crown events.
So this has been going on for 40 years. At least. And here's another fact, in another direction: The near-miss Triple Crown candidates since Affirmed in 1978? They were taken down, by and large, by fields that mirrored the field that took down California Chrome.
In 2002, War Emblem was denied at the Belmont by 70-to-1 long shot Sarava, which skipped the Derby and Preakness. In 1981, Pleasant Colony was denied by Summing; same thing. In 1979, Spectacular Bid lost to Coastal, which also had skipped the Derby and Preakness.
This happens all the time, see. Maybe Steve Coburn knew that and is a liar. Maybe he didn't, and is just what his horseracing business says he is. A dumbass.
Either way, he showed a frightening lack of awareness when he specifically took down Belmont winner Tonalist's owners for holding their horse out of the Kentucky Derby. "Coward's way out," Coburn called it. "Goddamn cheaters," Coburn called them.
How about: Owners who care about their horse?
Tonalist missed the Kentucky Derby because he had a lung infection. He was a promising horse -- much more promising, once, than California Chrome -- but he had a lung infection and his owners didn't want to risk hurting that beautiful creature by training him and racing him at every event Tonalist would need to get the qualifying points to enter the Kentucky Derby.
And so one of the most enchanting Triple Crown candidates entering the season was denied that chance, and not because his owner was a coward who wanted to lay in the weeds for the Belmont or was a goddamn cheater who wanted to deny Steve Coburn from turning his 15 minutes of fame into a lifetime of easy living. Tonalist's owners kept Tonalist from running the Kentucky Derby because it was the right thing to do.
Steve Coburn? That dumbass wouldn't know the right thing to do if it walked up to him and placed a microphone in his face.
Flanagan, after winning the New York City Marathon, is out to win her 'hometown race'

How to watch the Professional Rodeo Cowboys Association's 2017 National Finals Rodeo event
John John Florence and Gabriel Medina will look to catch the wave to a championship

It's probably better to just buy your shoes online these days

Settle in for the holidays by watching other people do grueling obstacles like the Funky M...