Back on Dec. 2, 1963, the MLB rules committee convened and decided that the ridiculously-oversized catcher's mitt being used to haul in Hoyt Wilhelm's fierce knuckler would no longer be allowed by the 1965 season.
Here's a look, via Baltimore Sun archives (hat-tip SB Nation):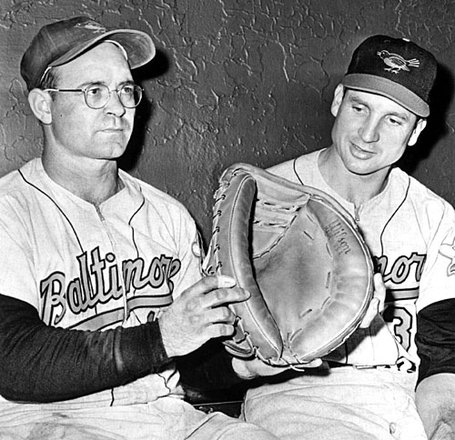 Catcher Clint Courtney (left) started using the glove in 1960 in order to better handle the knuckler of the future Hall of Famer Wilhelm. Click here for a photo of Ray Schalk comparing a glove he wore in 1912 to Courtney's 1960 "Big Bertha."
Anyway, this glove wasn't a ton of help to catchers overall, as it only helped snare the real tough knucklers while also, per SABR, "hindered one's view and cut down mobility on hand mobility." Also, not surprisingly, finding the ball in time to catch would-be basestealers was a problem and knuckleballers already don't have a great track record in preventing the steal.
Here's the current rule on the catcher's glove:
1.12 The catcher may wear a leather mitt not more than thirty-eight inches in circumference, nor more than fifteen and one-half inches from top to bottom. Such limits shall include all lacing and any leather band or facing attached to the outer edge of the mitt. The space between the thumb section and the finger section of the mitt shall not exceed six inches at the top of the mitt and four inches at the base of the thumb crotch. The web shall measure not more than seven inches across the top or more than six inches from its top to the base of the thumb crotch. The web may be either a lacing or lacing through leather tunnels, or a center piece of leather which may be an extension of the palm, connected to the mitt with lacing and constructed so that it will not exceed any of the above mentioned measurements.
While Wilhelm is far from the first pitcher to ever use a knuckler -- he's not even the first Hall of Famer to use it -- he was arguably the most influential knuckleballer in history. This glove along with the ensuing banishment is just one example. In 21 seasons, he'd go 143-122 with 227 saves, a 2.52 ERA, 1.13 WHIP and 1610 strikeouts in 2254 1/3 innings.