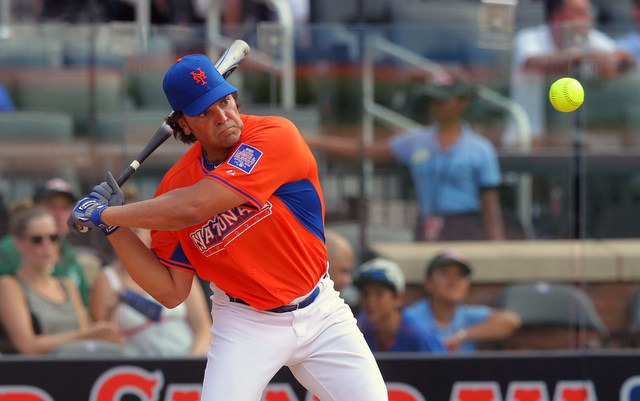 Related: Looking at Mike Piazza's Hall of Fame case
Given everything he accomplished in his career, it's hard to believe Mike Piazza was not inducted into the Hall of Fame last year, his first year of eligibility. The suspicion of performance-enhancing drug use kept him out.
Piazza has long been considered the best hitting catcher in history, mostly because of his prodigious power output. No catcher has ever hit for as much power as him and it's not particularly close either. In the spirit of contextualizing Piazza's offensive dominance, our latest leaderboarding post looks at the best backstops in a variety of offensive catchers. Just to be clear, these are stats that have compiled strictly as a catcher. If Piazza hit a home run as a first baseman or DH, it won't be counted here.
Plate Appearances
Ivan Rodriguez -- 9,916
Carlton Fisk -- 8,801
Jason Kendall -- 8,531
Gary Carter -- 8,172
Benito Santiago -- 7,352
Batting Average (min. 500 games caught)
Joe Mauer -- .328
Piazza -- .313
Brian Harper -- .306
Manny Sanguillen -- .300
Joe Torre -- .300
On-Base Percentage (min. 500 games caught)
Mauer -- .408
Gene Tenace -- .396
Dick Dietz -- .385
Piazza -- .382
Jorge Posada -- .380
Slugging Percentage (min. 500 games caught)
Piazza -- .560
Mike Napoli -- .516
Javy Lopez -- .504
Roy Campanella -- .499
Posada -- .487
OPS (min. 500 games caught)
Piazza -- .942
Mauer -- .889
Napoli -- .879
Posada -- .868
Campanella -- .858
Hits
Rodriguez -- 2,749
Kendall -- 2,160
Fisk -- 2,145
Ted Simmons -- 1,908
Carter -- 1,907
Doubles
Rodriguez -- 551
Kendall -- 390
Fisk -- 372
Simmons -- 364
A.J. Pierzynski -- 345
Triples
Tim McCarver -- 52
Rodriguez -- 51
Sanguillen -- 45
Fisk -- 43
Santiago -- 41
Home Runs
Piazza -- 390
Fisk -- 351
Johnny Bench -- 327
Rodriguez -- 304
Carter -- 298
Total Bases
Rodriguez -- 4,314
Fisk -- 3,656
Piazza -- 3,404
Carter -- 3,201
Bench -- 2,976
Runs Batted In
Rodriguez -- 1,290
Piazza -- 1,205
Fisk -- 1,197
Bench -- 1,148
Carter -- 1,110
Stolen Bases
Kendall -- 176
Rodriguez -- 123
Fisk -- 121
Santiago -- 85
Russell Martin -- 85
Walks
Posada -- 818
Fisk -- 775
Carter -- 751
Bench -- 728
Kendall -- 709
Hit By Pitches
Kendall -- 250
Fisk -- 129
Pierzynski -- 113
Sherm Lollar -- 110
Bill Freeham -- 109