People, it is winter, and there is no baseball here. To blame? The disagreeable calendar and uncooperative atmospheric conditions. Of course, humankind is nothing if not a master of the elements. As evidence, may we present this from the Jan. 20, 1916 edition of the Tacoma Times ... 
(Image via Baseball Nuggets)
Stolen bases are more frequent! The pages of the Baseball-Reference Bullpen tell us that "ice baseball" as an organized sport dates back to 1881 in Chicago. Here's the brief tale of one such sanctioned bout that went down in Brooklyn in 1883 (New York Times) ... 
(Image: Prospect: A Year in the Park)
A decided improvement over former contests! Speaking of former contests, the fusion sport of baseball on ice has been around since at least the 1860s.
Forthcoming: Artist's rendering of an 1884 match ...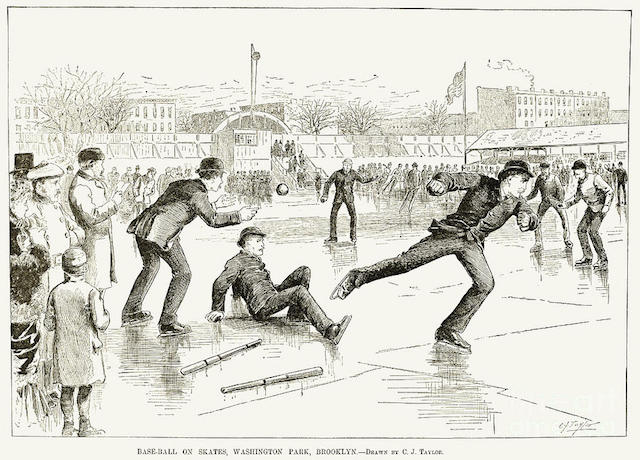 (Image: Fine Art America)
Forthcoming: Artist's rendering of an 1884 match as an iPhone case ... 
(Image: Fine Art America)
In Chicago in the 1880s, White Stockings luminaries (and Hall of Famers) King Kelly and Cap Anson would stay in offseason scrappin' shape by playing ice baseball on frozen ponds. Let it be said that the contemporary guaranteed contract would almost certainly frown upon that sort of thing. 
As for modern iterations, we all remember how the NHL's Pittsburgh Penguins honored the drought-busting 2013 Pirates with a variation of their own ... 
That's nice and all -- civic uplift! -- but let's let the ladies of Toronto in 1924 show you how it's really done ...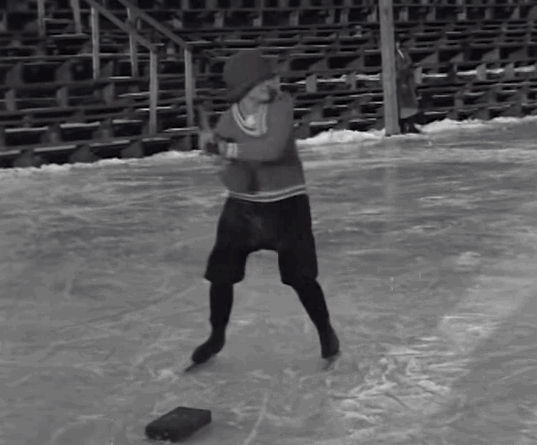 Excelsior! But next time maybe think about going "blades high" into the plate. 
Now go forth and do harm to yourself and most especially others by playing baseball on ice.