A day after being elected to baseball's Hall of Fame, slugger Mike Piazza addressed the topic of performance-enhancing drugs during an interview on Thursday with CBS Sports Radio's Jim Rome.
Piazza long ago admitted to doing what are now considered performance enhancers by MLB -- specificially Androstenedione -- but at a time when it was sold in legal, over-the-counter supplements. Piazza says he stopped using Andro after reporters found the substance in the locker of Mark McGwire in 1998. Piazza also has said that, as a player, he took amphetamines, which also are banned now but weren't when he was active (although it's questionable if Piazza, or any other player, took "greenies" legally).
Regardless of his admissions, Piazza was the subject of PED suspicions. Some thought they might prevent him from reaching Cooperstown. Most famously are the insinuations made by longtime MLB reporter Murray Chass that it was clear Piazza took PEDs because he had a pimply back, which is a common side effect of steroid use.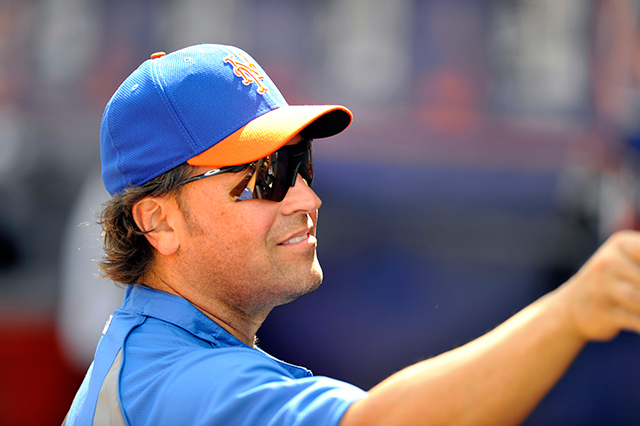 In a friendly interview with Rome, Piazza took on the topic again. Listen below, beginning at the 9:01 mark, and Piazza discusses the issue:
Via Rome's website, here's a transcription of the relevant part of the conversation:
Rome: You played in an era where there was a lot of PED use. It was insinuated that you used. How much did that bother you, Mike?

Piazza: You've got to have thick skin in this game. You know as well, being in the media, there was a lot of stuff even when I was here -- even before the age of Facebook and Twitter and all the Internet -- that things were being written in the paper for me that I just had to laugh.

One time, I was on vacation, and my dad was listening to the radio here  and he said, 'They're saying you want to be traded! You've got to call in!' I said, 'Dude, dad, take it easy. I'm on the beach. I can't do anything about it.'

[...]

You've got to just let those things run their course. It is one of those things that, unfortunately, in the game, we made mistakes. But the game is resilient. There's been all kinds of issues in the game throughout history that have really caused it pain, and that era was one of them, but we moved on and tried to rectify it as best we can. I've always chosen to look at the positives and realize that game's in a great state because of the sacrifices of a lot of guys.

Rome: Is there any part of you that wants to say, to any detractor or critic, 'How do you like me now? Look where I am.'

Piazza: Roy Campanella said, when I was in spring training a long time ago, he said, 'Mike, just play the game. Just play the game. Let the people say what they have to say, let them write what they have to write. Let them boo, let them cheer. The fans love you one day, they hate you the next day -- that's part of it.' I've always had that sublime philosophy in a way. You're always going to have critics, but you just keep going, and you can't worry about addressing everybody who has a beef with you. We've joked many times -- maybe it's the guy who I didn't give an interview, maybe the guy, one time, I took his girlfriend, or whatever -- I have no idea. It is what it is, and you just have to kind roll with it, try to keep going forward, and dwell on the positives of life.
It's old news and a closed case as far as Piazza is concerned. He's in Cooperstown, deservedly so, and that's that. Where it creates a paradox for the Hall of Fame, and for the Baseball Writers Association of America, is with others marked by PED admissions and rumors. The circumstances for Barry Bonds' and Roger Clemens' use and alleged use of PEDs are different than that of Piazza. But it remains a valid question: If the Hall has accepted Piazza (and surely others who have done PEDs), why would it keep the likes of Bonds and Clemens shut out?
It's going to be hard to use PEDs as an excuse in the coming years, simply because Piazza has been elected. If he didn't irreversably taint his own career by doing PEDs and admitting to doing them, what is the reason for not allowing Bonds and Clemens in? Writers will have a hard time answering that question in the remaining years they're on the ballot.