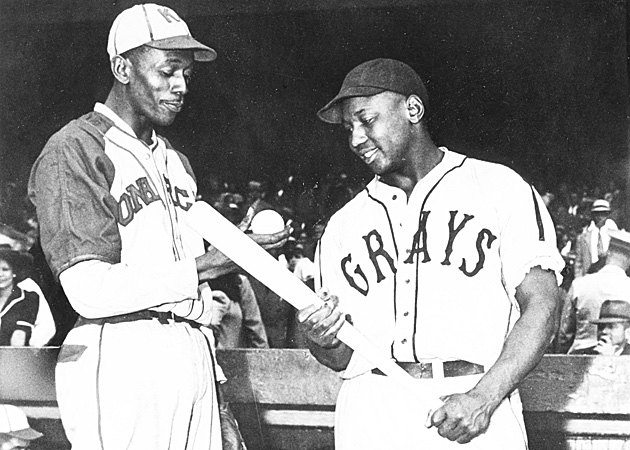 Josh Gibson, right, having a chat with fellow legend Satchel Paige. (Getty Images)
On this date in 1947, baseball lost a legend. Josh Gibson, the most prodigious power hitter in Negro Leagues history -- and perhaps baseball history -- died of a stroke at the age of 35. It was additionally tragic that his death occurred just a few months before Jackie Robinson broke the color barrier in Major League Baseball.
While we know Gibson was one of the best baseball players of all time, it's tough to get a handle on just how good Gibson was. He may have been the best player ever. In terms of recorded history, baseball-reference.com has tracked down enough box scores to give Gibson 107 homers in 1,987 plate appearances with a .350/.401/.624 triple-slash line. This isn't complete, however, because some Negro Leagues games weren't recorded, and there were myriad independent leagues where black players plied their trade as well.
On Gibson's Hall of Fame plaque, it says that he hit "almost 800 home runs." Some tales of lore have Gibson with a whopping 972 home runs. There's also the legend that he was once fooled on a changeup and ended up swinging with one hand, connecting for a home run.
Here is the biography on Gibson from the official Baseball Hall of Fame website:
A tragic and legendary figure, Josh Gibson was the greatest power hitter in black baseball, pounding out home runs with regularity despite playing most of his career in two of baseball's most cavernous ballparks: Forbes Field and Griffith Stadium. He utilized a fluid, compact swing to hit for both average and power, and tales of his mammoth home runs became legend. In recorded at-bats against big league pitching, Gibson batted .426. He died just three months before the integration of baseball in the Major Leagues.
The site also provides this quote:
"Josh Gibson was, at the minimum, two Yogi Berras," said famed Indians, Browns and White Sox owner Bill Veeck.
That pretty much says it all. Many consider Berra the greatest catcher in Major League Baseball history -- or at least in the conversation -- and Veeck is saying Gibson was significantly better. It's a shame many of us can never know just how great Gibson was. It's a bigger shame he was prevented from playing in the bigs due only to his skin color.
So on the 66th anniversary of his tragic death, let us remember Josh Gibson.
Hat-tip: ThisDateInBaseball on Twitter
For more baseball news, rumors and analysis, follow @EyeOnBaseball on Twitter, subscribe to the RSS feed and "like" us on Facebook.