Bobby Bonilla hasn't played in the majors since 2001 and not with the Mets since playing cards in the 1999 NLCS. But thanks to a deferral stipulation that came about when the Mets released Bonilla after the 1999 season, he's getting paid just under $1.2 million per year from 2011 through 2035!
Bonilla will be 72 in 2035. So below is our artist's rendering of a potentially epic bobblehead. Please note the baseballs on his walker, because that might be the best part.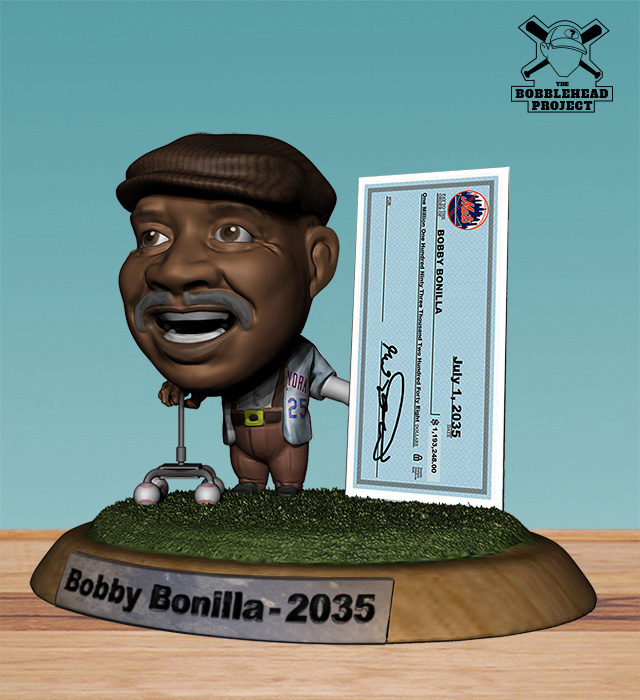 Then again, perhaps the reality is the best -- or most absurd -- part of this. In 1999, Bonilla only appeared in 60 games, hitting .160/.277/.303 and posting a negative-1.5 WAR. And yet, along with Jason Bay, Bonilla is paid more than any current Mets outfielder.
I have to say, this is an utterly glorious bobblehead. Perhaps the best work yet by our in-house artist. There's obviously no chance the Mets would make this a Citi Field giveaway, but why not an NL East rival like the Phillies or Braves -- just to troll the Mets? Or, really, any team would work. I have no horse in the NL East and think it's nothing short of hilarious.
For those unaware of what we're doing with The Bobblehead Project, we are putting together a group of would-be bobbleheads in hopes that a company that makes these things might someday make a real bobblehead based upon our idea. We're going to churn out one each Friday until we run out of ideas, but our list is upwards of 50 bobbles at this point. If you have a unique idea that you think we might have missed, feel free to hit me up via email: Matt.Snyder@cbs.com.
Tip of the hat to the artist, Jarod Valentin.
Bobblehead Gallery (click on thumbnail) ...