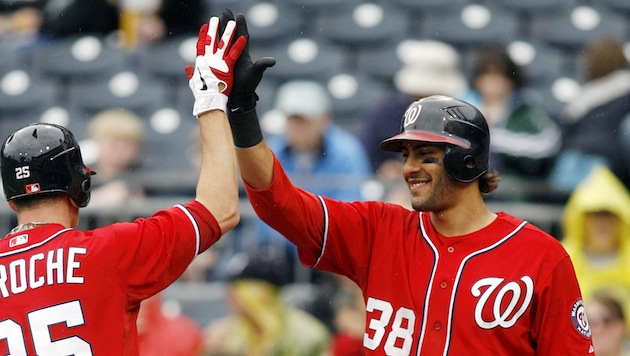 The Nationals could be without two starters on opening day, as the team is unsure if Michael Morse or
Adam LaRoche
will be ready for the team's opener against the Cubs at Wrigley Field on April 5.
Morse is saddled with a strained right lat, while LaRose has a bruised left foot.
"We're going to be ultra-cautious," Nationals manager Davey Johnson told reporters (
via the Washington Post
). "I'm going to monitor them real close. I'm not going to pus them to get them ready by opening day if I think there'd be a setback to any of them."
Neither, though, is expected to start the season on the disabled list.
• Nationals closer
Drew Storen
, who has been sidelined with strep throat, said he's feeling better and confident that he'll be ready for opening day. [
Washington Post
]
• Johnson said he doesn't expect right-hander
Chien-Ming Wang
to be ready for opening day. Wang suffered a strained left hamstring last week. Davey said he doesn't expect Wang to return to return to the mound until after the regular season starts. [
Washington Times
]
• Royals closer
Joakim Soria
is taking a few days off after a follow-up examination confirmed the damage to his ulnar collateral ligament. It appears he will need Tommy John surgery for the season time in his career, which would put his future in Kansas City in doubt. The Royals have an $8 million option for Soria next season with a $750,000 buyout. The team also has a $8.75 million option for 2014. [
Kansas City Star
]
• An MRI showed no nerve damage in the right hand of Cubs closer
Carlos Marmol
. Marmol left Tuesday's game after saying he felt like his hand was cramping. He didn't throw on Wednesday, but is expected to continue his regular throwing program on Thursday. [
Chicago Tribune
]
• Pirates right-hander
A.J. Burnett
is expected to throw a simulated game on Saturday after throwing 52 pitches in a bullpen session on Wednesday. Burnett told reporters his eye felt fine and so does his strength, but pitching coach Ray Searage said the team is being "extra patient" with Burnett's recovery from a fractured orbital bone. Burnett will not pitch during spring training. [
MLB.com
]
• Giants closer
Brian Wilson
is getting extra rest this week because of "general soreness," but he said there's nothing to worry about at this point. Wilson is scheduled to throw in a minor-league game on Thursday. [
San Jose Mercury News
]
• The Cardinals don't know when
Skip Schumaker
will be able to return. Schumaker has a torn muscle in his right side. [
St. Louis Post-Dispatch
]
• The Indians have shut down center fielder
Michael Brantley
for three to five days because of a right hamstring injury. [
MLB.com
]
• Brewers outfielder
Corey Hart
needed eight stitches in his head after a weight machine hit him in the head on Tuesday. Hart already had knee surgery in camp and last year he missed most of the spring with a strained oblique. "I need to skip spring training and go right to the season next year," Hart told reporters. [
Milwaukee Journal Sentinel
]
• Brewers right-hander
Shaun Marcum
pitched in a Triple-A game on Wednesday and said he expects to be ready for the start of the season. Marcum hadn't pitched yet this spring ebcause of shoulder inflammation. He threw two innings on Wednesday, allowing a hit (a home run) and two strikeouts. He threw a total of 26 pitches. He's scheduled to pitch again on Sunday. [
Milwaukee Journal Sentinel
]
• Yankees outfielder
Nick Swisher
said he felt better on Wednesday, the day after he left an exhibition with tightness in his groin. Swisher told reporters he expected to take a few more days off to make sure it's fully healed before returning to action. [
MLB.com
]
• Rays outfielder
B.J. Upton
was scratched from Wednesday's exhibition with the Yankees after he woke up with a sore back. Upton hasn't played in a big-league game since March 14 when he and
Desmond Jennings
collided in the outfield. Upton played in a minor-league game on Tuesday. He was not scheduled to play on Thursday. [
MLB.com
]
• How's this for novel? Orioles pitcher
Zach Britton
got good news from Dr. James Andrews. Britton saw Andrews in Florida this week for inflammation in his left shoulder and was told there's no structural damage in his shoulder. Still, he'll start the season on the disabled list. [
Baltimore Sun
]
• Tigers right-hander
Jacob Turner
played catch for the second straight day and said he felt "no pain" in his right shoulder. Turner, 20, had been sidelined by tendonitis in the shoulder. The team still has no timetable for his return. [
MLive.com
]
• Blue Jays third baseman
Brett Lawrie
could return to the team's lineup on Thursday. He hasn't played since Friday because of tightness in his left groin. He still has to pass a series of running tests before he is allowed to return. [
MLB.com
]
• An MRI revealed a torn oblique muscle in the left side of Dodgers infielder Ivan De Jesus Jr. and there is no timetable for his return. [
Los Angeles Times
]