TORONTO -- DeMar DeRozan attended the Kobe Bryant Skills Academy in 2007, and you could say he was happy to be there. A native of Compton, Calif., DeRozan's favorite team was the Los Angeles Lakers and his favorite player was Bryant. Just 16 years old, he said then "it's fun learning some of the techniques that Kobe uses."
Since then, Bryant has gone from his idol to "my man," in DeRozan's words. It started at that camp. The Toronto Raptors guard fondly remembers teaming up with a beardless James Harden against Bryant in an open run, and the mutual respect growing from there. 
After Bryant announced on Sunday that this will be his last season in the NBA, DeRozan spoke about him in reverential terms. He called it an honor every time he had the chance to be around him. He said people don't understand how hard it is to play in this league for 20 years. He recalled sitting in his house and watching Bryant score 81 points against the team he'd eventually lead, feeling like it was him controlling Bryant in a video game. 
"It's crazy how much time flies," DeRozan said following Toronto's 107-102 loss to the Phoenix Suns on Sunday.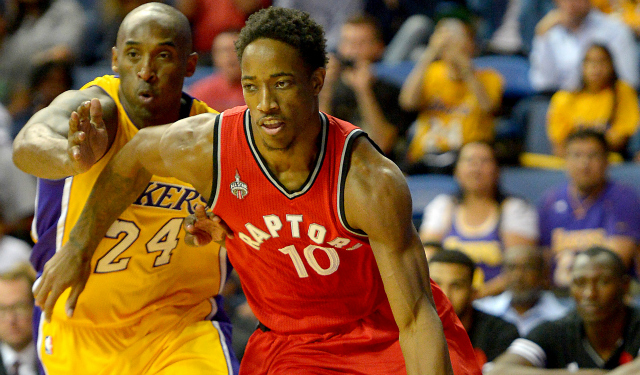 Months ago, DeRozan endeavored to explain how he approached each possession. He could not do so without referencing Bryant.
"I try to always figure out places and movements and understand rotations from every position on the court, when you have the ball, how somebody would guard you," DeRozan said. "It's really like studying. I think I kind of got that from Kob', so to speak. Kobe, he just told me what he did when he was young in his career. He watched so much film to understand every rotation, where he could pick and choose to get his shots off or pick and choose to get somebody an open shot. Little stuff like that, I really try to figure out by visually watching somebody else or watching your favorite player. Then once I'm in that position, I feel like I've been in that position before because I've been seeing it. I've watched it. That's why I be so calm and relaxed a lot of times when I'm out on the floor."
Given how the 37-year-old Bryant has struggled this season, it can be a little awkward discussing him now. His shooting numbers are dreadful, and the 2-13 Lakers have been a mess. "It's just Father Time catching up with him, injuries the past couple years," DeRozan said. In his eyes, bricked jumpers today shouldn't matter after 17 All-Star appearances, five NBA championships and an MVP award. He knows Bryant can be hard on his teammates, but thinks he could have handled playing with him.
"I think a lot of people don't understand Kobe," DeRozan said. "They look at Kobe like he's an asshole. Which he's not. He's just one of them guys who wants every single thing out of the game of basketball. He sacrificed so much to do that. I think a lot of times people don't appreciate that side of him. But, you know, my experience with him, he's a hell of a guy. I think people won't realize that until he's away from the game."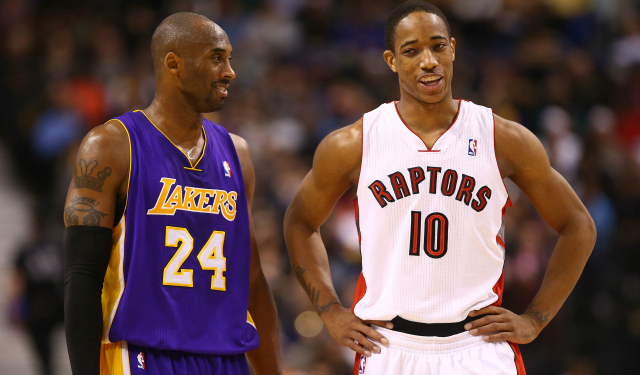 After praising Bryant's "killer instinct," "dominant presence" and "grit that you don't see too often," DeRozan said he planned to inform Bryant he wants to work with him one-on-one. "I'ma tell him I need every move he has," DeRozan said, adding that anything he does in the post, he took from Bryant. 
DeRozan made two field goals in the fourth quarter on Sunday, a reverse layup in traffic and a turnaround jumper over P.J. Tucker. You could see Bryant in both of those shots, just as you could see his influence with every year that DeRozan improved and every story about his dedication in the summertime. 
"He meant everything," DeRozan said. "I try to emulate, learn so much from him ever since I was a kid. Watching every single game growing up in Los Angeles, having a chance to get with him and learn from him and from conversations even when I was in high school [to] playing against him, competing against him and being in big games with him. It's definitely a sad, sad day, but he's been in the game a long time. He's definitely one of the best in my era that I've seen play, and I think he's going to have a proper exit after announcing it."