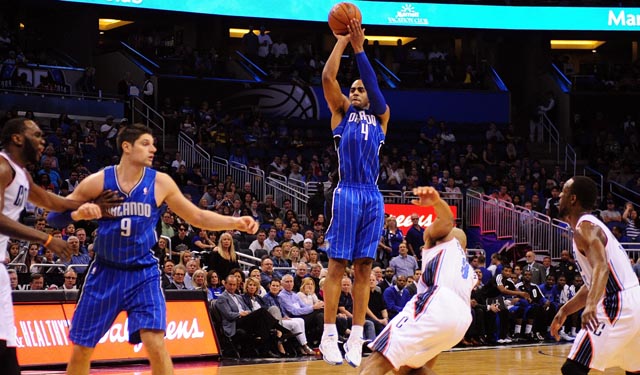 More Offseason Analysis: Coaching changes, news | Free Agency | Draft
The Orlando Magic and Denver Nuggets have come together on a trade of Arron Afflalo back to the Nuggets in exchange for Evan Fournier and the 56th pick Thursday night. Did the Magic just give up an All-Star caliber player for cap relief or are they getting more in this trade? Are the Nuggets primed to keep Afflalo or is this part of a bigger deal? Let's grade the trade:
Orlando Magic acquire Evan Fournier and 56th pick in 2014
Arron Afflalo was the one constant for the Orlando Magic last season. He was nearly an All-Star and had the best year of his career. He's a valuable veteran with a manageable contract that a contender would die to have. So how did the Magic only get Evan Fournier and the 56th pick in the draft out of dealing him? The only answer you can really come to is they really wanted the cap relief for it. They had roughly $45 million committed for next season with Afflalo. They'll save about $6 million on this deal, moving them down to $39 million committed and they could even get that down another $8 million or so if they waive the non-fully guaranteed deals of Jameer Nelson, Doron Lamb, Ronnie Price, Kyle O'Quinn, and Dewayne Dedmon.
Some of that cap space will be taken up with their two first round draft picks they have right now. It puts them in position to offer big money to a free agent but more realistically, it gives Orlando to do what the Utah Jazz did last offseason which is absorb big contracts while acquiring more draft picks from a team trying to clear space for a free agent. The Magic don't seem to be in a rush for this rebuilding process, which is both risky and admirable. They're committed to doing it properly, but at a certain point they have to put a team on the court that can win.
Fournier could end up being a nice role player for the team. He showed some promise at times for the Nuggets last season, but he's not a starting caliber player as of right now. This appears to be all about cap management when they seemingly could have sold higher on Afflalo. 
Grade: C
Denver Nuggets acquire Arron Afflalo
This trade is a win for the Nuggets. They played a lot of Randy Foye at shooting guard last year and are bringing in a better, bigger option for the position. Next to Ty Lawson, this could be a very dynamic backcourt if they end up keeping Afflalo. Afflalo has been a stellar 3-point shooter in five of his seven seasons in the NBA and the Nuggets certainly need outside shooting after finishing middle of the pack in 3-point percentage last season. He was able to shine as a number one option last season, but in a reduced role he can still maintain a similar effectiveness on a lower usage.
However, the Nuggets could also move Afflalo in a move for a bigger star. They were rumored to be willing to offer quite a bounty, including Afflalo in the deal, to try to convince the Timberwolves to trade Kevin Love to Denver. Clearly, they'd want Love to waive his opt-out or they'd want to know they have a good chance of re-signing the star power forward. But even if Love isn't the desired target of a next deal, a one-year rental of an above average shooting guard without having to incur a big cost could be a nice trade chip for the Nuggets to dangle in front of contenders. 
Grade: A