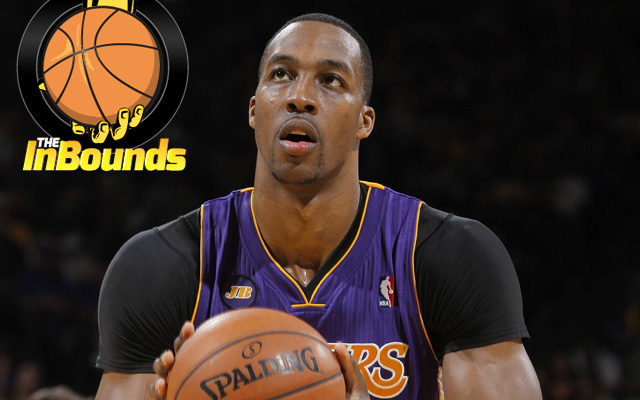 I've been pretty harsh on Dwight Howard's play this year. It's trickier than you'd think. I'm more than aware Howard had major back surgery last year. I know that surgery would have substantial and long-term impacts on his mobility and strength. I know he returned from that surgery far earlier than expected, in part because he understood the importance of this season and the expectation, in part because of his excitement, and in part because he genuinely wanted to play and help. 
I also know he's sucked. 
Sucked is a strong word, right? Given that Dwight Howard when sucking is still about 15 times better than Chris Kaman when the sun shines upon him and daisies randomly bloom. But the best way to go about your analysis is to acknowledge a player's talent and ability when he performs, and to judge him on the level to which he has risen. Dwight Howard has risen to be considered a top-five player in the league, an MVP candidate, the de-facto perennial Defensive Player of the Year winner (as in, a player has to take it from him, he doesn't have to earn it; P.S. Marc Gasol and about 10 others have taken it this year), and a super-duper-uper-star. 
And on that level, Dwight Howard has sucked badly. 
He's slow with his rotations. He lays it up when he should be dunking. He misses free throws, God, does he miss free throws. But it's more than that. He's not giving effort on pick and rolls the way he needs to. He's not challenging shots the way he needs to. At times, he's an awesome monster and a great player. And many times he's a defensive liability that teams are exploiting. He is still the player with the best on/off defensive rating impact on the team and the Lakers' best overall defender. The problem is that's not saying much. 
So I've written about it. I've criticized him. It's insane that Dwight Howard was an All-Star, I don't care who was voting for him. It's preposterous that he's going to wind up on an All-NBA team. He hasn't played well enough, even on the level of his competitors at his position on the floor or in terms of star power. 
So there's part of me that watches it and knows that so much of this has to do with the fact that he hasn't been healthy. Not just with the back injury, but the torn labrum. And getting used to new teammates. And a new coach. And then another new coach. But if I don't point out that Dwight Howard is not playing well, then I'm not doing my job. 
But, seriously, Dwight Howard is hurt, and his back surgery was a major, major thing. 
In a feature at Bleacher Report, Jimmy Spencer was talking to Metta World Peace about Howard, and MWP (also injured now) mentioned a photo of the result of his back injury. And then, things got gross. Emphasis mine: 
"Ask him to show you the picture," World Peace said.

World Peace came across like a school kid who just wanted to share something gross, but he happened to stick up for a friend in doing so.

The opportunity to see the photo came following the game, as Howard stood at his locker before the horde of media collapsed beneath him with cameras.

"What picture? Oh. Yeah, you can see it," Howard said.

I asked if he could send it to me, but he declined, clearly trying to avoid adding to the media storm that has surrounded his season in L.A. 

"Here, I'll show it to you, though," he said after thumbing through some photos on his iPhone.

And there it was. Disgusting. It looked like an elongated piece of chicken fat, a yellowish-white mass, laid out next to a ruler and measuring approximately 5 1/2 inches.

"Yeah, that was the part on my nerve they had to pull out," Howard said.

Howard's teammate was right -- the piece that came off the disk in his back was revolting.

"It was pretty nasty," World Peace said. "I don't even know how the hell he played. If he showed you the picture of that thing that came out of his back, the general public would take back all of the comments they made about him."
via Dwight Howard Playing Through Pain and Criticism with the Los Angeles Lakers | Bleacher Report.
Grooooooooossssss. 
A 5 1/2-inch piece of something that was on his nerve was pulled out. This isn't Kevin Ware we're talking about, but that's just downright disgusting. And awful. And you can only imagine the kind of pain that comes with waking up and having your body go "Oh, hey, wait, hold on a second, I think something's ... SOMEONE TOOK SOMETHING OFF A NERVE IN OUR BACK." 
So when you factor in the recovery time, and then the beating every single night in the NBA as Reggie Evans shoves you in the back and Marc Gasol elbows you in the back and Kenneth Faried is constantly leaping into you, your back, and your face, then yeah, that's probably going to have an impact on how you play. 
The truth is that Howard has struggled with his effort, has kept trying to convince the world that he should play in the post and not the pick and roll (this is not true under any circumstances or in any world), and has kept his carefree, laughy-taffy attitude despite the seriousness of the Lakers' failures to live up to expectations. 
But he's also been significantly hurt. He hasn't been himself and that should probably be considered when we talk about Howard this season. He's healthier now, he's playing better, and while he can't seem to get himself to stay away from am microphone, at least he's no longer the biggest part of the problem. (But really, the Lakers' problem is so big, can you tell what the biggest part is?)
I can't stop pointing out when Howard fails to be the player the Lakers traded for. But I can point out there are pretty great reasons why he's not.