Throwback Thursday is a fun, deeper look at a big game in NBA history that has full video available on YouTube. For the first Throwback Thursday post, let's take a look into Michael Jordan's career-high in scoring -- the night he dropped 69 points on the oft-tortured Cleveland Cavaliers.
It was 25 years ago that Chicago Bulls' superstar Michael Jordan was regularly torching and torturing the Cleveland Cavaliers' organization. Perhaps it was a division rivalry thing or maybe it was just him being able to comfortably get his shot off against Craig Ehlo, Larry Nance, and the defenders coach Lenny Wilkens would throw Jordan's way. Regardless of the reason, Jordan was sending a message to a good Cavs team that was just never good enough against the Bulls.
It was March 28, 1990 and the Bulls and Cavs were headed in two different directions. Chicago had become one of the elite teams in the East and were on their way to 55 wins and the 3-seed. The Cavaliers had gone from the 3-seed in the East in 1989 to needing a 10-3 finish to the season to win 42 games and grab the 7-seed.
Three games into their five-game regular season series, Jordan was averaging 44.3 points on 54.7 percent from the field, 9.3 rebounds, and 6.3 assists against Cleveland. He wasn't just a thorn in the side of Cleveland; he was a trident soaked in poison. As you'd expect out of the Michael Jordan we remember from the 80's and 90's, he was out looking for blood once again against an opponent he loved demolishing.
Let's start by posting the video to the full game. If you're not up for watching the full game now (or ever, I guess), read below it and we'll have smaller videos, vines, and screengrabs to give you the gist of what happened the night Jordan dropped 69 points on the Cavs.
We start off the broadcast with a recap of "The Shot" by Jordan against Ehlo and company, and then we move into a ridiculously entertaining TNT intro video from 1990. Look at how they superimpose the highlights over familiar settings for each player in their respective cities. This is how introductions were done 25 years ago.
Now, we just end up with Pitbull or Aloe Blacc interrupting unaltered highlights.
As I mentioned above, Jordan had been treating the Cavaliers like they were light scrimmages over the course of the 89-90 season. Cleveland had their own thorn in the Bulls' side too. Mark Price was one of the deadliest scoring point guards in the NBA and he excelled against Chicago. They weren't quite hounding every point guard with Scottie Pippen just yet and Jordan needed to help check Craig Ehlo so he couldn't just smother Price.

We've got Bob Neal on the play-by-play and Doug Collins doing the color commentating for this game. It's a little bit awkward because Collins coached Jordan and the Bulls in the previous season. Collins was Jordan's coach from 1986-1989, amassing a 137-109 record in the regular season and 13-17 playoff record. 
While some people may have only remembered Jordan driving to the lane and dunking on everybody in sight, MJ was a calculating midrange master, finding pockets in the defense and rising up for relatively uncontested jumpers. His strength allowed him to create space and his athleticism gave him the lift for that consistent midrange jumper.
The Cavs start off the game with Winston Bennett defending Jordan, despite a story in that day's paper about Ehlo's ability in defending Jordan. Lenny Wilkens was probably just looking to switch up coverages, defenders, and looks for Jordan while saving Ehlo for late game defending against the greatest player in the world.
Jordan started cooking Bennett early by going into the post and hitting that fadeaway jumper he'd become so famous for later on in his career.
As was the case with most of Jordan's games throughout the early seasons of his career, it was often him as the primary scorer against probably a better team than what he was playing with but not more of a capability to take over like Jordan could. This Cavs team is the perfect example of what I'm talking about. They have five legitimate scoring options throughout the game and cycled through them beautifully. 
Ehlo coming off screens and attacking, Price running pick-and-rolls, post-up chances for Brad Daugherty and Hot Rod Williams, and Nance doing the freakish things he could do on the offensive end were all going against primarily just Jordan's sheer will, determination, and ridiculous ability.
Pippen wasn't quite the breakthrough offensive weapon we remember, Horace Grant was a safety valve on offense but not a feared one yet, and the point guard combo of John Paxson and B.J. Armstrong (rookie that season) were just complementary players. Chicago would go into Bill Cartwright quite a bit in the post, but the defense seemed thrilled when that was the option over Jordan.
What was the option early was Jordan trying to break the will of Bennett. He grabbed an offensive rebound and got the put-back for his second basket, then hit a brutal one-legged, off-balance jumper against Bennett on the left side again to push his tally to six points.
What's funny about this entire game and performance is the way Neal and Collins seemingly just laugh at everything Jordan does. He's so accurate and lethal with the way he attacks that there's not much you can do. Today, we'd probably accuse the announcers of fawning over a player, but I truly think they were just impressed with the ease in which Jordan took on the defense.
Charles Davis pulled down an offensive rebound and found Jordan on the perimeter for the 3-point shot to give him nine points. This was a rare season for Jordan in which the 3-point shot was a part of his offense and he did it well. He went 92-of-245 (37.6 percent) from downtown that season. It was his best outside shooting season that didn't involve the 3-point line moved in (1994-1997).
Jordan's 10th and 11th points came in transition, as he slow played the entire Cavs' defense and drove past everybody for a lefty layup. Collins notes that Jordan is on pace for his season average of 44 against the Cavs. 
MJ hadn't quite started drawing a lot of fouls in this game and was doing all of his damage within the flow of the game. The Cavs switched Bennett off of him and gave Ehlo a crack at slowing Jordan down. Jordan came off a curl screen to bury another midrange jumper to give him 13 points in the first quarter. Then at the end of the quarter, he got Ehlo up in the air with a pump fake, drew the contact, buried the shot, and hit the free throw.
The Bulls led 27-26 at the end of the first and Jordan had 16 points on 6-of-7 from the field. He was just getting started. 
While the game is important and the performance is legendary, nothing really compares to the timeout entertainment provided by this man balancing a bear on his head while the bear wears a Larry Nance jersey. In so many ways, I miss the NBA in the 80's and 90's and I'm not sure it has anything to do with the basketball.
From there, we've got Neal and Collins making bear puns about being a "bear of a guy" and being "bearable," which is exactly what you want here. 
John Morton is the new defender on Jordan in the second quarter and MJ drives by him after a Will Perdue hand-off to finish through contact from Tree Rollins for the layup and the foul. This pushes his total to 19 points. He's scoring so easily and Neal starts joking with Collins that Jordan will obviously be their Miller Lite Player of the Game following the game.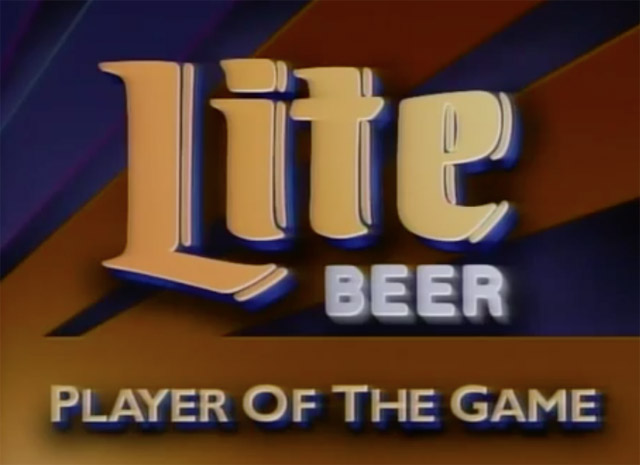 Jordan has now started attacking a little more aggressively and not just take what the defense gives him. He draws a couple of fouls and more free throws to push him to 23 points. Then a two-man game with Stacey King results in a layup for Jordan before Pippen steals the ball in the backcourt and delivers to Jordan for another score. Seems like in the blink of an eye, he's up to 27 points. A couple possessions later, he pushes it to 29 with another midrange jumper.
I bet you were wondering if Will Perdue held a block party during this game. He certainly did after he blocked Daugherty not once but twice following this air ball from Price. Not in Will Perdue's condominium!
Jordan knocks down another pull-up jumper before the end of the first half and brings his total to 31 points. He's made 11-of-15 from the floor to go with seven rebounds and three assists. The Bulls lead 53-50 and Jordan's accounted for 69.8 percent of their points between his scoring and passing.
The second half would be much of the same for him. He was having to match the Cavs' scoring from Price and Ehlo throughout the first half. In the second half, the Cavs would go heavy to Williams off the bench while Jordan just kept pouring in jumpers. He'd get a breakaway dunk though early in the second half after a rebound. Neal was hoping for something fantastic but Jordan just went with the basic one-handed slam as he got ahead of the defense.
Jordan hit a pull-up jumper in transition that was Russell Westbrook-ian for 35 and then hit a jumper coming across the lane a couple minutes later to push him to 37. Cavs started really swarming him as he'd drive the paint and he found Horace Grant for an easy score inside. He was just picking them apart left and right.
Do you remember the breakaway foul rule? It was the original clear path foul and it ended up getting Wilkens tossed as the coach. Before the NBA changed it in 1994-95 to including contact in the backcourt, even contact in the back when a player was going up for a layup would result in two free throws and the ball. Williams makes contact with Jordan in transition and Dick Bavetta determined it was a breakaway foul.
Wilkens was livid after this call. Jordan hit the two free throws, hit a jumper on the retained possession, and then the Cavs' coach received two technical fouls for arguing and was ejected. Jordan knocked down both free throws from the technicals and had 43 points.
Jordan would knock down another jumper after getting a favorable charge call against Ehlo on a drive. Then MJ hits a baseline jumper to get to 45 points, which prompts Collins to proclaim Jordan will go for 60 in this game. He's already surpassed his ridiculous season average of 44 against the Cavs. A post-up against Price off a switch results into a quick turnaround jumper to get him to 47. A one-dribble pull-up jumper a minute later gives him 49 points and Collins is audibly laughing at how efficient and lethal Jordan is being.
The Bulls were cruising in this game with a 17-point lead as the third quarter was coming to a close. But the Cavs made a quick run at the end of the third quarter following two free throws from Jordan as he pushed his total to 51 points. Ehlo knocked down a 3-pointer then forced a turnover to give Morton a runner as the third quarter came to a close. All of a sudden, it's an 11-point deficit for Cleveland and they have a bit of momentum in their favor.
Following the game, the 1967 classic "The Dirty Dozen" starring Lee Marvin, Ernest Borgnine, and Charles Bronson was being shown on TNT. I'm really upset this wasn't tacked on the same YouTube video after the game was finished.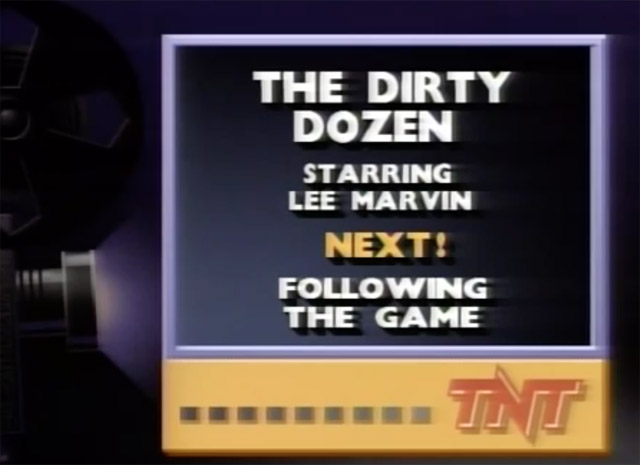 Jordan is not in the game to start the fourth quarter and it's not that long before Neal and Collins start joking about sending a note to Phil Jackson to get MJ back in the ball game so they can see a 60-point night. Right after they joke about this, 20 seconds pass by before Jordan checks back into the game. Maybe they really did send a note to Phil.
MJ curls around a screen on the perimeter and pulls up for a 3-pointer. He knocks it down to give him 54 points. He went 2-of-6 from downtown in the game. Williams gets a shot goal tended inside, but he's called for a charge on the play to take away the goal tend and probably a blocking foul that should've been called. Collins says to mark that play down as a possible five-point swing.
Another jumper off a curl screen for Jordan pushes him to 56. Another pull-up jumper gives him 58 on the night, as Neal mentions Karl Malone's 61-point game earlier in the season and Tom Chambers' 60-point night just four days earlier. Jordan joins them in the 60-point club that season with another pull-up jumper. 
The Cavs pulled the game within two points with 40 seconds left when Pippen committed a horrible turnover against full court pressure. He got trapped on the sideline before half court and then threw the ball cross-court toward the hash mark. The problem with that pass is it went into the second row. Ehlo misses a bad shot, Jordan gets the rebound and is fouled.
He makes just 1-of-2 from the line to give him 61 points. The Cavs nearly turn the ball over on the inbounds with Jordan just missing a steal that would've sealed the contest. A scramble finds Ehlo on the left wing, where he knocks down the tying 3-point shot. He'd finish with 26 points on 10-of-23 from the field and 3-of-7 from 3-point range.
Jordan misses a contested 3-point attempt at the end of regulation and we head to overtime. It was a terrible look but would've given him a new career-high of 64 points and the win had he knocked it down.
A pull-up jumper early in overtime gives Jordan 63, matching his career best that he scored in a playoff game against the Boston Celtics in 1986. It's just a perfect display of the control Jordan had over every jumper against the defense.
Price answered Jordan's jumpers with a 3-point play on a drive to give him 30 points. He'd finish with 31 points (6-of-14 FG, 17-of-20 FT) and eight assists. Following a couple of trips to the free throw line giving Jordan points 64, 65, 66, and 67, the Bulls were up 113-110 with 1:15 left. MJ would miss his next shot, followed by Ehlo missing a 3-pointer down just one point with 12.2 seconds left. A couple of free throws from B.J. Armstrong pushed it back to three points, when Jordan came up with an incredibly heady play.
As Price started dribbling into a 3-point attempt, Jordan fouled him on shot. In today's game, we'd consider this a dumb foul by Jordan, but he never let Price get a shot off after the foul. The rule back then was you received two free throws on a 3-point shot. That rule didn't get changed until 1994-95 when they started giving you three free throws when fouled on a 3-point attempt.
Price went 1-of-2 from the line, Horace Grant made 1-of-2 after being fouled, but Jordan grabbed the miss from his teammate. The Cavs sent Jordan to the line once again, and he scored points 68 and 69.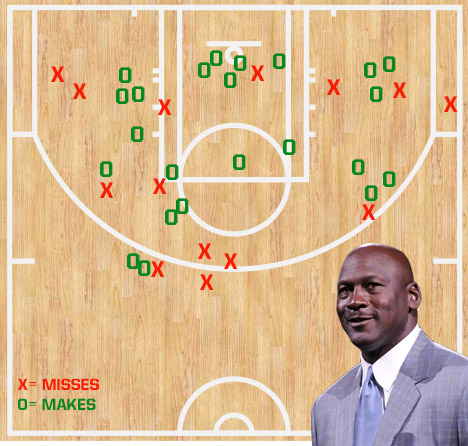 His final line on the night was 69 points, 18 rebounds, six assists, four steals, and a block. He went 23-of-37 from the field and 21-of-23 from the line. The Bulls won the game 117-113 in overtime as Jordan kept torturing the Cavs and their fans.