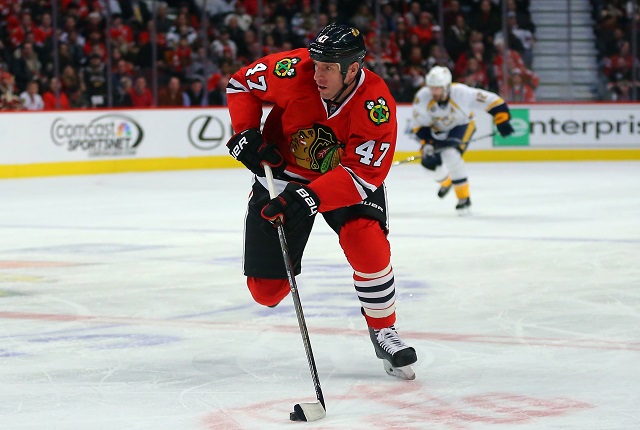 The Chicago Blackhawks have waived veteran defenseman Rob Scuderi according to multiple report.s The 37-year-old blueliner had appeared in 17 games with the team he was traded to Chicago by the Pittsburgh Penguins for Trevor Daley.
Though the trade was made in an effort to get Daley a change of scenery, Chicago took on a defenseman that was always going to be an ill fit for their lineup. Scuderi never managed to do much in his limited time with the Blackhawks. He averaged a mere 11:06 of ice time and registered no points.
It's hard to imagine a team claiming Scuderi, who has another year on his contract. The Penguins retained $1.125 million of his cap hit, though.
If claimed, the Blackhawks would get around $1.2 million in salary cap savings. If he doesn't, Chicago can send him to the American Hockey League and would save $950,000 against the cap (numbers via @generalfanager). Making any amount of cap room comes in handy this time of year as the trade deadline is less than two weeks away.
Chicago would be working with around $3.9 million in extra space as the deadline approaches. That's some pretty good wiggle room to fill the holes they have.
Meanwhile, the Patrick Sharp trade tree continues to look pretty bleak. The Blackhawks traded the popular, but expensive Sharp this offseason for Daley and forward Ryan Garbutt, neither of whom are with the team anymore. Daley was shipped out for Scuderi, who will in all likelihood not play for Chicago again this season. Meanwhile, Garbutt was traded for Jiri Sekac, who remains on Chicago's roster after five games. To go from Patrick Sharp to Jiri Sekac is quite a drop off, but of course the Sharp trade was all in the name of saving cap space. They accomplished that much at least.
With Chicago sitting tied with the Dallas Stars in points in the Central Division standings, they're probably not too worried about it. Now we'll have to see what they do with this extra space they've created.