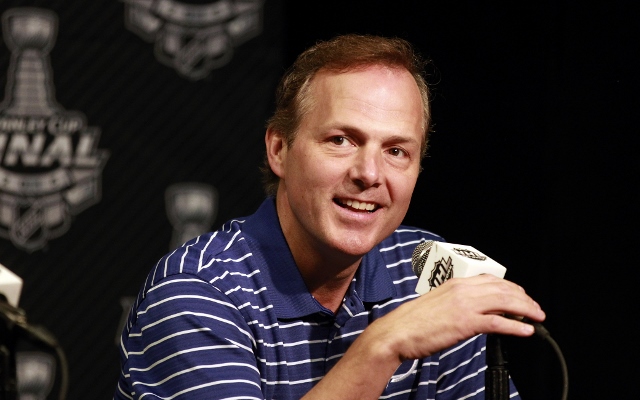 If Tampa Bay Lightning head coach Jon Cooper is concerned with his team facing elimination in the Stanley Cup Final against the Chicago Blackhawks, he hasn't shown it. That's not really a surprise. The easiness and confidence he exudes have been key traits in his personality since he arrived in the NHL.
So perhaps it shouldn't catch anyone off guard that on the night before the biggest game of his coaching career to date, he wasn't pouring over notes and video at all hours of the night. He was watching the Chicago Cubs take on the Cincinnati Reds at Wrigley Field.
With seats right next to the Cubs dugout, Cooper and assistant coach Steve Thomas had a heck of a view in the iconic ballpark.
Cubs dugout area RT @TheCauldron Steve Thomas & Jon Cooper of the Lightning coaching staff at Wrigley Field pic.twitter.com/v7gd81vWaV

— CJ Fogler (@cjzero) June 15, 2015
The Lightning head coach is actually friends with Cubs manager Joe Maddon from the time Maddon spent while managing the Tampa Bay Rays. The two have shared texts throughout the series, even though Maddon's current regional allegiance probably keeps him pretty torn during the Stanley Cup Final.
Cooper was asked about his field trip during his pregame remarks for Game 6.
"All  I'm going to say is it's the first pro sporting event that I've been to for a long time, sit there, relax, not have a stake in it," Cooper said. "That was good for my head."
The night before a big game can be spent a variety of ways for coaches. With how close this series has been so far, you can't say that the Lightning aren't well prepared for their matchup with the Blackhawks. The stakes may be higher, but maybe that only enhances the value of getting a night to decompress and relax.
Dinners from Charles Barkley and Vince Vaughn last week, now a Cubs game thanks to Joe Maddon? Cooper must feel right at home in Chicago.
The Lightning will meet the Blackhawks at 8 p.m. ET as Tampa looks to keep their Stanley Cup hopes alive.