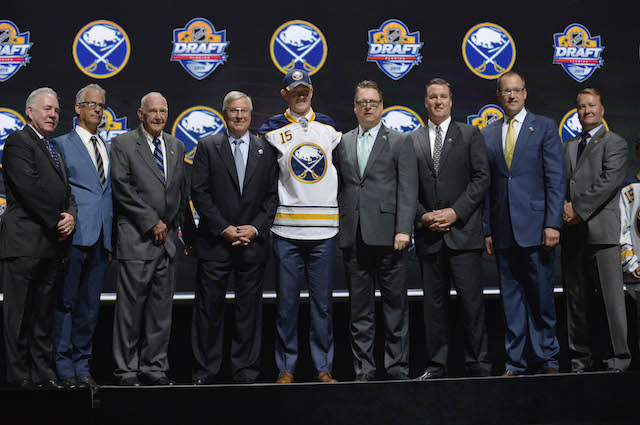 Buffalo Sabres fans are excited again. 
After sitting through back-to-back seasons of pretty terrible hockey on the ice, including one where a large portion of the fan base was actually rooting for the team to lose (and for good reason!), Sabres fans have reason to believe again. Evander Kane, Ryan O'Reilly and Robin Lehner were acquired over the past few months and are set to join the team this season, while they also have a Stanley Cup winning coach behind the bench in Dan Bylsma.
But the biggest reason for optimism is the arrival of No. 2 overall draft pick from 2015, Jack Eichel, one of two phenoms at the top of the this year's draft. In pretty much any other year that didn't have Connonr McDavid at the top of the draft he would have been a prize at No. 1.
On Friday night, Eichel made his unofficial Sabres debut on the ice when he and the rest of the team's prospects scrimmaged in the annual Blue and Gold game at the First Niagara Center in Buffalo in front of more than 17,000 fans. 
17,115 to be exact. For a scrimmage. In July. Some images, via the Sabres. 
Another view of the crowd tonight. #OneBuffalo #BlueAndGold pic.twitter.com/eoXYX7DEwh

— Buffalo Sabres (@BuffaloSabres) July 11, 2015
 That crowd .. Thank you, #Sabres fans! #OneBuffalo #BlueAndGold (@BWipp) pic.twitter.com/zyhXFhHdCj

— Buffalo Sabres (@BuffaloSabres) July 10, 2015
Eichel's team ended up losing the scrimmage, 5-2, to a team that was led by 2014 No. 2 overall pick Sam Reinhart.
The Sabres probably aren't going to be a playoff team this season (they would need an almost unheard of one-year turnaround to make that happen) but they have taken some big steps to at least look like a real, competitive NHL team and have some long-term building blocks in place with Eichel, Kane, O'Reilly, and Reinhart.