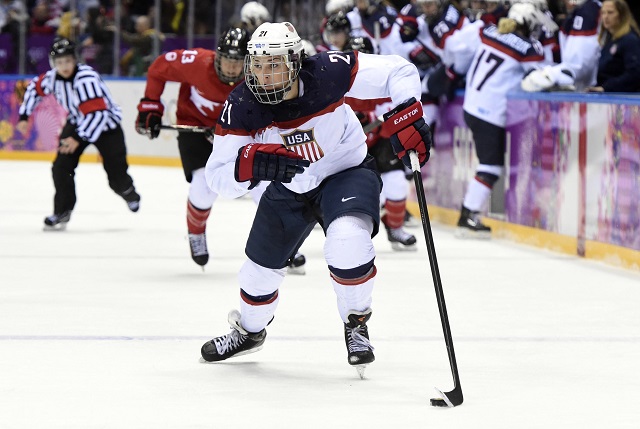 Perhaps one day, we'll think of October 11, 2015, as a date when the game changed and history was made. There will be peaks and valleys and the road ahead is anything but certain, but women's paid professional hockey is a real thing today.
The National Women's Hockey League, the first league to pay women to play hockey, dropped the puck on its inaugural season Sunday.
Four teams, the Boston Pride, Connecticut Whale, New York Riveters and Buffalo Beauts, made up entirely of women from all backgrounds from around the world, will each play an 18-game schedule providing an outlet for some of the best women's players in the world to continue their hockey careers.
In the league's first game, the Connecticut Whale defeated the New York Riveters, 4-1, before a sold out crowd at Chelsea Piers in Milford, Conn.
Hours later, the Boston Pride defeated the Buffalo Beauts 4-1 in front of a large crowd at Buffalo's brand new HarborCenter. Manon Rheaume, the first woman to appear in an NHL game when she suited up for the Tampa Bay Lightning in a preseason game back in 1992, dropped the puck in the ceremonial opening faceoff.
They'll play from October to February before the best players get ready to train with their national teams ahead of the IIHF Women's World Championship, held annually in the spring. National team players also get stipends from their national federations as well.
The players' salaries range from $10,000 to $25,000 and they are also eligible for health insurance. The four teams in the league have to stay under a $270,000 salary cap, while each player also receives a 15% cut of each of her jersey sales. 
Obviously, they aren't getting rich from playing hockey and most won't be able to make hockey their full-time job yet. According to the league, the modest salaries remain comparable to the American Hockey League player salaries on a per-game basis. But it's a short schedule.
Players commit to two practices a week and the nine home and nine away games. Practices are scheduled for after normal working hours and they'll travel to and from games by bus.
The league is getting off the ground thanks to investors and donations. They're also hoping to make money off of ticket and merchandise sales and start attracting corporate partners.
No, it's not much, but it is a start.
Former college hockey player Dani Rylan is the founder and commissioner of the league. Now 28, she grew up in Tampa and wrote for the Players' Tribune, how she was first inspired to play by Rheaume after he appearance with the Lightning. And why on earth would a young professional want to take something like this on?
Here is what Rylan wrote about the why and what of the NWHL for the Players' Tribune:
Right now, our salary cap is still small. Our players make an average salary of $15,000. They still have to work day jobs, of course. In fact, one of the core elements of our model is to transition players seamlessly from college to life in the real world. Our players are drafted before their senior NCAA season, so they have a full year to find a job, an apartment and a social network in the city that drafts them. We have nurses, teachers, and mechanical engineers on our rosters.

But it's not just about the money. It's about respect. It's about being treated as a professional. 

Maybe the most exciting perk for our players, though, is seeing their name on the back of the jersey. 
And the young girls that attend their games will also see those names on the back of the players' jerseys and for once will be able to envision their own names on the back of a Pride, or Whale, or Riveters, or Beauts jersey.
Girls playing hockey have the Olympics to aspire to, but now there's something they can see each fall and winter right in their own back yard. Girls like these are the ones the league can truly impact and inspire:
Remember to use #NWHLFanZone throughout the season for a chance to be featured on our website! #BestFansEver pic.twitter.com/s0KZqYHt0D

— NWHL (@NWHL_) October 11, 2015
The NWHL is not the only league in the women's pro game right now, though. The Canadian Women's Hockey League boasts some of the best players Canada has to offer. They're not paid like the women in the NWHL are, though. Because that split exists, the NWHL is missing out on some of Canada's biggest women's hockey stars like 2014 Olympic hero Marie Philip-Poulin.
But the NWHL does have pretty much all of the biggest American stars, like Hilary Knight who may be the most recognizable female player in the United States. She, along with high-end scorer Brianna Decker and veteran defenseman Kacey Bellamy, among others, are all skating for the Boston Pride. All are U.S. Olympians. As is Kelli Stack, the league's highest player at $25,000, who signed on with the Connecticut Whale. Team USA captain Meghan Duggan and star defenseman Megan Bozek are playing for Buffalo.
Stack had a goal and two assists in the Whale's historic opening-game win, while Knight scored twice for the Pride in their own opener.
Meanwhile, the New York Riveters are light on American stars, but they do have Jenny Scrivens, a California native who was a goaltender at Cornell and now is married to Ben Scrivens, who was the Edmonton Oilers' starting netminder last year. A popular follow on Twitter, Jenny Scrivens has become a PR force for the league and is helping handle communications for the NWHL.
The Riveters also boast some of the league's most important players from overseas, like Austrian sensation Janine Weber, Russian star Lyudmila Belyakova and Japanese goalie Nana Fujimoto.
But let's be real for a second. Under the best of circumstances, professional sports is an incredibly tough business. Player salaries, cost for insurance, travel, equipment and everything else that comes with trying to run a business. Look at all of the minor league franchises that come and go on an annual basis in any sport. The challenges for other women's pro leagues in soccer, basketball and softball are also well-documented.
Add in the fact that the NWHL is trying to gain traction in a sport that is already considered a niche in the American sports landscape. The league is also hyperlocal, with all four teams located in the East, limiting overall exposure to a large portion of the country. The four markets the league is in also happen to be markets where there are a lot of young girls playing hockey, though. They're doing whatever is possible to allow this league to succeed on a small scale before expanding. It's smart to not shoot the moon right away.
Making this work is going to be hard. They'll have to sell a lot of tickets in small buildings. They'll have to prove commercially viable to corporate partners. Even after all that it still might not work, but we'd never know if someone wasn't willing to try.
The league's aims are not grandiose. They're born out of a noble desire to give the best female hockey players in the world a place to continue to develop their craft while making money for it, however modest. It's something none of them had the chance to do before. Many women have left the game in their prime just because it didn't make financial sense and there was no next logical step outside of playing in the Olympics.
This league probably won't be able to stand on its own forever.
NHL Commissioner Gary Bettman has said for years that the league has discussed a potential of putting together a women's hockey league, but the research showed that it would not be viable at this point. One has to wonder how closely Bettman and his cohorts will be watching the NWHL, though. There may be a benefit to the league at some point to associate themselves with something like this.
Right now, CWHL teams in Calgary, Toronto and Montreal have all forged partnerships with their local NHL teams, but that is only on an individual club basis.
The NHL annually grants large sums of money to USA Hockey and Hockey Canada to help supplement grassroots programs. If the NWHL proves its viability in the markets it's in, and helps start growing a fan base, it might behoove the league to jump in and provide at least some support to keep this afloat.
Across all sports, there is a rapid rise in female fans. That is especially true in the NHL.
Meanwhile, USA Hockey has seen significant growth in the number of women and girls playing the game today. The national governing body for the sport in the U.S. reported that for the first time in the organization's history, more than 50,000 girls were registered to play hockey in this country. Combined with adult women's membership, there was nearly 70,000 women and girls playing hockey last season. That remains a small figure, but it's moving in the right direction.
There may be an opportunity here, but the NWHL has to show it can gain some traction first. That's hardly a guarantee, but nothing is ever guaranteed in the world of professional sports. A swing for the fences in this instance is risky, but for years, no one was even willing to pick up the bat.
This seemed impossible even a year ago. Rylan, and those working behind the scenes to make this work, are trying to make it possible and maybe even viable.
As of Sunday, they've already made history, now they'll set out to make a difference.