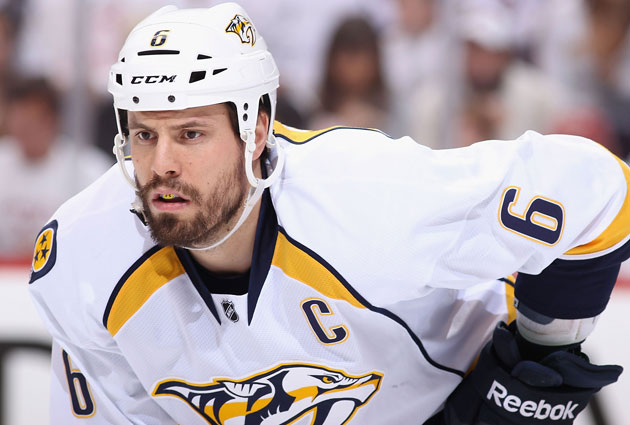 Shea Weber won't be changing his sweater anytime soon -- if ever. (Getty Images)
The Nashville Predators have made a decision and will match the offer sheet that Shea Weber signed with the Philadelphia Flyers to remain with the Preds for the next 14 seasons.
With a little more than a day left to make a decision, the Predators announced on on Tuesday afternoon that they can and will match the Weber contract and keep their captain in Nashville for years to come. The offer sheet that he signed with the Flyers was a 14-year contract that pays Weber $110 million, a lot of that money up front in the form of signing bonuses.
Many wondered if the Predators were capable of matching that kind of up-front money, leading to the tension and guessing from people on all sorts of possible conclusions. In the end it's a moot point and after deliberating with the 10-person ownership group, the Predators decided they could afford to match and keep their captain and face of the franchise.
From the Predators' announcement, here is what it boiled down to when making the decision:
- Was Shea Weber the individual that this franchise wanted to lead our team, a team that would compete for the Stanley Cup every year, for the next 14 years?

- Would matching the offer sheet be in the best long-term interest of the team and organization?

- Would a decision not to match the offer sheet send a negative message to current Predators players and other NHL organizations, a message that the Predators would only go so far to protect its best players and be pushed around by teams with "deep pockets?"
You can now easily deduce the answers to those questions.
Because of the rules of the offer sheet, it will be the same exact deal Weber signed with the Flyers, meaning it is a 14-year deal and the Predators will have to pay Weber a $13 million signing bonus now, a $1 million salary for the first year of the deal and another $13 million bonus next July 1 for $27 million in the first year of the contract.
Oh, and because incentives beyond signing bonuses can't be worked into offer sheets there is not a no-trade clause. After one year from this deal being matched the Predators could trade Weber but after spending that $27 million it would be really tough to imagine the Predators parting ways with Weber.
The deal was structured with so much money and pressure up front by Flyers GM Paul Holmgren and Philadelphia to put the most pressure they could on the Predators and try and pry Weber away.
Many people didn't think the Predators were going to be able to literally afford to match the offer. However they are well below the salary cap floor -- still below it, even with the Weber signing and re-signing Colin Wilson on Tuesday -- and we know they had some more money at their disposal since they offered big money to Ryan Suter while also trying to sign Zach Parise. If they had money to do those things while still knowing they had to re-sign Weber then it never seemed an absurd notion to think they could pay this kind of money to Weber.
It was a valiant effort by Philly but it fell short.
"In tendering an offer sheet to Shea Weber, we were trying to add a top defenseman entering the prime of his career," Holmgren said via the team's Twitter account. "With Nashville matching our offer, we wish Shea and the Predators all the best."
There are a lot of questions to answer at this point. The biggest now is if Weber will be happy with this or not? He's getting the long-term deal and big money he was after for but it seemed like he wanted out of Nashville after Suter headed to Minnesota earlier this month.
Weber's agent was pretty blunt on that earlier this week after Weber inked the offer sheet from Philadelphia.
"I don't think you sign an offer sheet unless you're pointing in that one direction," his agent said. "He doesn't want to go through a rebuilding process again."
However Weber had to at least be a little OK with staying in Nashville for the long-term. He knew full well when he signed the offer that this was a very real possibility. Some thought this was a way to get the Predators to give him the offer he wanted. If it was, obviously mission accomplished.
For more hockey news, rumors and analysis, follow @EyeOnHockey and @StubitsCBS on Twitter and like us on Facebook.