Tampa Bay Lightning forward Steven Stamkos has been very judicious with what he favorites (or now as it's called, likes) on Twitter. That's probably because one of the few times he favorited any tweet, it was a link to a story in The Hockey News about him becoming Toronto's LeBron and returning to his native city to join the Maple Leafs.
That was two years ago. Since then, Stamkos hasn't pressed the little heart button very much. In fact, he only has one like on his Twitter account as of right now. And would you look at that? It's another link to a video about the possibility of him joining the Toronto Maple Leafs. In fact, it even asks the question of if Toronto should pursue him (H/T to Andrew Berkshire for the heads up).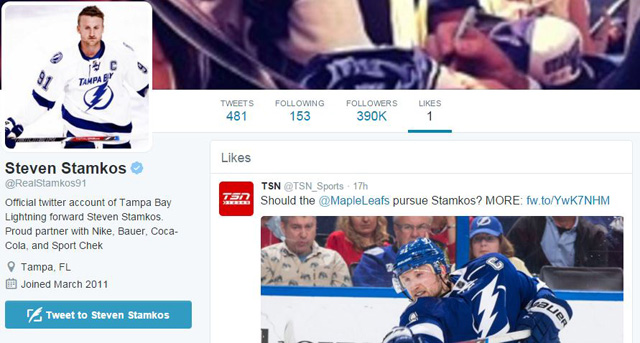 So is this a "like" as if to say, yes they should? Or is it just Stamkos messing with all of us? One thing is for sure, this is enough to give the most passionate of Lightning fans heartburn.
UPDATE: Stamkos has since un-liked the tweet. 
And here is what Stamkos said about his most recent like and unlike:
Spoke briefly with Stamkos regarding the latest slip of the thumb incident on Twitter, said he never realized he hit "like'' on TSN story

— Erik Erlendsson (@erlendssonTBO) December 9, 2015
Of all the things to accidentally like, though? Contract negotiations in the year 2015 are weird.
Stamkos, as you undoubtedly know by now, is on the last year of his current contract. The Lightning failed to get him re-signed in the offseason and the negotiations have been ongoing. In the meantime, Stamkos hasn't been playing terribly great compared to his career norms. There was also a recent report by TSN that he is unhappy with his being moved to the wing instead of playing his natural center position, causing some possible discomfort between him and coach Jon Cooper.
So there's been a lot of smoke in recent weeks that maybe Stamkos is still toying with the idea of leaving for unrestricted free agency. The Maple Leafs undoubtedly would be a top suitor, throwing a max contract at Stamkos and flouting the chance for him to be the hero his hometown team has been begging for since Mats Sundin left, basically.
Given the fact that he's done this kind of thing before, Stamkos could be cleverly trolling the hockey world. But of course we're taking the bait because there's no question Stamkos would be the biggest unrestricted free agent in years if he actually hits the market.
As frivolous as social media is, Stamkos liking a tweet is a public action in the midst of a negotiation that has had an incredibly tight lid on it. You know when hockey insider Bob McKenzie can't get anything out of anyone involved, it's basically a clandestine operation.
You can also expect the Stamkos-to-Toronto chatter to pick up in the next week since Tampa Bay is traveling to take on the Leafs in Canada Tuesday. It's going to be an absolute circus if the Lightning star doesn't magically sign his big extension with Tampa Bay in the next six days. Now that would be way more troll-y than liking a tweet.