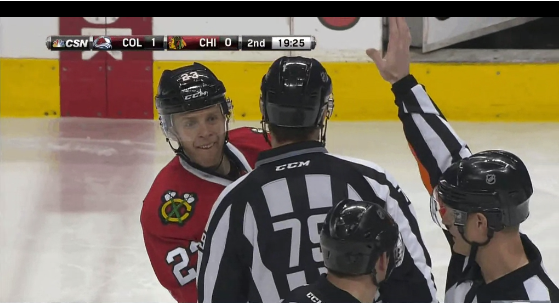 During their game against the Colorado Avalanche on Friday night, Chicago Blackhawks forward Kris Versteeg was hit in the mouth by the stick of Brad Stuart as he attempted to cut across the middle of the ice. Because this incident was missed by the officials on the ice there was no penalty called on the play, a fact that did not please Versteeg, especially since he had a pretty convincing argument working in his favor.
His front tooth was broken.
And not only was it broken, he appeared to spit a chunk of it out on his way to the bench and then repeatedly showed the officials his broken tooth. Again and again and again. 
Here is the entire sequence, including the high-sticking incident. Watch closely as Versteeg gets to the bench, because that is when he appears to spit a tooth fragment on to the ice. 
The good news for Versteeg?
He would later score a game-tying goal for the Blackhawks. So at least he has that going for him.