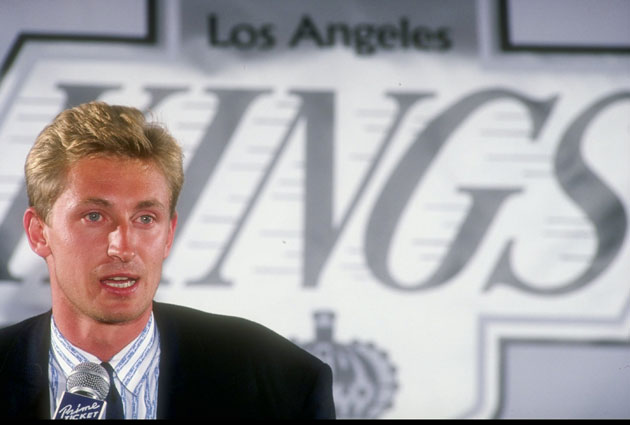 More NHL offseason: Rumors | Top 50 Free Agents | Buyout Tracker | Trades | Transactions
Friday marks the 25th anniversary of Wayne Gretzky's earth-shattering trade out of Edmonton to the LA Kings. It's actually somewhat appropriate that it comes while singer Robin Thicke lives atop the music charts with his song Blurred Lines because the two are actually intertwined.
When the trade went down, Gretzky was busy. He wasn't exactly in a barn after "shoveling s*$!" like Darryl Sutter was when he was asked to join the Kings, instead he was cleaning up after the young Thicke. As in he was babysitting. Can you imagine that, the Great One babysitting? Personally, I find it to be a hilarious visual of Gretzky in his prime.
Indeed, he was helping out friend Alan Thicke, a proud Canadian and the dad on the old show Growing Pains by housesitting -- and thus babysitting -- while Alan was in Europe as he told Luke Fox of Sportsnet last year. It wasn't until Robin hit big with his song this summer that the story was revived and revisited. Here is how Alan experienced it from afar.
I was reminded of it a few days ago on the occasion of the anniversary of his trade from Edmonton to Los Angeles (on Aug. 9, 1988). He was house-sitting at my house in L.A. the night he got traded. I was in Norway with my other son (Brennan), and Wayne and Janet were house-sitting for my son Robin (11 years old at the time). I called from Norway because I picked up the Oslo morning paper and saw pictures of Gretzky -- but I couldn't understand the text, of course. And I thought maybe there had been a fire, a mudslide, a drive-by shooting, who knows? So I called home, and I learned Wayne left early in the morning; he got traded last night. He got the call at about 9 p.m., and he was gone by 6 the next morning. So we had to find a substitute nanny instantly, which is not as bad as what Edmonton had to find to replace him.
When it came time for Gretzky to get the news the deal was done, it had to go through Robin first as Gord Miller tells that story. Kinda funny that the child being babysat is doing the phone screening for the babysitter.
Weeks before the trade, 99 was staying at a friend's house in LA when Kings owner Bruce McNall called to say the trade was happening...

— Gord Miller (@GMillerTSN) August 9, 2013
...the 11 year old who lived there wasn't sure he should admit that Gretzky was there, but McNall insisted that he bring him to the phone.

— Gord Miller (@GMillerTSN) August 9, 2013
You may have heard of that young man: Robin Thicke, he of "Blurred Lines" fame.

— Gord Miller (@GMillerTSN) August 9, 2013
The elder Thicke learned about the trade that change hockey from a paper in Norway and had to scramble from overseas to find a replacement for Gretzky ("Good luck with that" -- said the Oilers). A small price to pay, I assume, to be part of one of the most infamous moments in hockey history.
If you have somehow managed to avoid the younger Thicke's song (I'd like to know what rock you call home), maybe you should be indoctrinated through his performance on Jimmy Kimmel Live.