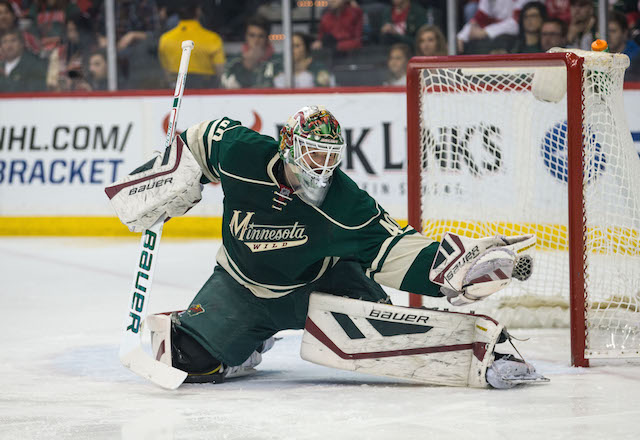 Following a 7-2 loss in Pittsburgh back in mid-January, with their season looking like it was finished, the Minnesota Wild addressed their dismal goaltending situation by trading a draft pick to the Arizona Coyotes for goalie Devan Dubnyk.
He started every game after that, helping the Wild go on a second half surge that has put them back into the playoffs for the third year in a row. 
On Thursday, after 39 consecutive starts (that goes back to his time with the Coyotes), he is finally going to get a night off when the Wild take on the Nashville Predators. Coach Mike Yeo announced on KFAN 1003 radio in Minnesota that backup Darcy Kuemper will make his first start since Jan. 6.
Just how rare is it for a goalie to make that many starts in a row? Well, just consider this...
Dubnyk's 39 straight starts was the most in the #NHL since Evgeni Nabokov started 43 in a row for San Jose in 2007-08. Per Elias

— Michael Russo (@Russostrib) April 9, 2015
It was an incredible steak for Dubnyk as he has compiled a 27-8-2 record during his time with Minnesota and a .938 save percentage. Overall, his season numbers have him near the top of the league among all goaltenders, and given his importance to the Wild -- goaltending was the only thing holding them back in the first half of the season -- there is at least a decent MVP argument to be made for him (though, that award should still be going to Carey Price for his season-long work in Montreal).
Dubnyk is getting the night off because Minnesota has already clinched a playoff spot and, well, it just makes sense to give the guy at least a little bit of a break before the postseason begins. 
Playing that many games in a row -- including seven different sets of back-to-backs, where he had an incredible .951 save percentage in the second half of those back-to-backs -- is a huge workload for a goalie. The last thing the Wild need is for him to be completely burned out once the playoffs start.