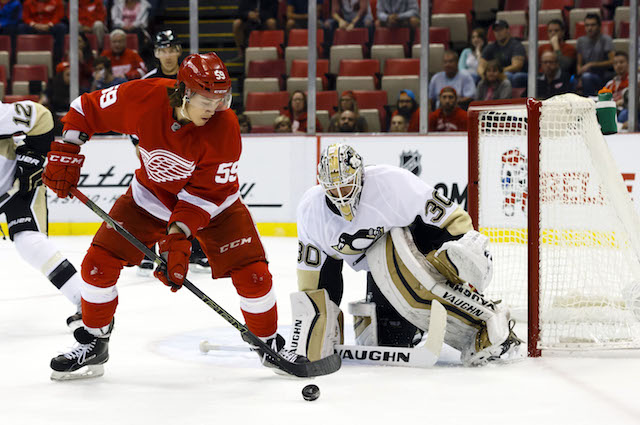 Tyler Bertuzzi, a 2013 second round draft pick by the Detroit Red Wings and the nephew of former NHL player Todd Bertuzzi, was given a match penalty for an ugly slew-footing incident at the end of Friday's American Hockey League game between the his Grand Rapids Griffins and the Toronto Marlies, the AHL affiliate of the Maple Leafs.
With less than two minutes to play in the Griffin's 6-1 loss, Bertuzzi was attempting to engage Marlies forward Kasperi Kapanen (one of the the key players the Maple Leafs acquired in the Phil Kessel trade) in a fight.
When Kapanen would not respond to several of Bertuzzi's jabs, the Red Wings prospect took him down with this slew-foot [Video via @HockeyWebCast].
Tyler Bertuzzi with a disgusting slew-foot on Kasperi Kapanen during the Marlies/Griffins game in the AHL last night pic.twitter.com/4YsXn50Lw9

— Robert Söderlind (@HockeyWebCast) October 31, 2015
Along with the match penalty, he was also given a two-minute minor for roughing.
Shortly after he was drafted by the Red Wings, Bertuzzi was asked to compare himself to his uncle -- a player that was once suspended for 20 games for the Steve Moore incident -- told Helene St. James in a USA Today article that he is "meaner." 
Based on this incident on Friday, he certainly seems to be trying to live up to that. 
Update: The AHL announced on Saturday that Bertuzzi has been suspended pending a league review of the incident.