For the entire week leading up to the Aggies game against Alabama, CBSSports.com was embedded with Texas A&M. The following is a window into how the Aggies prepared to face the top-ranked Crimson Tide.
Day 1: Sunday
12:57 p.m. CT: A little more than 15 hours after Texas A&M defeated Sam Houston State, 65-28 on Sept. 7, the Aggies coaching staff is almost ready to move on to The Next One. On Sundays, the players are off, but the third floor of the 125,000-square foot "Bum" Bright Football Complex is bustling as coaches and staffers go through the process of reviewing one game while prepping for another. The offensive staff is sitting around a rectangular table watching film of the blowout win over Sam Houston State when head coach Kevin Sumlin enters the room. He's heard through coaching circles that the Aggies offensive signals are going around on a sheet through the Big 12 and SEC. A few of the assistants have suspected that may be the case, so one of the first orders of business this week will be to come up with some new signals.
Before the offensive staff convenes, each of the position coaches, not only broke down the film on how their players did, they also began scouting the week's opponent, the top-ranked Alabama Crimson Tide.
"Last year, they held the (heck) out of Mike (Evans)," Aggies receivers coach David Beaty says referencing the team's top wideout, while his colleagues begin to read through a basic scouting report prepared by an A&M's graduate assistant on Alabama's defensive personnel that is mostly stats and bio info.
"We might wanna challenge them deep."
Beaty noticed how much Bama's No. 10 (cornerback John Fulton) was jostling with Evans in the 2012 game and is hopeful the Tide goes for the matchup again.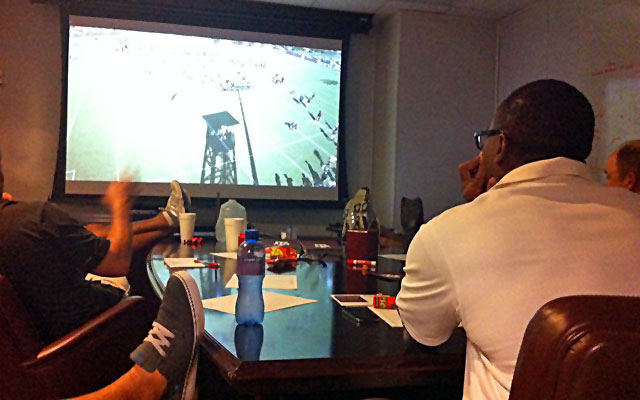 Position coaches tend to know a player's jersey number more than his name unless they tried to recruit the kid. But after zeroing in on the player and studying him -- often going back-and-forth -- on the same play a dozen times, they develop a clear picture on the player's worth -- his strengths and weakness -- in a way most die-hard fans can't. Most of A&M's scouting of the Bama defense is taken from the Crimson Tide's last three games against Georgia, Notre Dame and Virginia Tech as well as last year's A&M-Alabama game, in which the Aggies upset the Tide, 29-24.
"Who is Ha Ha Clinton-Dix?" asks B.J. Anderson, A&M's offensive line coach.
"He's the one who knocked the (expletive) out of (Ryan) Swope last year," replies Beaty. "Ha Ha is friggin' good. He can back that name up. I promise you that."
"That a typo on the linebacker?" asks Jeff Banks, the Aggies' first-year special teams coordinator and tight ends coach. "6-6, 252? What the (heck) is that? We got (A&M linebacker Steven) Jenkins coming in at 209."
The most physically impressive -- or more specifically, imposing -- teams the Aggies faced last year in their debut season in the SEC were LSU, Florida and Alabama. The Tigers and Gators were long and athletic. The Bama players were massive and wide. "They're the biggest team I've ever seen," says one of the coaches.
The offensive staff clicks through Alabama film of the Crimson Tide's 35-10 win over Virginia Tech in the opener and notice one C.J. Mosley blitz, knocking the right guard (No. 74) five yards back. Mosley, aka No. 32, is one of the Alabama defenders all five A&M assistants already know by name. A consensus All-American linebacker, Mosley is actually the smallest of the Tide's four linebackers. He also was the best defensive player on the field when Bama crushed Notre Dame in the BCS National Title Game.
"Damn," mutters Anderson. "He can move in space and he's physical as (expletive)."
No doubt, Mosley is going to be a big problem this week.
3:59 p.m.: Sumlin sits at the head of a long wooden table, flanked by a dozen of his assistants. Around the table are his nine position coaches; Gary Reynolds, A&M's veteran director of football operations; assistant AD Justin Moore, Sumlin's right-hand man, and his in-house recruiting coordinator Scott Johnston. Two cellphones facing down are positioned in front of Sumlin along with a white legal pad. Lining the perimeter of the room, another dozen staffers sit in swivel chairs against the two walls in front of the Aggies' recruiting boards.
"We gave up five big plays for 232 yards," A&M's defensive coordinator Mark Snyder says, reviewing the Sam Houston State game. "Our loafs, MAs (missed assignments) and missed tackles are way, way down from Week 1. They (the Aggies defense) played a lot harder than before."
Sumlin goes around the table having each position coach detail how all of their players did in the Sam Houston State game. The assessments by the assistants -- and Sumlin -- on the stock and psyches of the personnel on an extremely young team is blunt. They size up things like focus, toughness and "want-to" on what is a very fluid depth chart. From the media, you often hear absolutes. Players get defined by 40 times and stats. But the reality when it comes to college football and the merits of 18- and 19-year-old athletes trying to figure out where they fit in the team dynamic of an SEC program can be much murkier to identify. But halfway though the first two position discussions, it becomes obvious, that if a player is going to fall through the cracks at A&M, it won't be due to Sumlin not knowing exactly why. Or when it started to happen.
You hear things like: "That's who he is. If we want him to be here, we gotta get him changed."
The staff meeting runs for about 45 minutes before Sumlin expounds on The Next One.
"We gotta be very positive with them (Aggie players) this week," Sumlin says. "My deal is if you watch tape, they actually tried to do what we asked them to do. They played with better effort and the young guys got better. I gotta set the tone tomorrow and say, 'This is another game.' Everyone's gonna try to make it into the Game of the Year, the Game of the Decade and all of that. But the reality is, whether or not we win or we lose, we still have nine games left. Just like Georgia. Georgia loses to Clemson in the first week of the season and they can still play for the national championship. We beat them (Alabama) last year and they still got to the national title game. It is a big game, but it's a big game because it is the next game. The more you win, the bigger the games get.
"We're gonna talk about us, and not Alabama."
"It's about 'playing hard' because they're gonna get it from everywhere else about how big this game is. Just know that whatever happens, we're gonna be sitting right here next Sunday trying to figure out how to beat SMU. This is not our Super Bowl. It is our first SEC game. We're in conference play and we're trying to win the West. It is going to be a circus out there, starting Tuesday. We can't make this a different week than the other weeks we've had, because the kids will pick up on that. It's just like we're playing Rice or Sam Houston."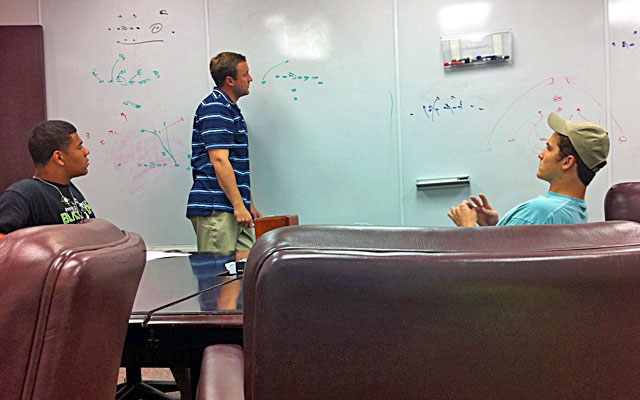 8:37 p.m.: Beaty walks into QB coach Jake Spavital's office, who has turned away from his computer to watch highlights of his protégé Geno Smith's debut win as an NFL starting quarterback for the New York Jets.
"OK, I've watched five games of them and here's what I've figured out," Beaty says. "They're (friggin') good. You can't 'guru' their ass."
A few minutes later offensive coordinator Clarence McKinney walks into Spavital's office: "We gotta have a plan for what we don't see."
Beaty and Spavital eventually end up discussing new hand signals for their plays while trying to avoid movements that'll blur into similar signals and may confuse players. Their conversation keeps coming back to the game plan as they bounce ideas off one another. The later the hour, the more quirky the ideas tend to get. Trick plays and the mischievous feeling of devising them often are born after dark in settings like this.
Beaty: "There's gonna have to be some shots in this gameplan. Last year we lined up in 'Ninja' and Kliff did the 'fumblerooski.' It kept them off balance because there was always something coming. They couldn't get comfortable."
Spavital mentions a couple of curveball plays he got from his days working with Gus Malzahn and Chad Morris, a pair of old high school coaches -- the kinds of guys who often aren't shy about conjuring up something off kilter. He also has something Geno Smith told him about that's intrigued him.
It's all tempting. It's also only Sunday night.
Day 2: Monday
8:28 a.m.: Scott Johnston, A&M's 27-year-old recruiting coordinator, grabs a bottle of water from the refrigerator in between Sumlin's office and the staff room. "This could be a record-setting meeting," he says. All of A&M's Monday staff meetings begin at 8:30 a.m., but this one, given how there could be eight blue-chippers set to arrive for official visits and another 70 prospects coming in this weekend for unofficial visits to take in the Alabama-Texas A&M game, may last twice as long as the usual 30-minute sitdown. All of the seats around the room are filled except for D-line coach Terry Price's and Sumlin's.
Sumlin enters the room five minutes late. He and Price have been dealing with the news he got earlier in the morning that the 2-month old daughter of freshman nose tackle Isaiah Golden has died. Suddenly, the second-team lineman's on-field role in combating Bama's bruising style pales in comparison to his emotional footing.
As the case with all staff meetings, the head trainer begins by rattling off the status updates of all injured players. The Aggies, save for a collarbone injury suffered on Saturday by hard-hitting safety Floyd Raven, the team's top special teamer, are in pretty good shape. A burly man in a green floral shirt, Troy Kema, a one-time, standout offensive lineman at Utah State-turned-academic advisor, follows with an update on how a handful of other players are progressing in the classroom.
Before calling on Johnston to talk recruiting, Sumlin gets back to his message from last night, about not letting his team get bogged down in Alabama or showdown talk.
"I know they were fired up this morning," he says. "They might not be so fired up when they watch the film (of Alabama).
"The more we keep talking about us and our standards, the better. We don't need to play perfect. Just keep talking about our standards and us. Not Alabama. Our guys do better when we don't talk big picture. They know it's different. Every day more and more people will come in here."
In addition to the packed recruiting weekend, Johnston also is coordinating what they call the "Swagcopter." Last year, Sumlin used a booster's helicopter to drop in, not inconspicuously, on a high school game. (A&M landed both prospects Sumlin went to see that day. One of whom was five-star receiver Ricky Seals-Jones.) On Thursday night, right after practice, he's planning on taking another bird ride to the Dallas-area to watch another blue-chip recruit.
"The only thing scarier than flying in a helicopter during the day is flying in one at night," the coach says.
9:41 a.m.: Clarence McKinney, A&M's first-year play-caller, returns to the staff room and hands Sumlin a self-scouting analysis.
"This is exactly what he (Nick Saban) is looking at," Sumlin says.
On the three-page report is a breakdown of the 230 plays in the three games McKinney has been the Aggies play-caller, including A&M's 41-13 destruction of Oklahoma in the Cotton Bowl after Kliff Kingsbury left to take the head coaching job at Texas Tech. The plays are broken down by the 25 different personnel groupings and formations: 52 percent are pass plays; 48 are runs. On third downs, McKinney has called 18 runs and 19 passes.
"I'm surprised at how balanced it was," McKinney later says.
10:22 a.m.: The Aggies defensive staff room is on the opposite side of the third floor of the Bright Complex, and the vibe is much different from the A&M offensive staff room too. The offensive staff room feels new, clean. Bright. Like it's barely used. The defensive staff room feels more like a bunker. It's dark and there's lots of clutter. The walls are covered with data and charts. The only white space in the room is the inch of cotton showing on defensive coordinator Mark Snyder's socks when he puts his feet on the table. There are Sharpies everywhere with plenty of notebooks and binders scattered around. It seems like there should be an old projector in the middle of the table showing spliced together film.
At 48, Snyder is the oldest assistant on a young staff. Unlike his colleagues on the other side of the third floor, Snyder's personnel isn't overwhelming. There are 11 true freshmen on A&M's defensive two-deep. The Aggies are young and small. Their heftiest starting linebacker weighs 213 pounds. Last season, Snyder broke out some new coverage looks against Alabama and shifted his defensive front and got the Tide's offensive line off-balance, especially center Barrett Jones and QB AJ McCarron, who threw one touchdown and two interceptions. The Tide's longest run was 18 yards and they were held to a modest 3.9 yards per rush. But this year's Aggie defense is younger than the 2012 group. Worse still, many of his starting 11 haven't played together as a unit due to a variety of suspensions in the first two games.
"Man, this guard would be a great 3-technique," Snyder observes as Alabama's No. 61, Anthony Steen, bursts out of his stance and employs some slick hand-play to maneuver past a 300-pounder to get to the second level of defenders.
"He's a Mississippi private school kid," says Price, a former Ole Miss coach.
Steen, who did play defensive line in high school, along with kicking, is one of two holdovers from the Tide's line last season. The rebuilt front struggled mightily in the opener against Virginia Tech. Snyder's hopeful the raucous crowd Saturday will only make communicating that much harder for Alabama's new line.
Snyder has his graduate assistant, Scott Aligo, show a clip from the Central Michigan-Michigan game where the Wolverines had a blitz that the Aggies DC liked against a certain formation. Snyder toggles between the Michigan blitz and how A&M runs it.
"I like it," says Price.
"Cel, what do you think?" Snyder asks secondary coach Marcel Yates. "Like it?"
Yates: Yep.
It seems like Snyder may have found one answer, but he knows he's going to need a lot more to slow McCarron, a great running back (T.J. Yeldon) and a big, athletic crop of receivers.
3:17 p.m.: The first team meeting of Alabama week takes place in the Hagner Auditorium downstairs in the Bright Complex. Sumlin stands in front of the team with the lights dimmed and shows the "effort" plays from the Aggies win over Sam Houston State.
"Watch No. 99," he says spotlighting a Bearkats defensive lineman named Forbes Baggett. "Here's a 3-technique, hustling 25 yards downfield to make the tackle, and maybe save a touchdown. This is a nice job by this guy. Let that be a lesson to you guys."
Another effort play doesn't draw the same kind of praise. A&M wideout Sabian Holmes stretches the ball across the goal-line as he's being dragged down after a 23-yard catch-and-run. Sumlin has seen too many players have the ball come loose trying to do the same, where the play either results in a fumble or the ball squirts out of the end zone for a touchback. Both outcomes in a close game would be soul-crushing.
"SCORE WITH THE BALL!" Sumlin shouts. "KEEP IT TUCKED!"
The next clip is from a red-zone play where the Aggies mammoth 6-7, 270-pound tight end Cam Clear stays on his block for five yards, nearly running the defender out of the picture before driving him into the ground, drawing "OOOOHS!" from the room
"You want people to watch you on film and say, 'This guy is real.' We gotta have everyone playing like that."
7:17 p.m.: Spavital won't leave the office for another four hours, but he, like his colleagues on the offensive staff, have already watched a couple of thousands snaps on the Alabama defense. He's scouring the footage for tendencies and tips. Anything the Aggies can exploit. He thinks he has unearthed something that'll allow Manziel to recognize coverages before the snap. The more tape he watches, the more sure he gets.
On the TV is Chip Kelly's NFL debut against the Washington Redskins. The former Oregon coach is having quite a night as the Philadelphia Eagles' new head coach. The Eagles had a staggering 21 first downs in the first half alone while ripping off 53 plays. Kelly's success has caught Sumlin's eye. The Aggies head coach practically bounds into the room and goes right to the grease board on Spavital's wall. He grabs a blue Sharpie and diagrams up a wrinkle that Kelly has been carving up the Redskins with all night. It is a zone-read play with an option of throwing to the tight end with a bubble to the field. Usually a QB has three options on that play but the tight end free-releasing down the field creates a whole other set of problems for defenses.
"You're always looking for something," Sumlin says. "And that unbalanced stuff is really intriguing."
Day 3: Tuesday
8:55 a.m.: A two-page printout with every member of the team's weight from Sept. 2 and then from Sept. 9 is handed out at the staff meeting. "The players are still losing weight," Sumlin tells his coaches. "You gotta stay on 'em. (Junior college transfer linebacker) Tommy Sanders -- you gotta keep him eating. I don't think he eats. You get what you coach. If you don't address this now, you'll look up in Week 6 and it'll be a problem. (Offensive lineman Ben) Compton will be 275 pounds. (The guard was 292 pounds on Sept. 2 and down to 284 just a week later.) Guys will get thrown around."
11:05 a.m.: McKinney sits at his desk, watching Alabama film on his computer as A Tribe Called Quest's album, The Low End Theory, plays in the background.
"The thing they really don't do is make mistakes," he says of the Crimson Tide. "They rarely seem to be out of position."
McKinney was coaching high school ball in Houston in the 1990's when he first met Sumlin, then the receivers coach at Purdue. McKinney had four gifted wideout prospects. Sumlin didn't get any of them, but a friendship between the two coaches grew. One night they went out to dinner and Sumlin told him one day when he becomes a college head coach he's going to hire McKinney to coach running backs.
"First of all," McKinney said, "nobody is gonna hire you."
McKinney was wrong. In 2008, Houston hired Sumlin, who hired McKinney. Since then, Sumlin's last two offensive coordinators, Dana Holgorsen and Kingsbury have become head coaches. McKinney's rise to become the play-caller for perhaps the most dynamic attack in the country is unique. He grew up in Houston's rough 3rd Ward. He was a 5-foot-8 quarterback who ran the split-back veer. He also became a father at 15. He later left Texas to play at Montana State, but had a couple of injuries and finished at University of Mary in Bismarck, N.D., becoming the first in his family to get a college degree. The daughter he had at 15? She graduated from Stanford and is now going for her MBA at Harvard, he's proud to say.
12:08 p.m.: Tuesday afternoon is the day of the week, when the Aggies field questions from the media. Most of the questions are similar for each of the half-dozen players who, one-by-one, get called up to the podium in the Hagner Auditorium. The most newsworthy quote comes when Sumlin is asked why star QB Johnny Manziel isn't meeting with the media.
"Quite frankly, his family and his lawyers have advised him not to talk," Sumlin explains, "and I'll respect his wishes."
1:02 p.m.: Manziel, wearing a gray "WITNESS" T-shirt, sits at Spavital's desk watching Alabama video.
"I like stuff over the middle this week," he tells Spavital.
"When you tempo, they'll play zone because they're unsure," Spavital says.
"I want this right here every time," Manziel says as he pauses the video where A&M's 6-5, 225-pound go-to receiver Mike Evans is matched up one-on-one with Alabama cornerback John Fulton attempting to jam the hulking wideout at the line.
"Mike gets really angry with (dudes) in his face," Beaty says.
The Tide won't like Mike Evans when he's angry.
"If we can get this 100 times, I'll take it all 100," says Manziel.
Manziel torched Alabama in Tuscaloosa last November. He went 24-for-31 and piled up almost 350 yards of total offense. Manziel, and everyone else in College Station, has heard all summer about how the Tide, coming off a grueling come-from-behind win at LSU, was caught off guard by the Aggies or about how Nick Saban and his defensive coordinator Kirby Smart have had 10 months to come up with answers to bottle up the free-wheeling QB.
On the video showing the Tide's defense, Manziel matter-of-factly points out the Alabama linebacker he'll look off to the three-receiver side of the formation, "We do this, and it'll be like stealing."
4:25 p.m.: The Aggies longest practice of the week, lasting two and a half hours, starts with the booming bass sound of Rick Ross' "No Games."
Day 4: Wednesday
11 a.m.: A&M assistant Jeff Banks, seeking a little intel after seeing Alabama's Christion Jones return both a kickoff and a punt for touchdowns against the vaunted Virginia Tech special teams, calls his pal Shane Beamer up in Blacksburg.
Banks shares Beamer's advice with his colleagues in the offensive staff room: "He said, 'Don't put walk-ons on your coverage teams.'"
11:16 a.m.: Manziel is back at Spavital's desk looking at more Alabama video.
"I really didn't watch that much film last year," he admits. "We mostly just watched it in the meeting room. Oklahoma (at the end of the season) was the game I probably watched the most.
"I like to see people's tendencies more than anything else." Gauging how aggressive rival players are is big for him. He can use that. He can manipulate them.
For all of Manziel's frenetic ways, Spavital says the sophomore quarterback has an uncanny sense of finding holes in defenses. It's as if Manziel is some sort of geometry savant, who can calculate spatial equations on a football field in milliseconds. A Good Will Hunting in pads. As spectacular as he was last season in Tuscaloosa, Manziel has spotted plenty of things he could've -- and has -- improved on. His arm is stronger. His mechanics tighter. His awareness is sharper.
"There's so many throws I could've made," he says, watching tape of last season's A&M-Alabama game. "I wish (the game) was tomorrow."
"How much 7-on-7 you want?" Spavital asks.
"As much as I can get," the QB replies.
While in Spavital's office, Manziel's name must've appeared a dozen times on the TV turned to SportsCenter. The only time he seems to notice is when there's a mention of Charles Barkley ripping him. Spavital checks Twitter and reads that the NBA great, an Auburn product, says he's about to do the unthinkable and root for Alabama because "Johnny is annoying me so much," and compares Manziel to Miley Cyrus.
Manziel gets out of his seat, playfully winces and heads toward the door. "OK, I'm a bad person.
"And, on that note ..."
Day 5: Thursday
9:50 a.m.: The staff meeting is an hour later on Thursdays. Sumlin knows all about the grind of a game week and he doesn't want his staff fried. The meetings, as the week goes on, get shorter. If the mood has stiffened with ESPN and CBS TV crews in College Station, the Aggies assistants aren't showing it. Inside the offensive staff room, McKinney tells the assistants to circle the plays they like. Somehow that leads to reminiscing about life in Conference USA.
Anderson: "Remember at Houston on Thursdays we didn't have music but you had crowd noise and jet engines. You'd go home with a horrible headache and in a bad mood."
Beaty: "I can only imagine the hand signals Dana (Holgorsen) was using that day."
Anderson: "Then you'd get to Tulane and play in front of 17 people."
Sumlin (walking into the room): "I just wanted you to be prepared just in case."
10:55 a.m.: The Aggies staff call this day of the routine "Perfect Play Thursday." McKinney, back in his office, has his 30 plays on his call sheet that he wants to use against Alabama in the open field. (There are smaller categories on the call sheet with five plays listed under "3rd and Long," five others for "3rd and Medium," five others for "3rd and Short;" 10 plays for the "Red Zone" and four plays listed as "Specials." McKinney drags a light blue highlighter over all the plays he wants to rep with tempo. The rest he'll have the Aggies practice during their walk-through. In pen, he jots notes with fronts and coverages he wants to see the plays run against besides each. "I'm feeling very good about this," he says.
6:47 p.m.: Practice inside Kyle Field wrapped up less than an hour ago and Sumlin and his defensive line coach have already taken off in the Swagcopter to go recruit. The Aggies' new social media hub, AggieFBLife, already has a Vine video posted on Twitter of their helicopter lifting off.
Day 6: Friday
3:54 p.m.: The temperature hovers near a steamy 100 degrees. Sumlin, like many coaches at the FBS level, gives his staff Friday morning off. The first team event was the special teams meeting inside the Hagner Auditorium at 2:30 p.m. A few of the recruits slated to take their official visits have arrived with their parents. Massive TV trucks are parked next to the stadium. RVs, many from the state of Alabama, have arrived in town as well. Earlier in the week, Justin Moore said the school expected 400,000 people packing into College Station for the weekend, more than double what the place gets normally on a big football weekend. Three uniform police officers stand in the Bright Complex parking lot keeping an eye on things.
Sumlin has already taped his spot that'll run on College GameDay the next morning. He would've loved to do it live, but given the 2:41 p.m. kickoff time and the logistical nightmare that will be game-day traffic that was essentially impossible. He walks into the Aggies' indoor practice facility six minutes before the team's Friday walk-through is scheduled to begin and it looks like a circus has broken out. There are balls of various shapes and sizes flying everywhere. Tennis balls. Soccer balls. Footballs. There is a circle of a dozen players heading a volleyball to one another. On the far end of the facility, a bunch of 300-pound linemen are playing some version of soccer. Everyone is hooting and hollering. The scene makes a Pete Carroll team look Belichickian. It's a stretch to think there's ever been a team looser before any supposed Game of the Year than the Aggies are.
"This is basically how we've been doing it since we were at Houston," McKinney says later.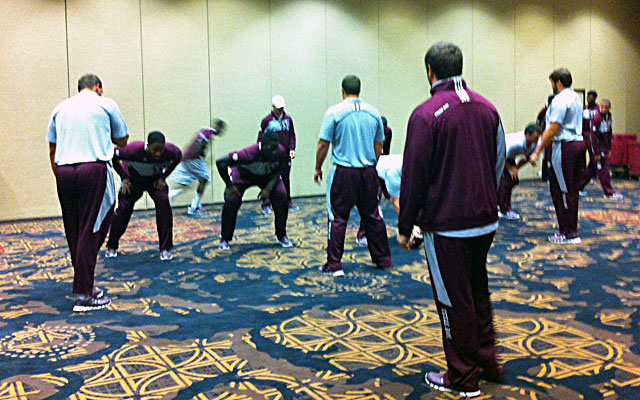 Day 7: Saturday
9:59 a.m.: It's been two hours since the team's wake-up call and the Aggies' entire offense has filed into the Mockingbird Room on the first floor of the team hotel. Most of the chairs are filled by the time Manziel arrives with a pair of bulky headphones on top of his baseball hat. He walks up the aisle, tapping a few of his teammates on the shoulder, before settling into a seat in the second row. "Our quarterback's here," says one of the assistants seated in the back row. "I guess we can start."
A video screen begins to show plays of other teams having success against Alabama.
"Do your job," says McKinney standing in front of the room. "This team right here is not even in the same class as us and they're getting after their ass. Be physical. Put your hand in the ground and come off the ball. Execute your rules and everything will take care of itself." The highlights last less than five minutes, but the offensive meeting isn't over.
Manziel pops out of his seat and steps to the front of the room and faces his teammates.
"Everybody else is scared of these guys before the game starts," he says calmly but with a commanding tone. "We're not. We beat these guys last year ... I'm not worried about what happens on defense.
"Trust the gameplan. I trust our coaches -- Coach Spav, Coach Anderson, Coach McKinney. We gotta trust them. Let's go out there and do it. Score. Every. Time. No punting. None of that (expletive). No field goals ..." Manziel continues as his teammates start woofing, shouting back "YESSSURR!" at him.
"No field goals. Let's go. Let's do us. Come out of the gate and take it to 'em."
10:30 a.m.: The team's pregame meals are platters of chicken, beef, eggs and tortillas. Sumlin sits at one of two round tables marked Coaches, telling stories to Price, Banks, Spavital and Beaty about life in Conference USA or as Sumlin likes to call it, "the KYEEW-SA."
One of his assistants relays some of Manziel's impromptu pep talk to Sumlin, who grins. For all the chatter about the rock star quarterback's persona, Sumlin probably understands Manziel better than anyone. Sumlin's ability to relate to people -- whether it's 70-year-old billionaire oilmen or 16-year-old recruits from the roughest neighborhood in the country, and the whole spectrum of personalities in between -- is the coach's greatest strength. The Manziel-Sumlin dynamic is fascinating to observe. The coach subtly, and sometimes not so subtly, pokes at his star player, knowing which buttons to push and when. He has also allowed Manziel the flexibility to be himself, on and off the field, and while the byproduct of that may offend some people, Sumlin doesn't care. And deep down, Manziel appreciates all of that, he says.
"People, even inside the program, really don't know just how special my relationship is with Summy," Manziel tells me later.
The biggest misconception about Manziel, Sumlin feels, is how the quarterback fits in with his teammates. Manziel, despite his constant SportsCenter presence and jet-set off-season, gets along very well with his teammates. Two nights ago, he took his entire offensive line out for steak and lobster. He treats Conner McQueen, the red-headed, scout team walk-on QB, like his little brother and he constantly jokes with Evans, his roommate on roadtrips, and the other receivers at practice. Manziel also communicates with fellow QB standouts Tajh Boyd from Clemson and Michigan's Devin Gardner after every game since the trio became tight after their week as counselors this summer in Oregon at the Elite 11 camp. (Gardner will go on to say in a few days that Manziel sent him a text to keep his head up after Michigan's bad showing against an awful Akron team the same day as the Alabama-Texas A&M game.)
The 49-year-old head coach has been around a lot of future NFL stars, but says he's never seen a QB with the spirit Manziel has. Like he's convinced he's the baddest man on the field every time he pulls his helmet onto his head. Drew Brees, who was at Purdue when Sumlin was an assistant, had something. But Manziel's spirit is different for a QB. The one player Sumlin has been around who had this kind of spirit: Adrian Peterson. Sumlin vividly recalls Peterson's first game for Oklahoma against arch-rival Texas. Peterson backed up all his bravado by breaking off a 44-yard run the first time he touched the ball. He went on to hammer the Longhorns for 225 yards, more than any freshman had ever had in the 99 years of the rivalry.
After Sumlin walks out of the ballroom to check on some recruits, Beaty brings up last year's Ole Miss game. The Rebels had the Aggies down 27-17 midway through the fourth quarter on the road in early October thanks to six A&M turnovers. But Manziel rallied the Aggies with two late-scoring drives to give A&M a 30-27 win. "It was quiet in the lockerroom, and I think the players expected to get ripped because we made so many mistakes," says Beaty. "I don't know if they were used to that after games where they won but didn't play well. Well, (Sumlin) comes into that lockerroom jumping up and down and running through there and the place went crazy. If he didn't have 'em before that, he definitely had them after that.
"He lets them enjoy it and he wants them to have fun. And so you don't want to ever let him down. That's the reason why guys play -- and coach so hard for him. The biggest thing I've learned from him is you have to have courage to do it the way you want to do it and he doesn't look back."
12:15 p.m.: Three busses loaded with the team and staff depart the hotel and make the 15-minute ride to Kyle Field. There is minimal conversation as players plug into headphones while coaches check their iPhones to keep tabs on the scores of early afternoon games.
12:40 p.m.: The mood of the team gets cranked into a frenzy at something A&M calls its "Mental Check" where the team packs into the Hagner Auditorium. Sumlin begins the meeting, briefly talking about the Aggies' opportunity today, but it's the players who provide all the juice. One by one, each position coach steps forward and calls out one of their players. They ask what that player's responsibility is in a given situation and each proceeds to deliver the right answer. Back at Houston, there was a time when a player was stumped. That was awkward. That probably won't happen again. The language at "Mental Check" is not PG.
If the energy level, on a scale of 1-10 is an 11, by the time McKinney, the first assistant to speak, calls out "Running backs, on your feet. Tell the team what the (expletive) you gon' do today to help this team win," it goes up to a 50 by the time Ben Malena, Tra Carson and Brandon Williams sit down.
The level shoots up to a 100 after sophomore center Mike Matthews, the son of NFL great Bruce Matthews, yells with so much ferocity you wonder if he might bust a blood vessel in his head. The five-minute call-and-response session is followed up by a quick video of Aggies making big hits or big plays. Anything to elicit a response. Over the video directives like "IT'S ABOUT US" and "CREATE TURNOVERS" appear on the screen. When a clip of Manziel trucking a Sam Houston State defender to bull his way into the endzone is shown, the words "BE PHYSICAL" flash on the screen as rap music blares.
After 10 minutes of "Mental Check," you think Texas A&M isn't just ready to beat Alabama, you'd think they're ready to take on the New England Patriots.
2:30 p.m.: After an hour of warm-ups on the field, where players have had an opportunity to eyeball the sellout crowd -- and the Crimson Tide -- the team is back in the lockerroom huddled around Sumlin.
"Alright! You know what it is. YOU KNOW WHAT IT IS. We've been waiting for this day," he tells the team as shouts and barks come back at him. "We've been keeping 'em kinda quiet. Not talking about it. Let's go out there and have some fun," he says just as the noise from his players gets so raucous no one can hear the words.
2:41 p.m.: Kickoff. The Aggies get the ball and within the game's first 10 minutes, A&M is up 14-0. Manziel completes 4 of 5 for 102 passing yards with 36 rushing yards on four carries. The Aggies plan to target Mike Evans looked prescient. By the midway mark of the first quarter, Evans had a 100-yard receiving day and scorched John Fulton so badly, the Tide cornerback has lost his starting job. However, A&M's defensive plan to force AJ McCarron to beat them doesn't go well. The Tide shreds the young Aggies defense.
Mistakes catch up to A&M. Evans who rag-dolls the smaller Alabama defensive backs and often posts up on them snatching passes like he's corralling rebounds, is flagged for offensive pass interference which put the Aggies in a hole they can't get out of late in the first quarter. The Tide responds with a touchdown to tie the game. In the second quarter, Manziel is picked off in the end zone by Alabama's Cyrus Jones. (In the postgame interview session with the media, Manziel takes the blame for the pick, but the next day, McKinney points out in the offensive staff room that the QB wasn't wrong, but the receiver didn't run his route: "Johnny threw the ball where he was supposed to.") The Aggies defense can't get any stops. The 14-0 early lead turned into a 28-14 halftime hole.
A&M forces a three-and-out on Alabama's opening series of the second half, but two plays later Manziel forces a pass downfield into tight coverage. The ball is deflected and safety Vinny Sunseri snags it and returns it 73 yards for a touchdown. The game seems over at 35-14. However, Manziel, Evans and the Aggies keep battling. They pull within a touchdown midway through the fourth quarter after Manziel connects with Evans for another deep ball down the right sideline for a 95-yard touchdown pass. The play had called for Evans to run a curl route, but quarterback and receiver noticed the coverage was vulnerable downfield and took advantage.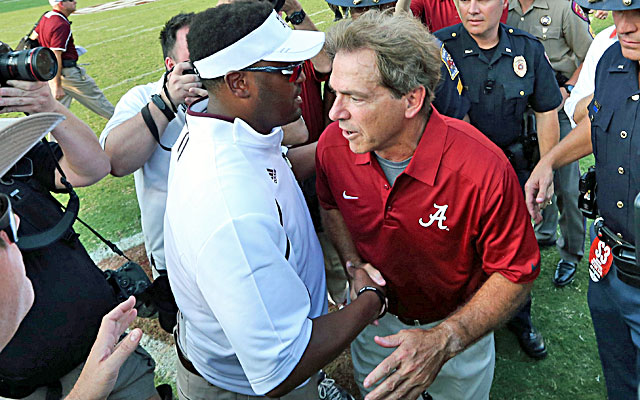 Still, the Aggies were unable to stop Alabama on the next series, and then after one more Manziel touchdown pass, they failed to recover an onsides kick and lose 49-42. At the midfield postgame handshake between the two head coaches, Saban tells Sumlin, "You took 10 years off my life."
The 61-year-old Saban probably felt the same way about Sumlin's quarterback. All of that talk about how Alabama, with 10 months of prep time, would contain Manziel, seemed laughable. The 6-0, 203-pound quarterback finished with a jaw-dropping 562 yards of offense, 464 through the air and 98 on the ground. The stat sheet shows Manziel had a great game. The tape that Spavital will study the next morning will underscore just how sharp the QB was against the Tide.
"Johnny did a great job of holding the safeties in the middle of the field with his eyes and that's why Mike kept getting so open on the sidelines," Spavital says. "We hit three or four fades on man-free (coverage)."
On a touchdown pass to Malcome Kennedy, Manziel duped Ha Ha Clinton-Dix out of the play to free up the Aggie receiver. Maybe more impressively was how Manziel responded when the Tide threw defensive looks at him that he hadn't seen from them before, Spavital says. Twice the Tide overloaded one side of the line of scrimmage and twice Manziel beat it by firing quick passes to the perimeter for 16-yard and 6-yard gains. When McKinney sees the crazy third-and-8 play where Manziel scrambles, but gets grabbed by 290-pound Jeoffrey Pagan before breaking away and evading more rushers before flinging the ball where his body ends up facing the opposite endzone for a 12-yard completion to spindly freshman Edward Pope, the coach just shakes his head. "It's like he's Houdini."
In all, the Aggies ripped Alabama for 31 first downs and 628 yards, the most the Crimson Tide had surrendered in more than 100 years. But Alabama made less mistakes and still won.
6:21 p.m.: "We win as a team and we lose as a team. You guys hear me?" Sumlin says to his team surrounding him back in the A&M lockerroom.
"YES."
"Now, here's the other thing that's important. Last year, that very team (Alabama) over there felt just like you do. When we tore up their lockerroom and danced on their field. And what did they go on to do?"
"National championship!"
"Win a championship. The season is not over. We're playing nine more games to get to the championship game. We just don't get to play them again. You knew it was going to be a close-ass game. That's the No. 1 team in the country. We ran out of time. We ran out of time. But. BUT ... there's things that we can fix. There's things that we will fix. But what you can't do is think that this is it. All you gotta do is go over to think other locker room and think about what happened to them last year. What we can do is move on Monday. Get better. We still got a whole bunch of football to play. I guarantee you last year at this time, when we were dancing around their stadium, they thought their (stuff) was over. It's not what happens to you. It's how you handle it from here on out, OK? How we handle what goes on from here determines who we are. You guys feel me?"
"YESSURRR!"