Constant media attention could derail Sam's career just like Tebow's
Michael Sam isn't a can't-miss prospect but he'll likely be the biggest story at the NFL combine. That's not great news for a guy just trying to earn a spot in the pros.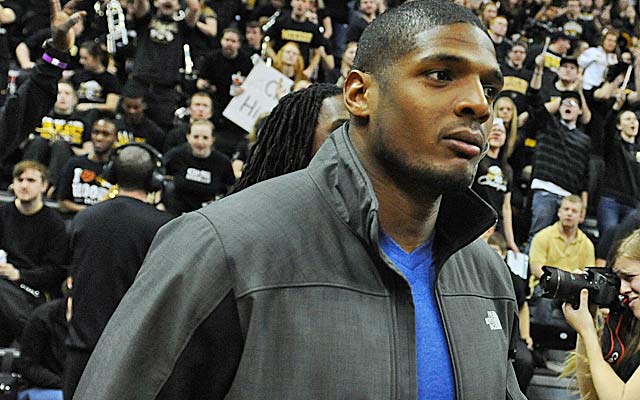 More Draft: NFL Mock Drafts | Big Board | NFL combine news and updates
The media wants Michael Sam to succeed. I could ignore that and write something else about him, something that would sound very much like I want him to succeed -- and I do, unabashedly and unapologetically -- but ignoring the obvious is no way to go through life. So let's not ignore that Michael Sam has fans in newsrooms and press boxes around the country.
Instead, with the NFL combine starting Saturday in Indianapolis, let's talk about that. And let's talk about how those very fans of Michael Sam, in those newsrooms and in those press boxes, could screw it up.
See, Michael Sam is a story, one we've been waiting on for years. We in the national media have long anticipated a publicly gay male professional athlete in one of our biggest sports leagues -- the NFL, MLB, the NBA -- and we almost had one last year when Jason Collins came out. The media fawned over Collins' announcement, and I could pretend that didn't happen but it's like I've already said: Ignoring the facts is no way to go through life. Hell, I was fawning myself. Unabashedly and unapologetically.
But as it turns out, Collins wasn't a professional athlete. He was, we have come to find out, a former professional athlete. Because once he came out, he marginalized himself. He was no longer a serviceable backup center who could be paid the NBA veteran's minimum of roughly $1.4 million to sit at the end of the bench. He was the publicly gay player, potentially the first of his kind in the NBA, and the NBA apparently isn't ready for that kind of -- what's the word? -- distraction. So Collins found himself out of a job at age 34. DNP-CD. Did not play, coaching distraction. We don't know it for a fact, but that's what I think.
Which brings me to Michael Sam, who maybe isn't all that different from Jason Collins. On the surface, OK, different. Collins was at the end of his professional career when he came out. Sam is just starting his. Collins was a very good college player; Sam was a dominant one, the SEC co-Defensive Player of the Year at Missouri, presumably the best defender in the best conference in college football.
Still, these guys are similar because it turns out Michael Sam, like Collins in the NBA, isn't a can't-miss star. Turns out, he's a little small for defensive end and a little slow for outside linebacker. That's what draft analysts are saying, including Greg Bedard of Sports Illustrated, who studied every play of Sam's senior season at Missouri and concluded, among other things, that Sam (1) wasn't the best defensive player in the SEC, or even at Missouri, and that because of his physical limitations (2) his best NFL position might be inside linebacker and that (3) he could go undrafted.
Greg Bedard is very good at what he does, and very fair in the way he thinks.
Michael Sam isn't so different from Jason Collins in that he announced his sexuality at a time when his professional future is up in the air. Will someone draft Sam? I would think so. Will he make it in the NFL? Dammit I hope so. Unabashedly and unapologetically. No charity here, I want him to deserve it and earn it, but if he does deserve and earn a spot in the NFL, I want him to get it.
And the media can help.
No, seriously. We can help by doing the one thing I'm not doing here: We can help by leaving Michael Sam alone. Is that going to happen? Of course not. Saturday is the day defensive linemen are slated to speak to reporters at Lucas Oil Stadium. We'll see a media scrum of historic proportions -- bigger, I'm guessing, than the monstrosity that met Manti Te'o last year -- for a prospect who won't be among the most highly regarded players at the combine. Or at his position.
That's how Michael Sam's NFL tryout will start, with the media showing just how gonzo we are for this guy. We're going to surround him and we're going to celebrate him and then it's going to continue as the draft nears, as the preseason nears, as the regular season nears. And then it will continue through December. Everywhere Michael Sam goes, he'll be a story.
The first publicly gay player in the NFL, coming to your city? Your newspaper will want a piece of that story. For one thing, it's a great story. For another, we love that story. It's no secret, the media is a mostly liberal place. Sad that we're so obvious about it, just as it's sad that people often require a liberal bent to see the courage in Michael Sam, but that's where we are today as media and society. I could ignore that but ... you know the rest of that sentence.
So the mostly liberal media has a story that we find not just fascinating, but inspiring. And we're going to write about Michael Sam as much as we can, as I'm doing right here, because it's so fun and new and progressive.
NFL teams will be watching, reading.
And at some point you have to wonder if the overexposure that killed the career of Tim Tebow will do the same to Michael Sam.
John John Florence and Gabriel Medina will look to catch the wave to a championship

How to watch the Professional Rodeo Cowboys Association's 2017 National Finals Rodeo event

Settle in for the holidays by watching other people do grueling obstacles like the Funky M...
Talladega is all decked out in white and all of Twitter wants to see some snow tire racing

CBS is excited to announce that Jordan Peele is producing a reboot of 'The Twilight Zone'

Jonah Keri talks to with CBS Sports NBA/Features Writer Brad Botkin to launch their Top 100...