Heisman voters, judge Jameis Winston only by his play on the field
Who's the best college football player in the country this year? If it's Florida State's Jameis Winston, give him the Heisman for that reason alone.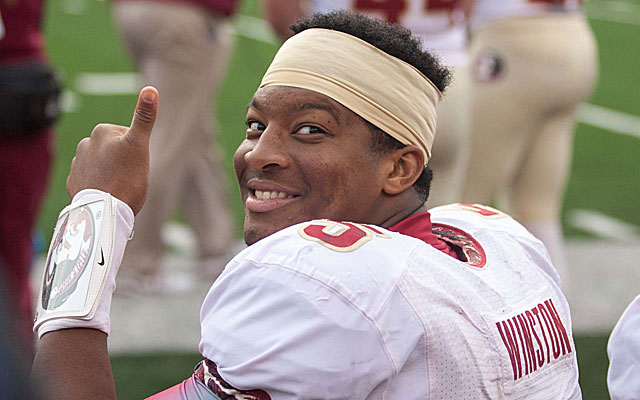 In a matter of seconds, or however long it took you to digest the allegations of sexual battery against Florida State quarterback Jameis Winston, the Heisman Trophy got a lot more complicated. So let me dumb it down for you, and for anyone with a Heisman vote, based on what we know right now -- which could be all we know for several weeks, until Heisman votes are due on Dec. 9:
If Jameis was your guy before the allegations, he should be your guy now.
Simple, see? So let's not overthink one of the more complicated Heisman races in memory, a race that was complicated even before these allegations against Winston came to light.
It was complicated because of Marcus Mariota, the Oregon quarterback who is having a statistically absurd season. Nine games into the season he has thrown for 22 touchdowns and zero interceptions -- a 22-to-0 ratio of TD to INT. Reduce that fraction any way you want, and it's infinity. How does a guy with a TD-to-INT ratio of infinity, also on pace to rush for 600 yards and 12 touchdowns and doing all of that on a top-10 team, not win the Heisman?
Because he's not Johnny Manziel, the defending Heisman winner who had one of the greatest seasons of all time in 2012 -- and this season is arguably better. He's certainly better as a passer, and while his rushing numbers are down, it's not because he can't run anymore. It's because he'd rather not. He'd rather move the ball with his arm, and given that he's on pace to exceed his 2012 numbers for combined touchdowns and yardage, it's working. How does the defending Heisman winner, having a more productive season than the one that already won him one trophy, not win another?
Because he's not Jameis Winston, the quarterback at Florida State who is completing nearly 70 percent of his passes and is on pace to throw for close to 4,000 yards and 40 touchdowns and maybe nine interceptions -- and he's doing all of that for a team that is on a collision course with Alabama for the national title. How does this guy not win the Heisman?
Because of the allegations of sexual abuse.
But again, I'm going to dumb this down for anyone with a Heisman vote: If Winston was your guy before the TMZ report, he should be your guy now.
And not because the timing of this case is unusual to say the least, though it is. The police report was filed Dec. 7, 2012, but the Tallahassee police department reportedly has done very little about it until this week. Why is that? That's a question for the Tallahassee police.
Heisman voters have another question to answer: Who's the best player in the country? That's all. That's it. But already there is a story in USA Today that quotes one voter as saying the allegations "certainly would be a factor" and another voter who says, "Right now, I don't think I'd vote for him." And there's a story in the Orlando Sentinel outright predicting "there's no way [Winston] can win it."
Sexual battery is a horrific crime, and anyone guilty of it should go to jail, but it's not the duty of Heisman voters to judge a player who hasn't been charged with a crime. No matter how ugly the crime is.
There's only one place for Heisman voters to judge Winston: on the field. Is he the best player in the country? If yes, vote him No. 1. If no, don't. It really is that simple.
That clause about the Heisman going to a winner with "integrity"? That's a tough one, but only if a voter wants to make it tough by trying to extrapolate a player's integrity from an evening almost a year ago, an evening that didn't result in charges at the time.
This might seem complicated, Heisman voters, but it's really not. You don't know what happened the night of Dec. 7, 2012, as it relates to Jameis Winston. Don't pretend you do.
Pretend, instead, that your job is to determine the best player in the country. Leave the policing to the police, the judging to the judge, and the jurying to the jury.
CBS Sports' Bill Reiter shares how he thinks the superfight could play out

Rowdy is the only driver in NASCAR history to accomplish the feat and he has now done it t...

Rowdy took to Twitter after winning Friday night's NASCAR Xfinity Series race
Rowdy will go for the sweep Saturday night after winning both the Xfinity and Truck races.

Truex's Furniture Row Racing teammate Erik Jones will lead to field to green on Saturday n...

Rowdy swept all three stages en route to his eighth NASCAR National Series victory of the...