LeBron's Durant comments are really about angling for another MVP
Thunder forward Kevin Durant has created some distance between himself and LeBron James in the scoring race, and that has King James concerned.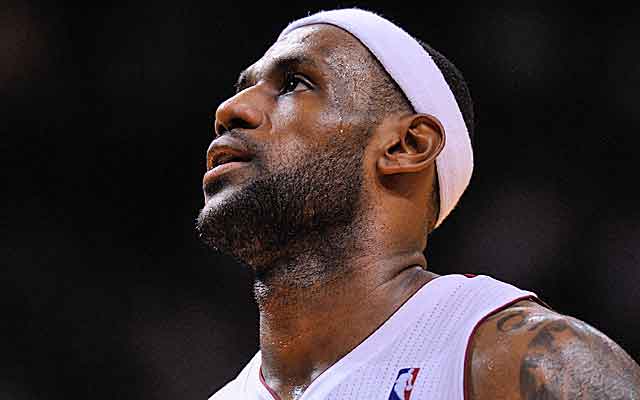 More NBA: LeBron says he's jealous of Durant's shots | Thursday picks
LeBron James says he's jealous of Kevin Durant, and I believe him. LeBron says he's jealous because Durant takes more shots.
But I don't believe that.
Before we go further, understand two things about LeBron James. One, nobody is stopping him from taking more shots. He has the ball in his hands all game, and he can get a shot whenever he wants one. If he's not shooting as much as Durant, LeBron made that choice. Nobody made it for him.
Two, LeBron is one of the smartest players in the NBA, and not just for his off-the-charts basketball IQ. LeBron is so quick on his feet that he did this to me a couple years ago, and when he talks he doesn't say stuff by accident. He's not a blurter or a hothead. He's mature and he's measured and he's smart, eerily so, and when he says something he has a reason for it.
Which leads to the eye-opening comments LeBron made this week about the Thunder's Kevin Durant, most notably that "I get jealous sometimes when I look over at KD and he's like 16 for 32 [from the field] and then 14 for 34."
LeBron also told ESPN.com's Tom Haberstroh: "There are games where I have it going, and then at the end of the game I'm like, 'Damn, I shot just 12 for 16? Why don't I get up at least six or seven more?' I definitely notice it -- I always think about it, though. If I get up high-20s, 30 shots a game, what could I do today, with the way I'm playing?"
Maybe he could win another MVP.
That's what this is about, see. LeBron is absolutely jealous of Durant, but he's not concerned about the shots. He's concerned about the MVP.
Durant leads the league in scoring at 29.8 ppg, well ahead of LeBron in third place at 25.9 ppg. The scoring championship doesn't equate to the MVP -- Durant has three scoring titles and zero MVP trophies -- but Durant has never outscored LeBron like he's outscoring him this season. Durant won his first scoring title in 2010, starting a run where he won three titles in four years, and in that time he outscored LeBron by a total of 3.7 ppg. Combined, over four years.
This season he's outscoring LeBron by 3.9 ppg.
And Durant isn't just outscoring him. For the first time in his career he's putting up all-around numbers that rival LeBron's. He's averaging more points than LeBron (29.8 to 25.9 ppg), more rebounds (8.1 to 6.7 rpg), more steals (1.5 to 1.3) and even more blocked shots (0.8 to 0.3). LeBron has Durant in assists (6.5 to 4.9), but not by the overwhelming margin he has enjoyed in recent years. LeBron shoots more efficiently from the floor, but Durant has him from the foul line.
Since OKC teammate Russell Westbrook (knee) went out on Dec. 27, Durant has elevated his game to an absurd level: 35 points, 9.1 rebounds, 5.4 assists.
Add it up, and Durant is leading the NBA in Player Efficiency Rating and Win Shares, the closest thing basketball has to baseball's WAR, and two categories that LeBron has dominated for six years -- when he won four MVP trophies and should've won five, but the backlash to The Decision caused him to slip to third in 2011 behind Derrick Rose (and even Dwight Howard).
Point is, Durant has passed LeBron as the front-runner for MVP, and timing is everything, which is why LeBron said what he said this week -- not last month or next month. Next month, see, it might be too late. Why not last month? Because last month LeBron was the front-runner for MVP.
But in the last few days, NBA.com has updated its "MVP Ladder" -- and what do you know? Durant just passed LeBron for first. That coincides with what USA Today wrote in its weekly MVP rankings, and with the recent change at the top of Bovada's MVP odds, and with what Haberstroh said a few days earlier on ESPN's Numbers Never Lie: Durant has passed LeBron in the race for MVP.
And this is the week LeBron picked to say he's jealous of the number of shots Durant gets? This is the week he wonders "what could I do today, with the way I'm playing," if he shot as much? This is the week he tries to shape the message about Durant's monster season?
Come on.
LeBron doesn't say stuff by accident. Nor does he make estimates on statistics. He said Durant has had games of "like 16 for 32 and then 14 for 34," which is cute because Durant wasn't like 16 for 32 or 14 for 34. He was exactly 16 for 32 on Jan. 4 at Minnesota, and then he was exactly 14 for 34 on Jan. 7 at Utah. Other than those two games, Durant has averaged 18.3 shots in his last 16 games. In about the same stretch, LeBron has averaged 17.6 shots from the field. Not much of a gap.
None of that means LeBron is a bad guy, or a conniving guy. But it's awfully convenient that LeBron says this stuff now, days after the media has anointed Durant the MVP leader. LeBron wants that trophy because he's a competitor, and because he's playing for his place in history, and if he stacks MVP trophies so high that not even 7-foot-7 Shawn Bradley can see over them, how could anyone deny LeBron his place as the greatest ever?
That's also what this is about, if you ask me. LeBron wants to catch Michael Jordan. To catch him he has to hold off Kevin Durant, but Durant is leading LeBron in various MVP projections and in PER and in Win Shares and in the scoring race and is the only player threatening to get more fan All-Star votes (1.05 million for Durant) than LeBron (1.08 million votes).
Which brings me back to some stuff from earlier in this story: LeBron James says he's jealous of Kevin Durant -- and LeBron doesn't say anything by accident.
Dale Earnhardt Jr. is preparing to take his final ride while four other drivers compete for...

Patrick says she will run in the Daytona 500 and Indianapolis 500 next year

The threat of a ban has loomed for Russia as its doping scandal continues
'You knew some guys had a propensity to smoke a little bit' in the NBA, says Raja Bell

NASCAR's most popular driver will hit the track for one final race at Homestead on Sunday

Caroline Ouellette and Julie Chu went from rivals on the ice to partners off of it