March Madness? If you substitute 'McDermott' for 'March,' and you will
Get ready for an NCAA tourney dominated by Doug McDermott as Stephen Curry, Austin Carr and Bill Bradley once did. Only McDermott may even win the thing.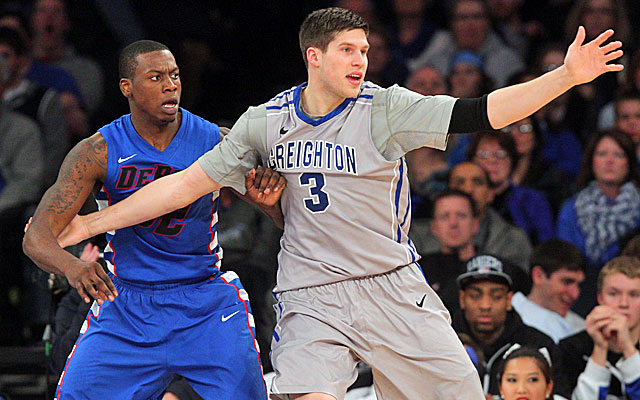 More NCAA hoops: Tournament bracket | Complete coverage of NCAAs | Latest news
Welcome to McDermott Madness. Pretty good chance that's how we're going to remember the 2014 NCAA Tournament beyond the obvious, which is to say, the winner. Years from now we'll remember the winner, probably.
But we'll remember Doug McDermott, definitely, because he's going to make this tournament his own.
That doesn't happen every year, and it almost never happens with a national player of the year. Look at this list of Naismith Award winners. Great players, every last one of them. Obviously. And most of them were in the NCAA Tournament. But do we remember the 2008 NCAA Tournament as the one that belonged to Naismith winner Tyler Hansbrough? Outside of the Kansas fan base, do we even remember that tourney for the team that won the title?
No. We remember it as the one that belonged to Steph Curry, who hung 40 points on Gonzaga and 30 on Georgetown and 33 on Wisconsin and 25 against Kansas in the region final.
Same goes for 2011. National player of the year was Jimmer Fredette. National champion was UConn. But that tournament belonged to VCU's Shaka Smart, the charismatic, havoc-inducing coach who took the 11th-seeded Rams all the way from the First Four to the Final Four.
In 1970 the winner of the championship game was -- let me look this up -- oh, right. Duh. It was UCLA. But that tournament belonged to Notre Dame's Austin Carr, who scored 61 points in one game and 158 points in three. The guy averaged 52.8 ppg in the 1970 NCAA Tournament. It's his. He earned it.
One more. The 1965 NCAA Tournament. The winner was ... here it is. Ah, UCLA. Again. But stat geeks like me and people who were alive in those days, alive and following the tournament -- people like my dad, to be honest with you -- know the 1965 tournament as the one where Bill Bradley of Princeton went nuts. He led his Ivy League school to the Final Four by averaging 35.4 ppg. His 177 points set a record that lasted 24 years until Glen Rice scored 184 in 1989, but by then the tournament had expanded from 23 teams in 1965 to 64 in 1989. Rice played six games, and he needed all six to score 184 points. Bradley scored 177 in five, capped by the 58 he hung on Wichita State in the third-place game, an NCAA Tournament record until Carr's 61 in 1970 vs. Ohio.
UCLA won the 1965 tournament, but Bill Bradley owned it.
Now we'll see if Doug McDermott can do both. Win it? Not sure about that, but I'm telling you he can. Own it? Positive about that. I'm telling you, he will.
If Creighton is upset in the first or second round, then I'm wrong. Got it. Two games aren't enough for one guy to own a tournament, because if it were, we'd remember the 2010 tournament for BYU's Fredette. And we don't.
But if Creighton reaches the Sweet 16, meaning at least three games for McDermott on the biggest stage of the season ... this tournament will belong to him. Because he's that good, and because Creighton will need him to be that good, and because have you seen the rampage he's been on the last six weeks?
McDermott has averaged 31 ppg over his past 13 games. That included 45 on Senior Night just because, because he needed 34 to reach 3,000 in his last game in front of the home folks and because he needed 43 to break the arena record and he needed 45 to break his personal best. So he scored 45 because he wanted to, and because he needed to, and because he could. So he did.
And now comes the NCAA Tournament, and it's the same thing. He'll need to score big, and he can. Nobody can stop him, because he's not merely the best player in the country. He's the best player by an enormous margin. There are better NBA prospects, apparently, but that's a discussion about the future. In the present, nobody's better than Doug McDermott, at 26.8 ppg the country's leading scorer by more than a full point per game, which is like winning a marathon by eight minutes. Who's second? Who cares?
Thing is, McDermott has a chance to pull off the sweep. He could own this tournament, and he could win the damn thing too. He's that good, and because of him, so is Creighton. The Bluejays aren't a favorite -- they're not even a No. 1 seed -- but they're good enough to have won 26 games and to have blown out third-ranked Villanova twice and to have reached the Big East title game.
This is no one-man team, though McDermott is so good you might not be aware of that. Creighton has a point guard (Austin Chatman) who can get to the rim and finish above it and play stifling defense. It has an irritant (Grant Gibbs) who can mess up an opposing team's best wing player by getting in his head and not leaving, and who makes 47.4 percent of his 3-pointers. It has one of the best pure shooters in the country (Ethan Wragge), who stands 6-foot-7 and launched 213 3-pointers and made nearly half of them (48.4 percent). It doesn't have a lot of size, but it has a 6-foot-11, 230-pound center (Will Artino) who averages 13.4 minutes and shoots 68.4 percent. Guard play is key in the tournament, and Creighton has three quality guards other than Chatman and Gibbs (Jahenns Manigat, Devin Brooks, Avery Dingman) in its rotation.
And Creighton has the best player in America, a guy who scored 45 on Senior Night and then had 27 in the first half to blow open the Big East tournament opener against DePaul and then scored 32 in the semifinals against Xavier and had 27 in the conference title game against Providence, a 65-58 loss.
McDermott is one of the best perimeter shooters in the country, and he's one of the best post scorers in the country, and he's stolen Dirk Nowitzki's step-back jumper to become one of the best mid-range scorers in the country. He can and will do what he wants in the NCAA Tournament, as other great scorers have done before him. Will he break Glen Rice's record of 184 points? He will if Creighton reaches the Final Four. That would mean five games. Averaging 37 ppg would put him at 185.
You saying he can't do it? You saying he won't?
Maybe you missed his Senior Night, when he turned a competitive Big East game into something implausible, a sports movie with a crazy ending that would never happen in real life. Only it did.
Here comes the sequel.
Things escalated very quickly and both drivers were detained by police

Junior revealed on Instagram that his first child will be a girl

What does it take to compete at the CrossFit Games? Check out 'Fittest on Earth' on CBS Sports...
Keselowski passes Ryan Newman on the final lap to claim the checkered in a wild, crash-filled...

Three of our four picks have yet to win a race this season

Dale Earnhardt Jr. will be making his final ride at Talladega Superspeedway this weekend