Who's No. 2? Auburn or Ohio State; depends on who (what) you believe
With Alabama's loss, Florida State is into the national title game (for now). Let the argument over Ohio State and Auburn at No. 2 commence.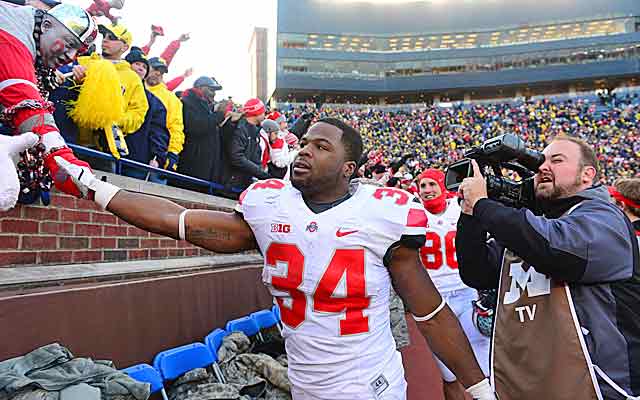 After being treated to two of the best games of the season Saturday, we're about to be subjected to an insufferable contest that will be decided off the field -- by computers and the human element of the BCS formula:
Auburn vs. Ohio State.
That's what their wonderful victories on Saturday did: Set up an all-or-nothing contest between the winners in the court of public -- and computerized -- opinion. Ohio State intercepted Michigan's two-point conversion in the final seconds to win a 42-41 slugfest. Auburn stunned No. 1 Alabama 34-28 with a 100-yard return of a missed field goal on the final play.
Because No. 2 Florida State also took care of business Saturday, beating up Florida 37-7 to remain undefeated and position itself as the new No. 1 in the BCS poll, the question becomes this:
Who is the new No. 2?
It's a question without a clear answer, but that won't stop anybody from screaming that THIS IS THE WAY IT SHOULD BE.
Ohio State fans will say the Buckeyes are undefeated and therefore this debate is stupid. And in a way, they're right and it is. Ohio State is undefeated and, while its nonconference schedule is weak, it's not the Buckeyes' fault that the Big Ten has deteriorated to the point that going undefeated in league play two years in a row has earned Ohio State very little credibility around the country.
Ohio State has beaten the teams on its schedule and still been jumped more than a dozen times in the human polls in the past two years -- and it doesn't seem right that the Buckeyes would be jumped again. By a one-loss team, no less. If you can't feel the frustration of Ohio State and its fans, try harder.
At the same time, Auburn. Wow. By defeating Alabama, by reaching the SEC title game, by winning that game next week against a top-five Missouri team, Auburn very clearly would have a case as having a better resume than Ohio State, even with Auburn's loss to LSU.
For the sake of argument, let's assume Auburn wins the SEC championship game and Ohio State beats Michigan State in the Big Ten title game. Then what do we have?
Utter chaos. One of the worst BCS dilemmas ever, in the final season before the BCS is replaced by a four-team playoff a year late. Because it's not as simple as saying, "Ohio State is undefeated and Auburn has one loss and therefore the undefeated team should get the spot in the BCS title game."
I mean, it could be that simple if we wanted to be lazy about it. It's awfully easy to look at Ohio State's record, and then look at Auburn's record, and decide that Ohio State is more deserving.
But it's not that easy, and I say that as someone who very much likes both schools and fan bases. Ohio State's biggest argument is that it has beaten the teams on its schedule. Auburn's biggest argument is that it has played a tougher schedule -- well, a tougher conference schedule; Auburn's nonconference slate of Washington State, Arkansas State, Western Carolina and FAU doesn't do much for me -- and parlayed that schedule into a spot just behind Ohio State in the BCS poll before knocking off the defending national champion and No. 1-ranked Crimson Tide.
If you can't see the legitimacy of Auburn's argument, look harder.
Both have an argument. For that matter, so does Alabama -- assuming Auburn loses in the SEC title game. Alabama has one loss and has beaten the crap out of most of the good, if not great teams on its schedule. And the only thing between Alabama and a perfect record is one of the most sensational game-ending plays in recent college football history.
But that's an argument for another day -- and if Auburn doesn't win the SEC title game, believe me, we'll have it. It'll be Ohio State vs. Alabama in the court of public opinion, and it'll last for a full month regardless of which team the BCS formula spits out to face Florida State. (Assuming Florida State wins the ACC championship game. Which it will.)
The argument for now, and for the next seven days at a minimum, is Auburn vs. Ohio State. Who you got?
And whoever you got, why do you seem so convinced you're right?
Patrick plans to call it a career after running at the two most iconic U.S. auto races

Let the truth set you free, sir

The poor kid never even saw it coming
The burglars that Childress fired at were carrying military-grade weapons on them, the cops...

'Kong Infinity' and 'Happy Ending' headline two additions to the ultimate endurance course...

Nik Kayler's body has been found after going missing last week during a fishing tournament